Thanksgiving is, of course, a time for giving thanks... and for counting our blessings. I love that we have a holiday set aside just for gratefulness.
Closely tied in with that is the traditional feast that most of us Americans look forward to every fourth Thursday of November. I've enjoyed reading several threads lately on our Home for the Holidays forum with ideas for Thanksgiving dinner.
As I was preparing for this blog post and trying to decide what to write about, I read back through my Thanksgiving posts from the past few years on my personal blog. I noticed a pattern: my immediate family has usually been alone for Thanksgiving but we still like to fix our "traditional" meal for just the four of us.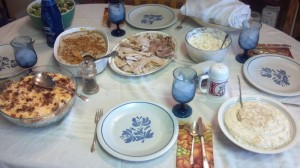 Interestingly, our "traditional" meal does not mean we have the same menu every year. In our family traditions are flexible and always evolving. Usually we do have turkey, mainly because turkey is the cheapest meat you can buy in November. The other two dishes that never vary are "cheesy potatoes" and green bean casserole, just because those are my husband's favorite side dishes. In addition to that, I like to fix at least a couple of other vegetable side dishes and a green salad or two. Early in November I start reading cookbooks and recipe websites looking for interesting side dishes to try.
This year will be a little different for our family. We will be spending Thanksgiving Day with friends out-of-state. I can't remember the last time I wasn't the one planning the meal, but I have no idea what's on the menu this year. Maybe it will be turkey... or maybe it won't. I'm actually looking forward to being surprised.
I've put our turkey in the freezer for now. Maybe we will fix it for Christmas. Hopefully my forum friends will have lots of great ideas for creative and interesting side dishes to put with it.
What's on your Thanksgiving Day menu?