Imagine your children enjoying science activities. Depending on how things have gone in the past, that may be hard to imagine. And if that's you, you're not alone.
Years ago we created the Discover & Do DVD series to give your children (and you) a fun, visual guide that walks you through the various science experiments and activities in the early Sonlight Science programs. This helped a lot. Kids got excited about getting hands-on with their science and began to demand that they be allowed to do the activities. We even have one account of a student who was speechless over an experiment. Yes, Sonlight's Science programs can be a ton of fun.
But you may not have carved out time for Science this last year. Or perhaps you used another program that works better with how you homeschool. There are a myriad of reasons why you may not have used Sonlight's Science programs before now. This summer, we have an exciting opportunity for you: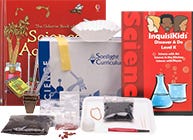 These packages include just the activities from our complete Science programs. You'll get the activity book(s), the matching Discover & Do DVD, and the applicable Science Supply Kit with the hard-to-find bits and pieces you'll need to do the activities. Add the Non-Consumables you can use again and again, and you're ready to go!
Check out Sonlight's new Explorations in Science packages and get your hands on science this summer.
~Luke Holzmann
Filmmaker, Writer, Empty Nester