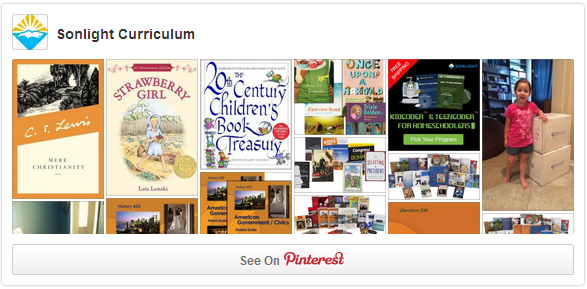 During the past few months I've been building Sonlight's Pinterest boards. It's been a lot of fun organizing Sonlight's books and materials into various categories.
Over the years as my family built our Sonlight library I kept the books organized on our shelves by Core level. Sometimes I would want to reuse books about, say, a particular world area, or a certain period of history. Then I would have to scan through all the shelves looking for what I needed. With that in mind, I have sorted our products into dozens of categories for easy reference.
What if you have a younger child sitting in on Core with an older sibling, and you'd like to pull in some books from the lower level Cores that would tie in? There are boards for American History for Younger Students and Eastern Hemisphere for Younger Students.
What if you'd like to take the time to do a unit study on, say, farms? Check out the Farm Stories board for some great books to go along with that theme. What if your children really love mystery stories? There's a board for that, too! What about games Sonlight carries? That, too... and many, many more!
Go check it out! I hope you'll find it helpful and will "follow" us there. Of course it's an ongoing project, but that's what makes Pinterest fun, right?
Enjoying the adventure,
~Karla Cook
Lifelong Learner