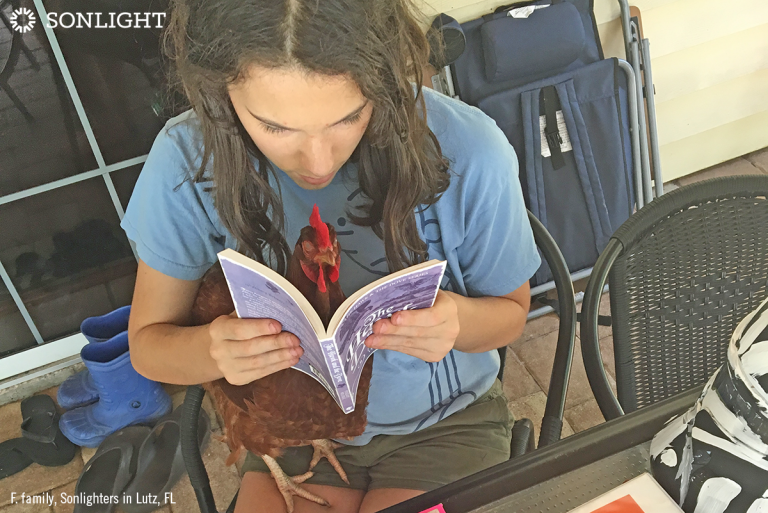 The F. family from Lutz, FL has homeschooled for the past 13 years. In this photo, Sydney (16) reads The Hawk and the Dove from Literature 230 with her favorite pet and constant companion, Mango.
Does Sonlight's literature-based homeschool curriculum work for kids on the autism spectrum?
It's a common question! And while it's easy for us to say, "Yes, Sonlight works for kids with autism!", you would probably prefer to hear those assurances from the people who are most qualified to make that statement. You want to know from moms of special needs kids that Sonlight—yes, even with all its Read-Alouds—is going to be a home run for your own child with autism spectrum disorder (ASD).
So we asked Sonlighters with ASD kids one simple question:

How does Sonlight work for your ASD kiddo and you?
Here's what nine different moms reported back.
Short Daily Lessons with Repetition
Courtney B. of Huntington, WV says, "One of mine is what would have been considered Asperger's when that was a diagnosis. I specifically picked Sonlight Language Arts for him because of the short daily lessons that build on each other. Sonlight reviews the same material, a little more in-depth each year. The continuous review is good for my son."
"And I like that it works for my other two boys as well. Neither of them are ASD, and one in particular is advanced, so Sonlight's versatility is nice for our family."
---
Seeing From Another Perspective
Andrea T., is mom of a navy family currently living in Corpus Christi, TX. She answers, "Mine is Asperger's. Sonlight has been wonderful for us. We've used it for 6 years. When I had struggles with the story writing in the Language Arts, I've modified to fit his concrete manners."
"The books are wonderful. They have helped him see things from another perspective, and he's learned so much along the way."
---
She Finally Feels Confident!
K. Montefusco of Chester, VA says, "My daughter is high functioning but is on the spectrum. She also has ADHD and anxiety. When we pulled her out of school in second grade, she told me she 'just wouldn't ever be smart like other kids.' Since she was convinced that she couldn't do school, I wanted something that looked as little like what she thought of as school as possible."
"She is now in 7th grade and working on grade level in every subject, which we honestly weren't sure would be possible. She does very well with reading and oral discussion, but she does not do well with traditional tests at all. Sonlight lets her learn in a way that works for her. She can read books while hanging upside down off the couch, and it doesn't matter."
"She may have struggled in public school where she was expected to sit still and quietly and memorize facts, but she finally feels confident and she has learned so much. I have used Sonlight for two other kids with success too. We are so happy that we found Sonlight!!"
---
He Loves to Read!
Allison B. of Kraft Marietta, GA explains, "My son, who is six, has high functioning autism and is gifted. For us, Sonlight is the perfect fit as he hyper focuses on books. He absolutely loves to read and to be read to, so he cannot get enough of school."
"He especially loves the Science readers; we could sit and read the Book of Knowledge all day. His attention does tend to wander during the fiction Read-Alouds, but by allowing him to do something with his hands, like building with LEGO, he is able to enjoy the stories."
"Honestly, my favorite part about Sonlight is how I can tweak it to each individual child but still instill a love of literature and learning in all my children."
---
Learning History Through Fiction
Laurie B. in Walker, LA has two sons with ASD. She says, "Our two sons, 14 and 15 years old—both on the spectrum—have loved Sonlight through the years. The historical fiction allows them a better understanding of history through the characters."
"We have used immersion into books to teach them since preschool. Their speech therapists loved Sonlight's choices in books. We were able to use the books for everything from phonics, empathy, play therapy, life lessons, wrong and right, and of course history!"
"Now in high school, they appreciate being able to work at their own pace. The love having a set plan to follow and the independence it allows them. My 15-year-old specifically appreciates that Sonlight tells the good and bad of history—the truth."
---
He Asks for the Read-Alouds on Days Off
Amber C. of Hinesville, GA says, "My son is high functioning and has ADHD. He's four and extremely advanced. Sonlight Pre-Kindergarten works AMAZINGLY well for him. Hearing what happens in story form helps him retain information because he's very auditory. We do active reading, so I ask questions and engage him throughout each reading. He's loving it. We're off school this week, and he asked if we could do our Read-Alouds today. So we did, and it was a great, relaxed family time. We will never even consider another program for our children."
---
Learning at Her Own Pace
Ruthe F. from Lutz, FL says, "I love homeschooling because my daughter Sydney, who is on the autism spectrum, is free to learn at her pace, along her siblings, with those things (or chickens) that make her feel at peace. I love Sonlight because of the structure and peace of mind it provides the teacher. What a joyful challenge homeschooling is!"
Sydney is pictured at the top of this blog post.
---
Read-Alouds and Discussion Require No Motor Skills
Cynthia H. of Champaign , IL tells us about her son, "Caleb is autistic and gifted, or as we called it—differently wired. The Sonlight Readers have been an excellent fit! They help his reading skills grow and expose him to a world of ideas and places that he wouldn't choose on his own. The variety and quality of the Sonlight reading list has not disappointed us yet! I love that so much of the curriculum is done out loud. Caleb struggles with fine motor skills such as writing, so a program like Sonlight with Read-Alouds and discussion is easy for our family. I always hear "One more chapter, please"

---
Excelling Beyond Expectations
Ruth K. of Colon , MI tells her story, "Our son was diagnosed with autism several years ago. The local school district recommended placing him in a self-contained special education classroom. We chose to keep him home and use Sonlight alongside his siblings. He has excelled far beyond anyone's expectations. It is a challenging journey, but seeing him bonding with his siblings over a good book make me very thankful for Sonlight."

---
So there you have it—nine moms who are successfully using Sonlight to homeschool kids with ASD with Sonlight. It works for them! It may work for you, too. And if it turns out that the fit isn't right, you are covered with our Love to Learn, Love to Teach™ guarantee.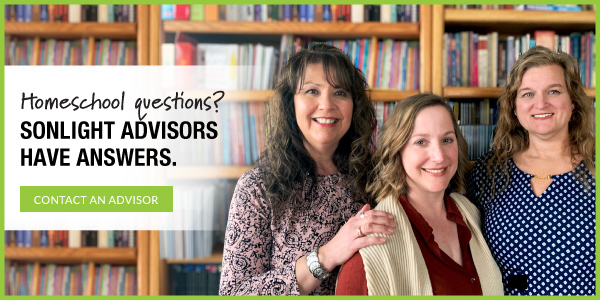 If you have questions about using Sonlight for your child with ASD, we have experienced homeschooling moms who would love to talk to you. Click here to schedule an appointment.