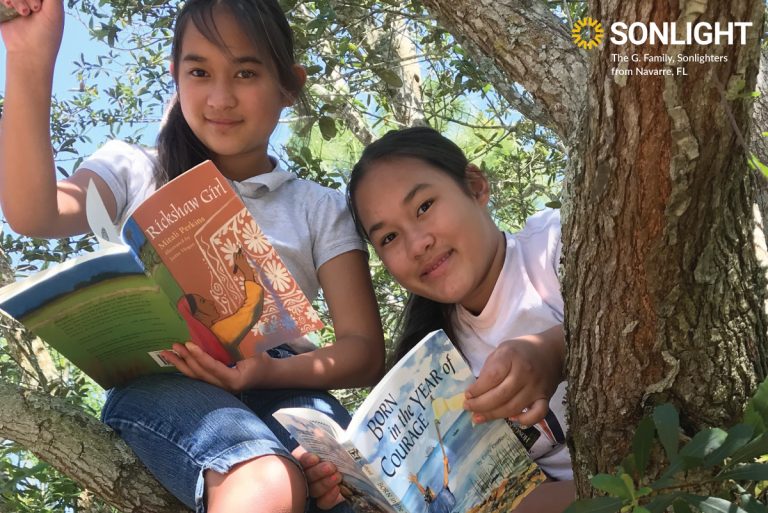 I texted my 22-year-old son, Mason, "Hey, I just taught Miller about banned words." Mason, like his younger brother Miller, found this same banned words lesson useful when he was a struggling writer at 12. He texted back "NOGI," which is code in our house for "Not of General Interest."
It made me laugh. His response may sound disrespectful, but in our house, it's an inside joke gleaned from several Read-Alouds of Cheaper by the Dozen over the years with our four children. The father in the book insists that all dinner conversation must be educational and of general interest. One night he declares that he's going to teach them all how to multiply large numbers using square roots. One child blurts out, "Not of general interest."
Cheaper is one of our family favorites, and this retort is now a permanent part of our family phraseology, particularly because I tend to think everything must be educational.
When I first selected Sonlight curriculum for our homeschool 20 years ago, I did so primarily because of all the amazing books featured in the catalog. I wish I could be paid to read all day, so one of my life goals was to make my children into readers. At the beginning, I never could have imagined how the reading aloud would make an impact, not just to educate everyone, but to bond us together.
Sharing Stories Brings Family Connection
We have grown together in our love of books and language, but also have a high level of family connection through shared stories. In retrospect, reading aloud has been the central most important aspect of our homeschooling.
Our four children are spread out over 12 years, and one way to keep homeschool centered and on track each day was to require everyone to listen to the day's Bible reading and current Read-Aloud most mornings and evenings, including weekends, even if it wasn't from their current History / Bible / Literature level. This created a quite literal bookend and anchor to each day.
We included Read-Alouds at more than one level, and when a child was struggling to keep up in Readers, I would throw one of those in as a Read-Aloud as well. We also continued in the summer evenings, picking up extra stories as Sonlight changed selections or other books I wanted to share. My kids have requested re-reads or continuations of many Sonlight favorites:
I have read The Sherwood Ring aloud at least six times.
There have been times of family crisis when just about the only thing we accomplished was Read-Alouds. I believe our reading habit kept us sane and intact during difficult times involving moving, a new baby, my mother's death, and several miscarriages. Reading aloud continued to serve as an anchor and a shared story to look forward to each day. One time we read until 10 p.m. because the boys just had to know how The Hobbit ended.
By about age 16-17, my children gradually excused themselves from reading time as they were increasingly busy with jobs, activities, and college classes. Most mornings and evenings will find me reading just with Miller these days, but I am grateful that he possesses most of the same shared stories with his older siblings.
Our Life, Impacted by Sharing Great Literature
Aside from the regular NOGI comments and other book quotes, we have named our home Rest-and-be-thankful after the ancestral home in The Sherwood Ring, and will randomly make references to Young-Fu, Gladys Aylward, Little Britches, Johnny Tremain, Tom Sawyer, Nathaniel Bowditch, Brother Andrew, Bilbo, Daniel in The Bronze Bow, Prince Brat from The Whipping Boy and dozens of other favorite characters who come up in conversation.
One time years ago when having trouble keeping up with my sons while walking, I asked them to slow down. One turned around and quipped, "Mom, we can't walk as slowly as you can," adapting a favorite line from a Rani Jungle story.
If you have little ones, know that all the reading aloud will reap tremendous rewards. Don't give up.
I know when they are little and their attention span is less-than-ideal, it is hard. I thought I would lose my mind trying to get through Johnny Tremain aloud the first time with my two very little boys all those years ago. It gets easier, and their attention span will improve.
I know you think they aren't paying attention, and sometimes they aren't, but they will surprise you when you least expect it and connect the dots while reading something else.
Audio books count!
Reading aloud removes barriers. Kids can enjoy the story without the struggle to read on their own. One of my late readers would read the books alone after we finished them together.
Children can understand books read aloud several grades higher than they could tackle on their own because you are there to explain.
Our daughter (18) says reading aloud is her top favorite childhood memory.
Our four kids have truly impressive vocabularies and grasp of the English language.
My life has been a success. No one is handing out medals for my accomplishment, but I am content that I have taught four children to read and shared the love books with them.