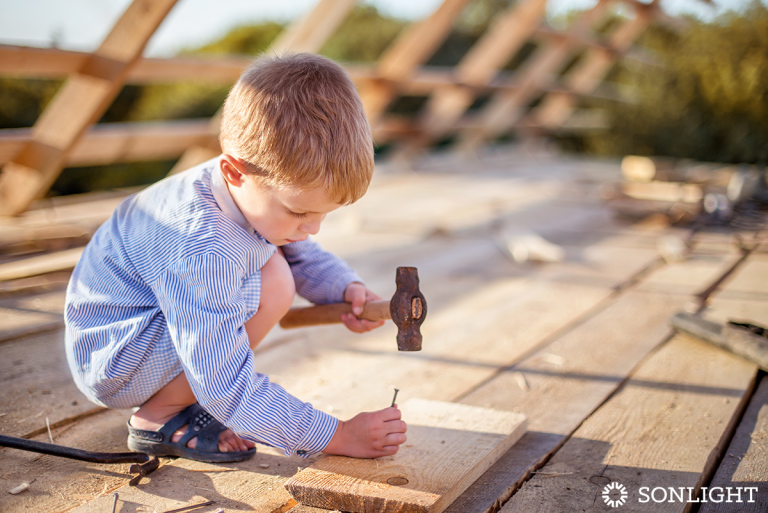 For months we had been fine tuning our plan to repair our basement and then move downstairs so the renovation crew could work on the upper portion of our house. Just minutes into our final meeting, the crew laid their news on us: "We think you need to move out for the duration of the renovation."
I could hardly comprehend the words coming out of the mouth of our contractor. The project was slated to take more than six months, and we were scheduled to start in two weeks.
Homeschooling Away From Home
As the meeting ended, we had accepted that it was better for us to move but had no idea how it would work out. I remember being so overwhelmed by having to leave everything behind on such short notice, packing only what was essential.
Maybe you've faced a crisis of your own:
a natural disaster
sickness or intensive medical treatment
political upheaval or visa troubles if you live abroad
a huge remodeling project like my example
Whatever circumstances may cause the disruption to your school year, I think the principles I learned during the six-month displacement from my home will help you cope as you wait for repairs, hope for waters to recede, or await the green light from your doctor.
Finding My Way Beyond the Obstacles
We ended up finding an unoccupied house in the next city. Unfortunately it was forty-miles from my husband's work and our construction site. The good news was it was awaiting foreclosure and the price was right—free.
We were able to store our belongings by renting a semi trailer which was unceremoniously dropped into our front yard, and we packed everything we owned in a week's time.
With a suitcase of clothes, our current school books, and the basics to outfit a kitchen, we walked into an adventure.
Helping Our Kids Respond to Crisis
Our relocation home was far from ideal. We had never lived in a neighborhood before, so moving ten country kids into the city was challenging for everyone involved. To compensate for the stress, I made self-care a higher priority. Finding spaces of quiet time helped me feel less trapped. I started walking the dog in the evenings to wind down and have thinking time.
Over the six months, we struggled with many of the same problems you have faced if you've lived through a crisis that displaced you from your home:
Dad had to be away for extended periods of time.
Nothing worked in the temporary home where we were staying.
Our dwelling had the tiniest fridge I have ever seen; we could keep only two to three meals' worth of food in it.
There were so many forms, questions, and appointments during our time of transition.
There were things we should have packed but didn't. And we didn't use other things that we did bring along.
While we were stretched and pulled, we also grew and flexed. We learned many ways to cope with an unfavorable situation.
Making Displacement a Family Adventure
As parents, we have a huge part in shaping the attitude our kids develop toward any situation. Trust me when I say, moving was not a happy shift in circumstances. It was a terrible inconvenience and cost, but we had no choice. If we wanted the repairs done to our home, we had to move out.
We decided to speak to the kids as if there were a great adventure. Adventures are sometimes hard and require cooperation with everyone acting as a team to do their part. This mindset helped us cope:
when the shower overflowed
when the washer stopped working
when the white kitchen tiles met mulberry season and 20 purple feet
Through it all, I reminded myself I was on an adventure. This perspective helped me cope with one of the most challenging years I have ever faced.
Using Season Passes to Get out of the (Temporary) House
One of the first things we did was get a family season pass to our local science center, zoo, and history museum.
Although I was thankful for a house to live in, it was small and had virtually no furniture. We brought our curriculum to keep our homeschool routine, but we had none of our toys or games and could bear to watch only so much television.
A season pass to fun and educational venues was a great way to get out of the house whenever we needed a break. Plus, I could build on the experiences for Science and History lessons!
It was a large expense up front, but after the initial payment, we appreciated the ability to go for a quick visit anytime we needed a break. Living away from the comforts of home made us cranky at times, so short visits were a better choice for our large family. The pass made it painless to leave when we felt done and visit when it fit our day or mood.
If you know a homeschooler who is displaced and are wondering what you can do for them, event passes, movie tickets, memberships to a local attraction are meaningful gifts which go a long way to give a family a few hours of relief from their day to day stress.
Finding a New Hobby or Creative Activity
Getting out of the house with a bunch of kids is a daunting task. Trying to do it when you are in a strange city, alone, a little depressed, and feeling overwhelmed is nothing short of intimidating. I knew we would need a motivator to keep us from staying inside and relying on television. We took up geocaching to give us something fun to look forward to outside.
Geocaching is totally free. All you need to do is download one of the most popular apps and choose the map location you want to explore. We used it as a way to explore our new town during our frequent errands related to the home renovations. Stopping to make a couple of geocache searches helped the kids be more enthusiastic about trips to the hardware store. All it cost me was a handful of garage sale trinkets to trade in the cache boxes we found. (We could take one item and leave behind another to make an exchange.)
Organizing with a Crate System
Back at home we had yards and yards of book shelves. Everyone had a place for their school items and books. In our temporary home we had nothing of the sort. To remedy the lack of organization, I bought large crates and pencil boxes for each child to store his books and supplies. With these crates, we added a little bit of order to our chaotic lives.
Our situation of remodeling and rebuilding called for a lot of contractor meetings and hardware store runs. Our crates made it easier to salvage our "on the road" school days because the crates were easy to grab and load into the van. I was so thankful for the Sonlight Instructor's Guides that kept me on track day by day. I didn't have to plan homeschool lessons. We simply did the next thing.
My advice to someone going through a displacement is this: If you need to scrap school for a day or a week, don't hesitate to do it. The beauty of homeschooling is that we aren't bound to a certain schedule.
A long displacement might be the best time for a visit to distant family or for the kids to go stay at the grandparents for a longer visit than you might have chosen otherwise. Through your displacement, I pray that you know and carry the peace that only Christ can give you in times of distress and chaos. It sustained me through that difficult school year indeed!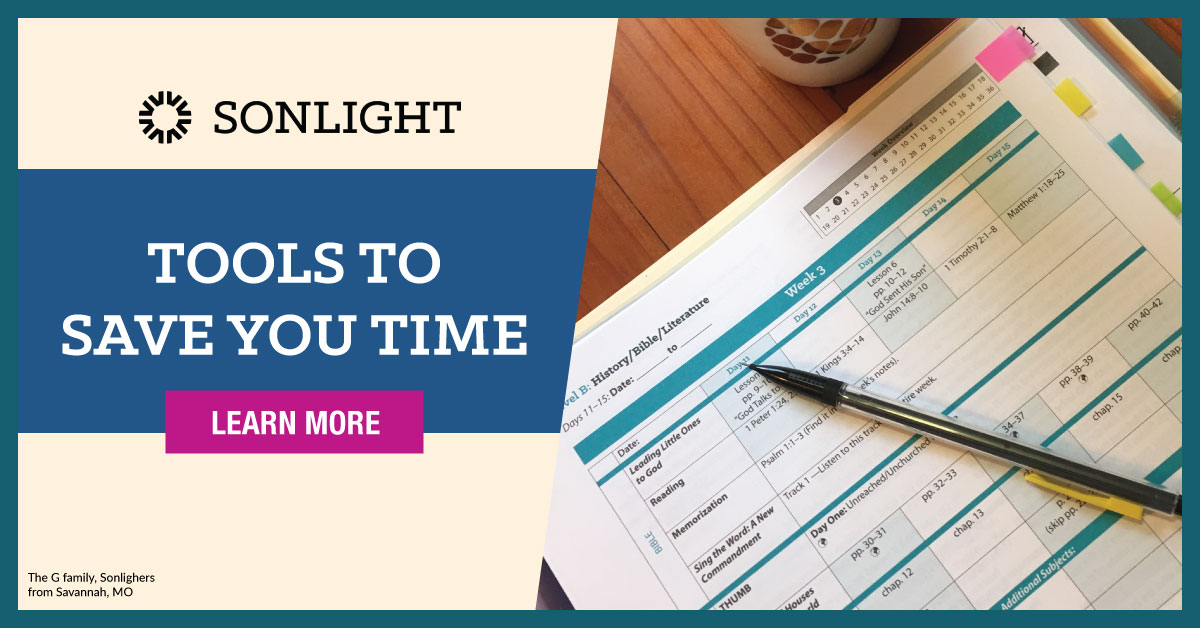 Simplify your homeschool and reduce the burden of daily decision making. Try three weeks of any Sonlight Instructor's Guide for free. Click here to get one for any level, preschool through twelfth grade.