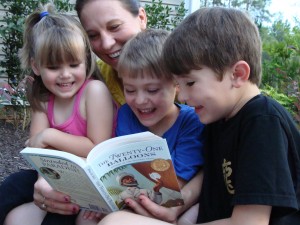 Watching my son's eyes light up when he finally conquered phonics? Priceless. Hearing my daughter heave a sigh of relief when Algebra finally made sense? Priceless. Spending hours reading and learning together, investing in the lives of my kids? Priceless. So many priceless moments fill our homeschool days ... yet we know that all of them do come at a cost. A cost in time, a cost in sleepless nights, a cost in dreams and expectations, and a cost in finances.
Curriculum, like everything else in life comes at a cost. Many of us, at one time or another, have been blessed with loaned textbooks, or have found used literature at a fraction of retail cost. There's a sense of deep satisfaction when you can save money on groceries, children's clothing and yes, even curriculum!
Many bloggers have written about the costs of homeschooling ... and one aspect of that topic that always tends to raise blood pressures is the debate over buying new vs. used. Instead of focusing on that sore spot (disclaimer ... I've bought both used and new), I wanted to share just a couple thoughts on why an investment in new Sonlight materials is worth making a priority.
Our 9 month payment plan promotion is quickly drawing to a close. If ever there is a time when it is most financially feasible to afford Sonlight Curriculum, it is now. Consider ...
As a homeschool parent, your time is valuable. Sonlight has proven a trustworthy source of solid academics and quality materials for 25 years. A one-stop Full Grade Package ensures you receive all that you'll need for a student for one school year, and you won't spend hours/days researching to find all the components you need.
As a homeschool parent, your money is valuable (and hard earned!). There are very few, true money-back guarantees out there. Sonlight's Love to Learn Guarantee provides true peace of mind when you spend your precious financial resources. And you are buying from a name you know you can trust.
As a homeschool parent, we all worry that we're teaching concepts correctly and not leaving any gaps in our children's education. Our convention representatives and homeschool advisors are Sonlight moms who are passionate about, and well trained in, assisting you with choosing and using our current line of products ... at no extra cost to you. And you have the additional peace of mind that you aren't missing titles that you need, or trying to make an older edition book work.
Some thoughts to review as you finish up this school year and begin planning for the next. Life circumstances do not always allow us to buy new clothes, a new car, or even new homeschool curriculum. But as you plan and pray over your curriculum purchases for the coming year, I hope you will consider some of my musings in your decision making. And I pray that you are abundantly blessed as you invest in the lives of your children.
Still on the journey...
~Judy Wnuk