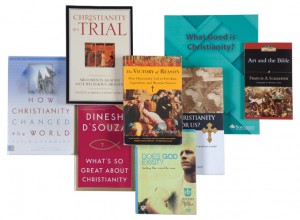 What do Pixar, culture, and C.S. Lewis have in common? I've written a book about Pixar Animation Studios that gets into issues about engaging culture, as well as some books about C.S. Lewis. These topics also happen to be three of several issues I recently discussed on The Sociable Homeschooler.
We also talked about the high school curriculum I co-authored with Sonlight President Sarita Holzmann: What Good is Christianity? This is a fascinating elective that takes high school students on a tour of Christianity's great contributions to the world in areas such as the fine arts, science, education, and much more.
How can Finding Nemo help us strike a good balance as parents? Why did C.S. Lewis think we all long for God? How should we relate to culture? Head over to The Sociable Homeschooler and listen to the program to find out (look under February 24).
Robert Velarde
Author/Educator/Philosopher