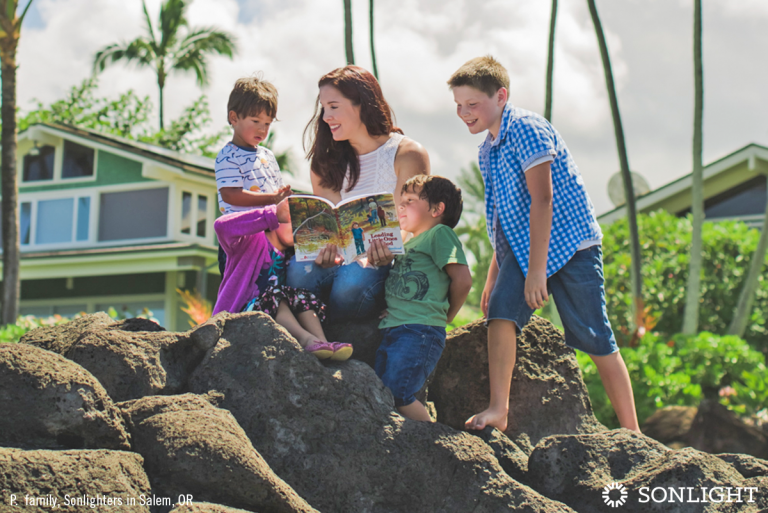 As I go through my days, homeschooling six children and serving the Lord in a variety of ways at home, at church, and in the community, I am regularly blessed by a handful of one-liners that invigorate me and help me to do the right thing with the right attitude. These five phrases come to my mind, and shape my life, on an almost daily basis.
1. "Just Do It"
Whenever I long to connect with my children, to read more books, to play more games, and to be more affectionate, I remember the phrase made famous by Nike, "Just do it". Instead of grabbing the calendar to schedule a time or revamping our homeschool day or, worse, despairing over my failure to do these things, I just do the thing I'm longing to do.
Cindy Rollins writes about this in her lovely memoir Mere Motherhood: Morning Times, Nursery Rhymes, & My Journey Toward Sanctification:
"So often mothers worry about what they are not doing. I hear these things all the time… To these moms, I say, "get up right now and do THAT thing." Today, now, put down this book and have your child immediately write a narration or have your devotions or take a walk."

Cindy Rollins
This tidbit of advice transforms my ideals, theories, hopes, and dreams into realities. Grab this little phrase for yourself. I can't recommend it enough.
2. "I've Changed My Mind"
Years ago, I was feeling stuck by one of my decisions for our homeschool.
Things weren't working for my child, but I didn't want to second-guess myself, cave to my child's complaints, or appear uncommitted. My friend, Renee, comforted me with the truth that I could change my mind. She reminded me that only God is perfect and unchanging; humans have limited understanding and are learning new insights all of the time.
Parenting became less burdensome when I realized that it's okay to reassess and modify my decisions. On a regular basis, I need to tell my children that I've changed my mind. It is humbling, but it also demonstrates that I am learning and adapting as I go.
You can change your mind, too, you know.
When you need to adjust a rule, a schedule, or a decision because circumstances have changed or you have learned a new insight, go ahead and change. Your child will respect your honesty, humanity, and flexibility.
3. "They'll Remember How You Made Them Feel"
Instead of prioritizing lessons, field trips, experiences, and educational resources in our homeschool, I'm learning to prioritize the atmosphere, my attitude, and my affection toward my family. More than any historical fact, spelling word, or math concept, my children will remember how I made them feel from day to day.
Did I communicate God's love for them?
Did I communicate my love for them?
Becoming a nurturing mother is one reason why I'm keeping a close eye on my stress level and my outside commitments. It's one of the reasons why I'm prioritizing time with God, exercise, and a healthy diet. It's also one of the reasons why I read uplifting books and listen to encouraging podcasts about parenting. It's also a big theme in my closest friendships.
These things strengthen me to be pleasant, present, and self-controlled. When my children reflect on their childhood, I want them to remember feeling loved.
4. "I Am the Gardener"
Sometimes my children's neediness, whining, crying, sibling rivalry, clutter, and chaos feel like an onslaught. As I move from one child's need to another—giving, accommodating, consoling, helping, and serving—I feel like a terrible version of Shel Silverstein's The Giving Tree. I feel more like The Depleted Tree. In fact, by the end of the day, I often feel like a mere stump of myself whose fruit, branches, trunk and all have been beaten out of me. Needless to say, this grim outlook has made me sulk once or twice. Until recently.
When I prayed about my burden, I realized that I am not The Depleted Tree. I am not a victim of my children's needs and demands.
Instead, I am The Gardener; I am the one with agency, calling, vision, and responsibility. I am the one who is teaching, training, and nurturing my children so that when they demand something, I get to decide the best way to address their needs. When they cry, fight, or make messes, I get to consider the best direction for their lives and act accordingly. By reminding myself "I am the gardener" of my precious children's souls, I move from feeling like a martyr to feeling like a maker. I move from resentment to rest. This shift in perspective is bringing forth fruit in my home.
Do you ever feel like The Depleted Tree? Try this shift in perspective! Today, remind yourself, "I am the gardener" and see if it helps you to take a proactive step in loving and serving your child with a cheerful heart.
5. "Serve the Lord with Gladness"
Vonette Bright worked alongside her husband, Bill Bright, as he began Campus Crusade for Christ (now called CRU on college campuses). When she was on her deathbed, she reflected on her life—one of joy and sorrow.
She had raised children, supported Bill in his ministry work, endured Bill's death, and had suffered through her own sickness. There, at the end of her life, she was asked, "What's life all about?" Without hesitation Vonette replied with a phrase from Psalm 100:2, "Serve the Lord with gladness."
Her response echoes in my mind as I work to love my husband, raise our children, build the Church, and reach out to our community. The encouragement to "serve the Lord with gladness" casts a beautiful light on all of my tasks—from the menial to the enjoyable. It makes my work meaningful and it lifts my eyes to a loving Heavenly Father who cares about me.
What's your life all about? What will all of your homeschooling moments amount to? Wouldn't it be lovely, profoundly lovely, if your life—homeschool included—amounted to a happy gift unto the Lord?
I bless you today with this life-shaping one-liner: "Serve the Lord with gladness."Add it to your daily self-talk. Preach it to yourself, sing it, pray it, whisper it. I am confident that living this one phrase will make all of the difference in the world.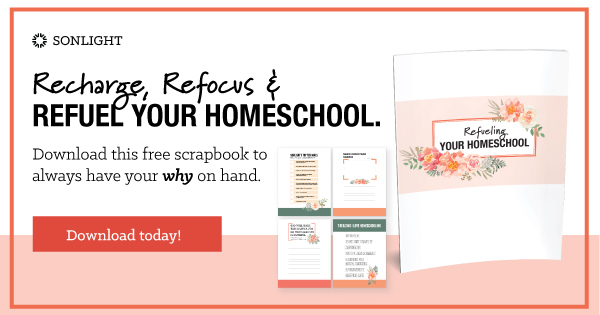 Why are you homeschooling? Keep your motivations forefront with this FREE guide.