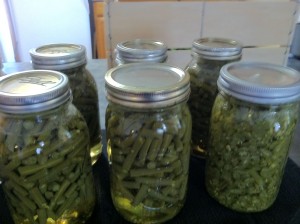 Summer is an amazing time around our home. Things are constantly changing ... people coming and going, wonderful food being enjoyed, produce coming in and being processed, outdoor work progressing, last minute trips to a park to hike or picnic ... there's never a dull moment. While winter is more of a time of "hibernation" around our house, summer throws the windows wide open and we thoroughly enjoy all that creation has to offer.
I remember when I first read of the idea that homeschooling is a "lifestyle" ... not just an activity that is added to your day. I have a wonderful friend who taught me to watch for those "teachable moments" in everything we did. Before long it became natural to stop and grab those opportunities to "educate" and learn together. Even at this season of life, when ours kids are mostly grown and gone, I find myself still looking for those moments.
A friend posted a photo on Facebook the other day of butterflies on her hosta plants. She wondered why butterflies seems to favor hostas over her other flowering plants. A perfect opportunity for a little bit of summer investigation! In just a few moments I learned some amazing things about butterflies ...
Earlier this week we canned green beans for this winter. It brought to mind all the times we took a break from academics to prepare and process beans, tomatoes, apples, and other produce for the winter. Another great opportunity to teach self-sufficiency and the value of hard work.
Academics are so very important, but in my opinion, instilling a love for learning is even more so. Before you know it, the line between academics and loving learning becomes blurred, and your children (and you) are anticipating what will come next each time you open a book!
What are you learning this summer?
Still on the journey . . .
Judy Wnuk
Sonlight Customer Champion