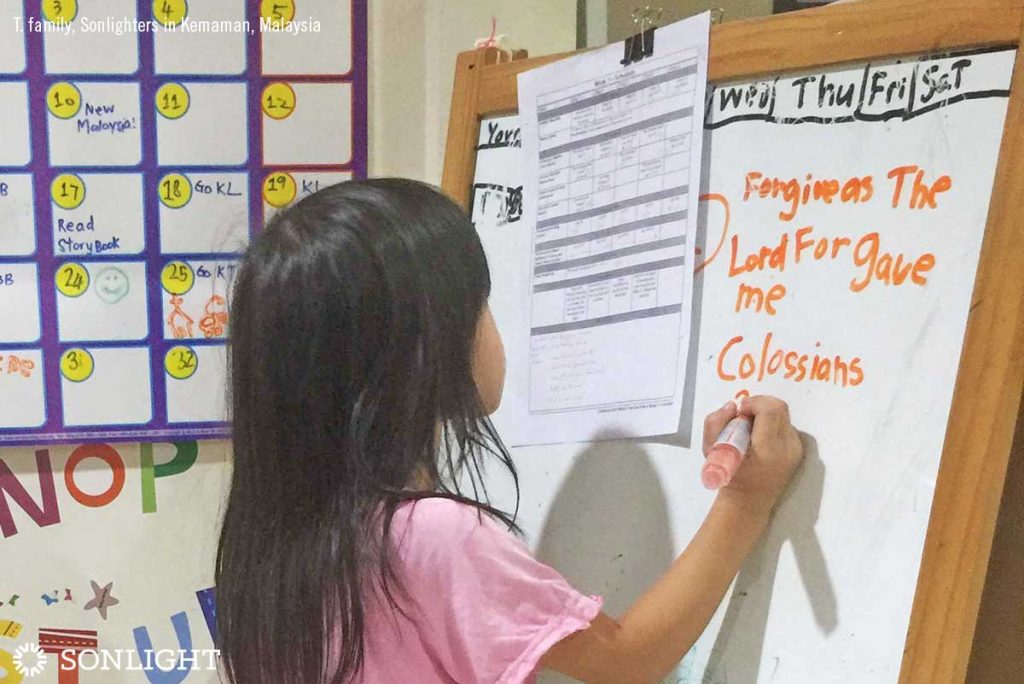 "[My children] have grown to love memorizing Bible verses. Sonlight is great for our kids because they love listening to stories. They have tons of questions as we read, and their learning experience is never-ending as long as they are awake. Thank the Lord for Sonlight!"

Helena T. of Malaysia
---
Sonlight curriculum encourages students of all ages to store goodness, truth, and beauty in their hearts and minds. In every level, students memorize Scripture. As the students progress, they memorize poetry, songs, and great speeches. These treasures will shape your child's character and world view; they'll be a comfort and help throughout life's ups and downs.
Here are five tricks homeschoolers can apply to effectively memorize Scripture, poetry, songs, and great speeches.
1. Repetition, Repetition, Repetition
Every day, have your child repeat the segment aloud 3 – 5 times.
Say it once at every meal.
Say it once in every room of your house.
Say it standing, sitting, and lying on the floor.
Say it to 3 different toys.
Share it with 3 relatives via phone or video call.
2. Use Hand-motions for Memory Work
Adding a body element helps young children retain the pattern of the words. With your child, develop motions to accompany the memory work.
Learn ASL for the key words in the memory passage.
Record yourselves doing the motions so that you can watch it together.
Teach the motions to other people.
3. Post Memory Work in Strategic Places Around the House
Encourage your child to read and review memory work when they're simply going about life by referring to small notes posted about the house. This is a great life-skill to develop!
Bathroom mirrors
On a wall by the toilet
On the wall by the shoe rack
In the car
At the table
In a ziplock bag tied to the dog's leash to review while walking!
4. Create Puzzles and Games to Review Memory Work
Introduce new memory work by asking your child to create a puzzle or game containing that segment. This will help to establish the piece in her mind. Doing the puzzle and playing the game will help to review it over time.
Scramble the words or phrases on cards, wooden craft sticks, etc. Then put them in order.
Write the portion on a white board and erase one word at a time as you repeat the passage.
Create a simple board game on which each step contains a portion from the memory work with a word missing. The player must fill in the word in order to progress.
Create a trivia Q&A game in which the players are quizzed about the order of words, the key ideas, the imagery, etc.
5. Create a Memory Work Binder or Book
When your child graduates from high school, wouldn't it be cool to hand him a book full of the Scriptures, poems, songs, and speeches that he has memorized over the years? This would be a source of review for a lifetime of pleasure and enrichment! In a way, it would be like your child's personal Timeline book. As you work on this together throughout the year, your child will learn and review the memory work as well.
Type and print the memory work.
Ask your child to illustrate in the margins.
Underline key words in the text.
Add photos to the page.
What other tricks do you use to help your children memorize? Add them below as a comment.