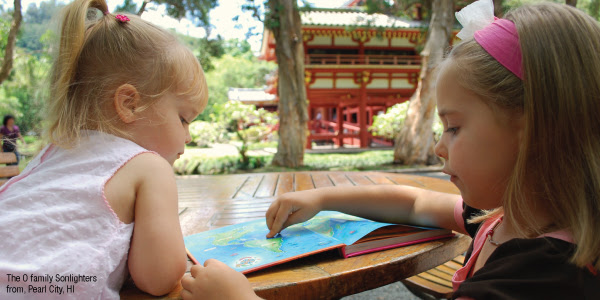 Did you know the average individual knows the locations of only 18 of the world's 193 or so countries? With such poor understanding of political geography, you might question if learning geography even matters today. Do children (and their parents) benefit from knowing geography?
Yes! When you know where countries are, you can pray for them with greater knowledge. When you meet someone from another country, you can ask intelligent questions, and welcome them into your life. You can distinguish Slovenia from Slovakia, Bulgaria from Bolivia, and Algeria from Albania.
Current events make a lot more sense when you know geography.
Why is Yemen important in world affairs?
Why did Iraq try to take over Kuwait?
Why is there so much tension in the Holy Land?
Knowing geography helps answer all these questions.
And, more superficially—when you know about places beyond your hometown, you can dream bigger dreams. Where would you like to go, if you had the chance? What people would you like to help?
And perhaps the best reason to know geography is simply that, since God created the world, we should do our best to learn about it.
So as you teach geography, here are four tips from veteran homeschool moms for making the most of your geography studies.
1. Use a Markable Map
Looking at maps is fantastic, but having a map your children can mark on provides even more opportunity to learn. Let your students use washable pens on a Markable Map to plot the locations of your history lessons. Something memorable in France? Find it on the map. Something exciting in Kenya? Point it out. As you explore these captivating stories through the help of a markable map, you'll gain a sense of the countries of the world.
Even if you have space to hang the Markable Map, you might find it easier and more practical to keep it folded up with your pile of schoolbooks. Then, when a lesson refers to place, you can easily unfold it, turn it to either the United States or the world, and make note of the location or travel route.
Don't expect your children to remember precisely where France is the first time you show them the location. But after repeated exposure over several years, your children will come to have a good understanding of geography.
---
#sonlightstories
As a final exam in Geography, I told my daughter to label a list of places on the Markable Map (which I think is one of the BEST tools I've ever seen!!). She was finishing the 50 states and she asked if we would use the map next year. I told her she would use it until she graduated from high school. She was so excited. We left all of her work on the map so she could show her Daddy when he got home. Who would have ever guessed that a big laminated map and a pack of erasable pens would be such a motivator?! THANK YOU, Sonlight!! You make the world really "come alive" for my child. —Marianne B
---
2. Pay Attention to Maps in Your Books
Have you noticed that some of your Readers and Read-Alouds have maps in them? Many missionary biographies have maps at the front. Many of history books and historical fiction books have maps within the text.
Reading the books is good; reading the books and following along on the maps is better. Take some time to look at the maps, pointing to the places mentioned.
And, of course, the Sonlight Instructor's Guides (IG) have maps, too, with precise locations. Regular map activities in your IG help your students gain geographical knowledge naturally.
3. Listen to Geography Songs
The Geography Songs booklet and album come with Sonlight History / Bible / Literature C, so if you're not there yet, you have something to look forward to. But if you are beyond Sonlight C, and not as certain of your geography, Geography Songs is an excellent resource to learn the countries—almost 200 of them! Some children memorize with ease, and for others it might take a little longer. And a little review can be a very good thing. Listening to chipper little songs makes memorizing geography painless.
---
#sonlightstories
My older daughter has developed an insatiable curiosity about history and geography thanks to Sonlight. What was presented as an unrelated, dull string of dates and events in foreign places in traditional school has become, since we started homeschooling, a united, fascinating chronicle of humanity. Through Sonlight's chronologically organized History/Bible/Literature programs, kid-friendly reference books, Geography Songs, and captivating Read-Alouds, my children are getting a great gift! They're being educated that the past is interesting and valuable, that the world is a big, fascinating place, and that history connects to everything! —Violeta M of Oakmont, PA
---
4. Add Hands-on Geography Resources
Grow your knowledge of geography organically through puzzles, especially those designed with each piece actually shaped like a country or state. In order to finish the puzzle, you need to figure out your geography. Here are two puzzles that make an excellent addition to your homeschool:
The Kids' Puzzle of the United States is only 55 pieces, but because the pieces don't interlock, it's a good challenge for anyone—even adults!—who want to solidify their understanding of the United States.
The GeoPuzzle World Puzzle includes 68 country-shaped pieces that help students to get a feel for where the countries around the world are and what they look like.
Geography games offer an exciting and interactive way to discover the world around you. Here are three geography games that make an excellent addition to your homeschool and geography studies:
GeoBingo World Geography As your family plays this educational geography game, you'll learn fun facts about the world's most populous nations
GeoBingo USA Geography puts a cool twist on a traditional game of BINGO. Instead of matching letters and numbers, you get to match states! Plus you'll learn fun facts about the USA as you play.
Snapshots Across America is a great way to learn U.S. Geography and discover our fantastic fifty United States. Learn about national parks, landmarks, historical sites, national monuments, museums, and other popular family vacation destinations.
With a Sonlight education, your children will learn geography, and far more than merely where countries are located on a map. History and geography go hand-in-hand, which is why geography is built into your Sonlight History / Bible / Literature and All-Subjects Packages.
Make the most of your daily homeschool lessons to internalize more geography. Get a Markable Map and other geography resources here.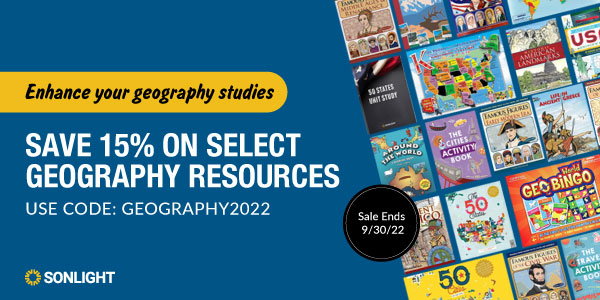 ***Use coupon code GEOGRAPHY22 to receive 15% off eligible items. Offer valid September 22, 2022 through September 30, 2022 while supplies last; expires at 11:59 pm, MT. Offer cannot be combined with any other discount except SonlightCaresTM. Discount valid on select geography products including Around the World Coloring Book, GeoBingo USA Geography Board Game, GeoBingo World Geography Board Game, Kids' Puzzle of the United States, GeoPuzzle World, Snapshots Across America Game, The Travel Activity Book, The Cities Activity Book, 50 Cities of the U.S.A., and Across the USA Activity Book. Customers who qualify for SonlightCares™ will also receive an additional 10% off and free shipping on the qualifying products listed above. Free Shipping offer is available to the lower 48 United States only. ***