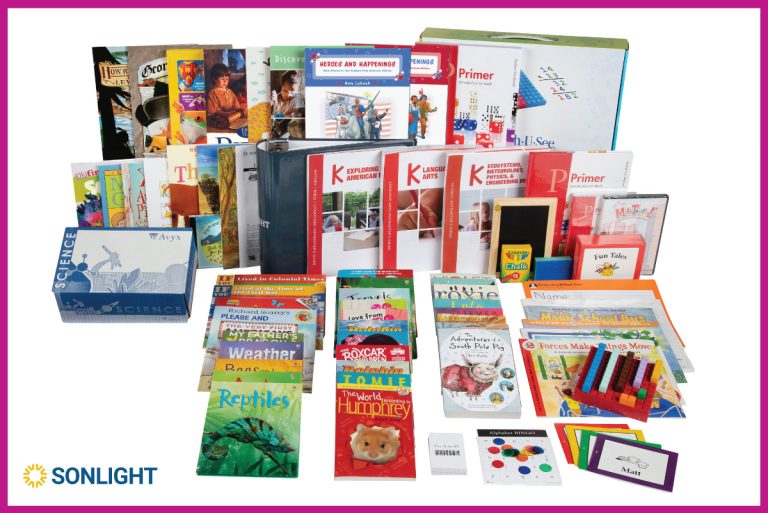 NEW FOR 2020
Sonlight's Kindergarten Program: Exploring American History
For years the Sonlight team has thought about a kindergarten American history program for ages 5-6. But we couldn't find a quality textbook or spine (a book that runs through the entire program as the foundation), that was interesting, age-appropriate, engaging, and people-focused.
One of Sarita Holzmann's priorities is to make history, as much as possible, about people. History happens to individuals, and individuals have stories.
A Kindergarten Curriculum Based on the Best Picture Books
After almost two decades of seeking the perfect book, we finally had an epiphany.
What do young readers enjoy that older children tend to pass over?
Picture books!
Over the years, Sonlight's book reviewers would fall in love with gorgeous, nonfiction picture books. But Sonlight doesn't include many standalone picture books, because that would quickly become cost-prohibitive. At $10-$20 each, and each book easily read in a single sitting, a single Sonlight program built around picture books would end up costing over $3,000. It might be marvelous, but would certainly be out of most families' budgets.
And yet those picture books continued to call out, "Read me!"
What if we could build a textbook (a spine) that was a springboard to all the amazing picture books available for American history?
So we created a book that introduces students to an enormous range of heroes and events from American history.
Heroes and Happenings, the History Spine
We are thrilled with the end result and you will be too! Sixty chapters, across two volumes, introduce children to a wide range of people and events. Some of them are well known, like George Washington and Thomas Jefferson. Some are far more obscure like Dave the Potter, an enslaved African American who inscribed rhymes on his pots at a time when the enslaved were forbidden from learning to read, or Temple Grandin, the autistic professor who transformed how people manage cattle.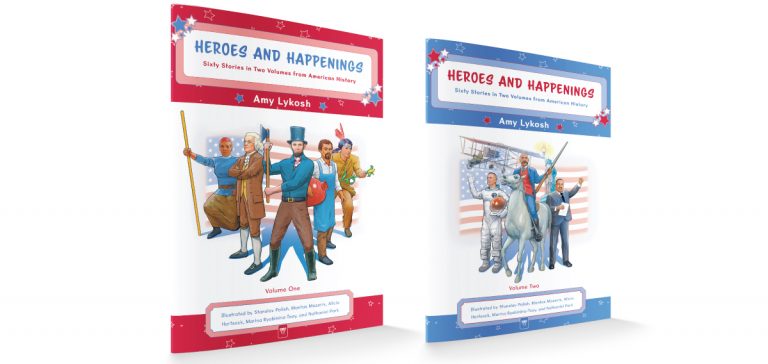 Heroes and Happenings, the 2-volume history spine of Exploring American History
AVAILABLE APRIL 1, 2020
Each chapter is approximately 1000 words, which takes around 10 minutes to read aloud. If all you do is read through these chapters, you'll have an excellent introduction to American history.
You'll cover American icons and and treasures such as
the four presidents on Mount Rushmore
the Declaration of Independence
the Constitution
the American flag
the Star-Spangled Banner
the Statue of Liberty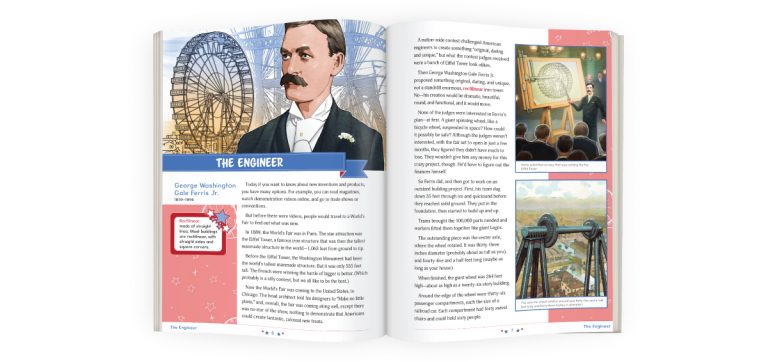 An inside look at Heroes and Happenings, the history spine
After Amy Lykosh did the original writing, a team of illustrators brought her words to life. Brianna in Product Development designed each spread in a beautiful layout. A team of editors suggested changes.
You'll learn about events in almost every one of the 50 states. You'll learn about people from a range of religions and ethnicities, with diverse skin colors and contributions. For animal lovers, we have a chapter focused on horses and a chapter with an amazing dog.
Many chapters include call-out boxes to explain something in greater depth. For example, when you cover Leif Ericson, the Viking explorer who reached North America back in 1001 CE, you'll also learn about the Viking women who created the sails of those ships, using a drop spindle.
The Suggested Picture Books
And at the end of each chapter in Heroes and Happenings, you'll find a box that asks, "Want to know more?" Some chapters suggest a single nonfiction picture book. Some have a half dozen or so. But if a character captures your attention, you can seek out those recommended picture books.
At the end of each volume, you'll find dozens more recommendations, so if this program whets your appetite, you can read even more picture books.
If you don't have access to any picture books, that's fine. The textbook itself has enough information, illustrations, maps, and detail that, even if you are overseas, you will still get a solid biographical understanding of these different characters.
But if you love the library, you have room to explore even more.
That's the story behind the Sonlight book Heroes and Happenings, a two-part volume with 60 biographies of characters and events from American history.
A Jeopardy! Champion's Secret Strategy
It gave us a level of validation when, during production of Exploring American History, we read that Jeopardy! star James Holzhauer, the most winningest contestant ever, used children's books as his secret weapon to become a game-show millionaire. He headed to the children's section of the library to look for books "tailored to make things interesting for uninterested readers."
What Else is in Exploring American History
Besides Heroes and Happenings, the two-volume spine, what else is in Exploring American History for ages 5-6?
History
The 4-day schedule includes timeline figures and seven additional history books. The 5-day version includes another three!
Enjoy a deeper dive into the Revolutionary War, Westward Expansion, the time of the Pilgrims, and more. As a complete program, this history curriculum is stunning.
Bible
The Bible portion of Exploring American History includes an album of memory songs and The One Year Bible for Children, an excellent overview of the stories of the Scriptures.
Readers
For the Literature portion of the program, pick the Readers according to your children's needs. The collection of Fun Tales is the most obvious choice for K, but you have additional possibilities. Contact an Advisor if you need help choosing.
Read-Alouds
The Read-Alouds are a tremendous treat! There are seventeen marvelous books in the 4-day program, plus four additional titles in 5-day. Even if you opt for the 4-day schedule, these four additional books are well worth adding to your order.
Enjoy animal books, adventure books, and books about life in interesting places. With beautifully written, age-appropriate, and often humorous plots and appealing illustrations, this is a kindergarten homeschool curriculum to celebrate.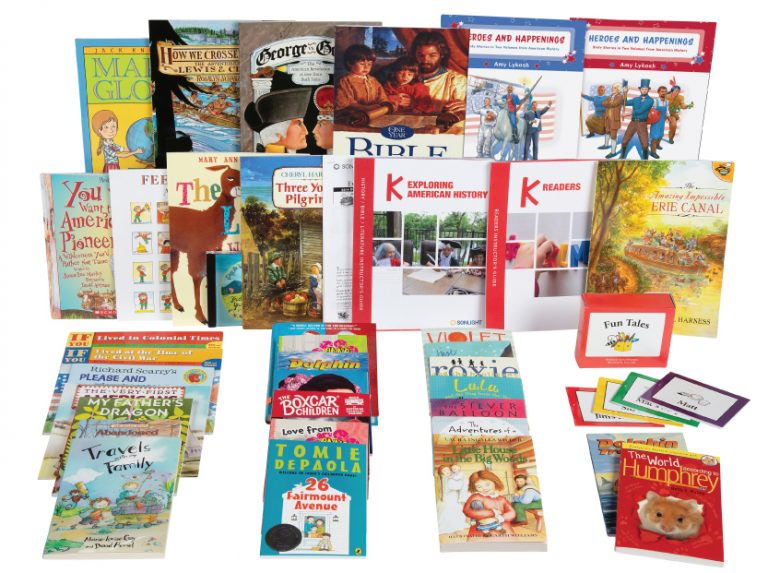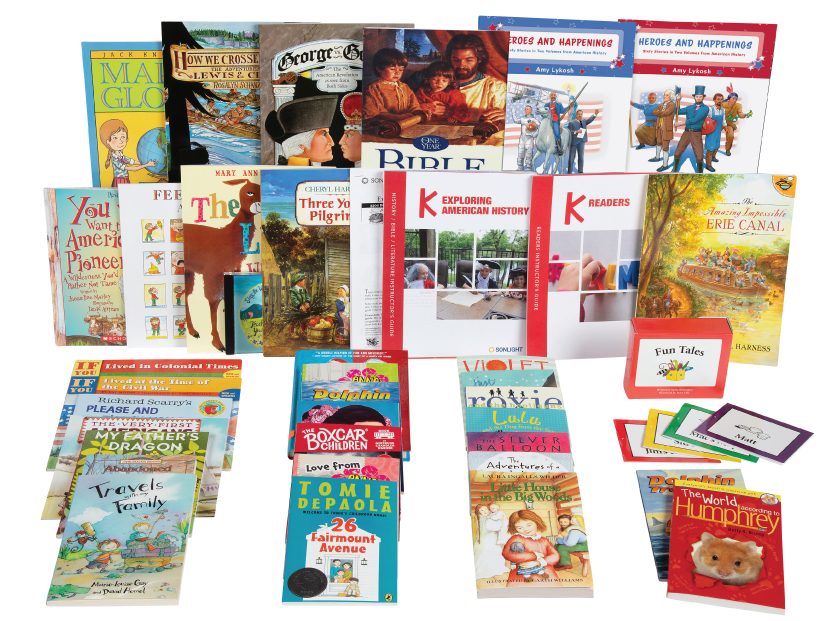 NEW FOR 2020
Sonlight's Kindergarten Program: Exploring American History
The Sonlight team has carefully curated the Exploring American History collection over many years. Early elementary is one of the hardest ages to find good books—children still have limited vocabulary and prefer short chapters, and not many authors are up to the task.
And if you are feeling a little bit sad because you do not have any children who are young enough for this new program? Honestly, for the price, just order this program, even if you don't have a child aged five or six. It's a beautiful, beautiful program. You will be encouraged, and you'll be blessed.