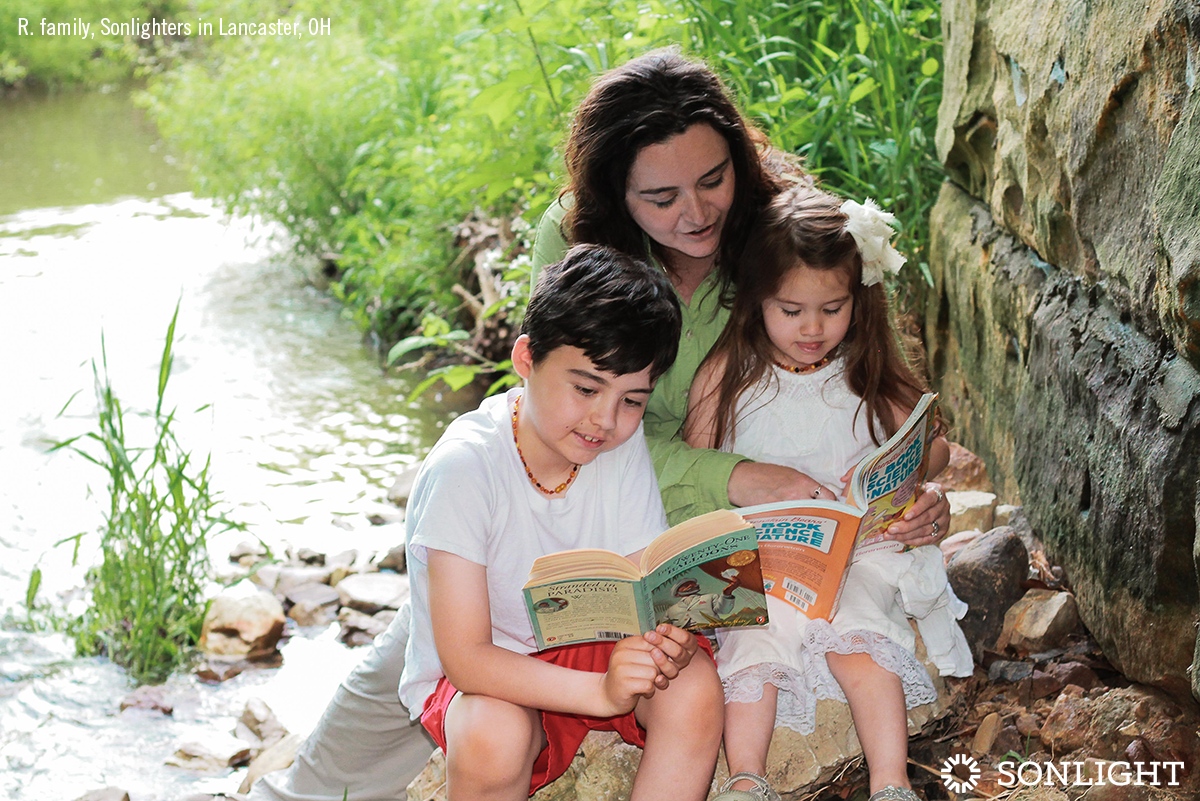 Have you read Jill's plea to keep picture books alive? I'd like to shout her message from the rooftops.
I believe picture books are a vital, wonderful part of a child's education. From my position as an educator, mother and grandmother, I think we simply must give our children picture books.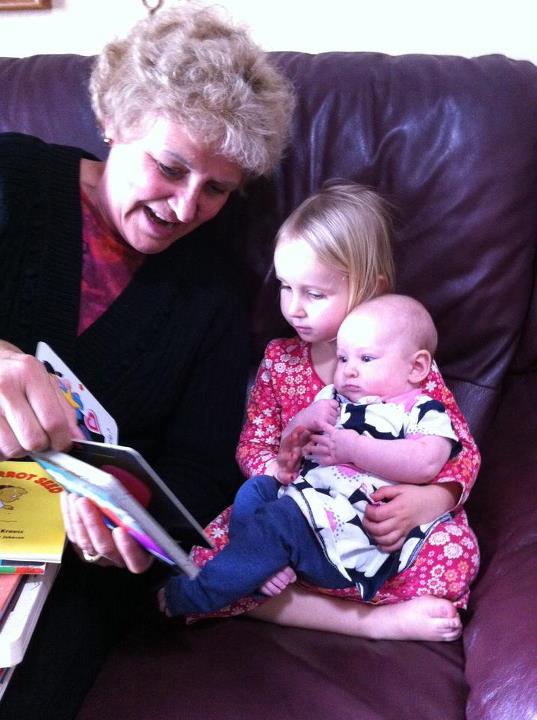 Reading with two of my grandchildren
But why are many parents skeptical these days? Jill linked to this New York Time's article that might explain. The article quotes Dara La Porte, the manager of the children's section of a bookstore:
"I see children pick up picture books, and then the parents say, 'You can do better than this, you can do more than this.' It's a terrible pressure parents are feeling — that somehow, I shouldn't let my child have this picture book because she won't get into Harvard."
Not surprisingly, Jill rejects this pressure. She encourages us to go against the culture and keep reading picture books.
To elaborate on Jill's keen insights, I'll expand on ideas shared in the comments to her post and share some of my own thoughts as well. Whether you have toddlers or older kids around, here are four reasons to let your kids read picture books.
1. We shouldn't expect our kids to read at their highest level all the time
Some parents feel pressure to keep their children reading at their maximum ability level all the time. If Susie can read at a fourth grade level, for example, then she should always read books written at a fourth grade level. That's the only way for her to grow, right?But consider that you and I would never hold ourselves to the same standard. Sure, I'm capable of reading scholarly articles and great classics of literature. I enjoy them. But I certainly don't limit my entire reading material to The American Economic Review and The Brothers Karamazov. I would never cut out all newspapers, blogs, cookbooks, children's literature, popular-level non-fiction and other less heady literature.Why not? For one, I'd miss out on what those other types of reading would teach me. But even more alarming, I think I'd start to lose my joy of reading.
And that is the last thing we want for our kids – to squash their love of reading by making it feel like a chore.
I think that after children read a book at their highest reading level, they deserve a little breather. After stretching Susie's reading comprehension with a 4th-grade level book, why not exercise her compassion with a simple yet emotionally moving story? Why not stir her appreciation of art with some great illustrations? This variety feeds a love of reading.
Even when Susie is reading a picture book, you'd better believe she's still learning. For one thing …
2. Picture books often use advanced vocabulary and sentence structure
One reason parents shy away from picture books is because they falsely label them as "simple." But consider that classic picture books (like the ones you'll find in Sonlight's preschool and pre-kindergarten programs) are created for adults to read to children.This means they're created with the intention that the child has more resources at his disposal than the mere words on the page. The child can rely on the words in connection with the illustrations, presented by an adult who can explain and elaborate. So the vocabulary isn't limited to words children may know on their own. This means the books draw on more advanced word choice and syntax.All this serves to build children's vocabulary and help them develop an ear for good writing.
3. Picture books introduce children to great art
As Helen said in the comments to Jill's post, "Have you seen the talent in those illustrators? Many picture books include an art lesson as you go!"I agree. We chose the books for Sonlight's preschool programs based on more than just their text. Each page of a picture book demonstrates how an illustrator turned a concept into art.Two good examples are Peter Spier's Caldecott Award winner Noah's Ark, a full color, creative look at what it may have been like to be Noah. Intricate, detailed, humorous (the number of rabbits who leave the ark is WAY more than the two who enter). By contrast, the incomparable Dr. Seuss uses only two colors in Horton Hatches the Egg. His whimsical illustrations offer less detail, but marry so perfectly to the text. What a valuable lesson in visual communication! What a fun way to get children thinking creatively.
As you read a variety of picture books with your kids, they'll gain an appreciation for watercolor, line drawing, realistic drawing, more interpretive art, and a dozen other styles of art. All wrapped up with delightful stories.
4. Reading picture books together promotes family bonding
When you have a great picture book in hand, children want to see the pictures. You want to point out aspects of the illustrations they may not have noticed. They want to point out aspects of the pictures that interest them.All this means that children get the wonderful experience of sitting in the lap of an adult who loves them, interacting, and forming a shared memory together.As Jill says,
"We don't need more kids who can read at 5th grade level when they are 4 years old, we need more kids with imaginations who get to cuddle up with mom or dad on the couch to share great picture books. It makes me weep to think that we are so busy trying to get our kids ready for college that we miss the joy of childhood and family and relationships along the way.
Preach it, sister!
So let's keep reading picture books with our children. I believe all our lives will be richer for it.
---
Want more encouragement?
Sign up for Sonlight's bi-weekly e-newsletter
You'll be encouraged by the words of founder Sarita Holzmann, inspired by real-life stories from other homeschoolers, pick up practical tips for the journey and more.
---