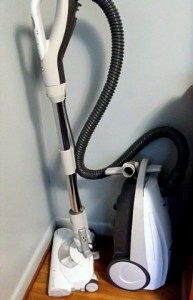 Yep ... it's that time of year again. Time for starting school, freezing corn, and cleaning out! For whatever reason I have always felt the need to clean house at the beginning of every school year. Sort of a "fresh start" ... not only for school, but also for our entire household. Even though my days of starting a new school year are behind me, fall cleaning is not. This past weekend we sorted and tossed, moved furniture, and cleaned from top to bottom. It has left a feeling of satisfaction and the sense that we're now ready for whatever this year's upstate NY winter has to bring.
I'm apparently not alone in my urge to clean. Over on the Sonlight Forums, Grace4all penned the following limerick:
"There once was a mom with ambition,
Whose sanity was under suspicion.
She was a bit rash as she threw out the trash
...the family barely survived her mission."
There are a lot of great books and blogs out there on how to effectively clean your house, but in the end, I've always found it was simply a matter of motivation and muscle-power. However, great tips and ideas are always an encouragement, and may even offer the missing motivation for deep-cleaning. A timely forum conversation can yield some great ideas! Here are a few that I've found worth repeating ...
Find an area you want to work on, set the timer for five minutes, and then stop working when it goes off.  Leave everything there (in that closet, cabinet or whatever) until the next time you have five minutes--either later that day or the next day.  Keep working on that one thing until it is done. (Grace4all)
Start a "Minimalist Game" - You get rid of one thing on the first, two things on the second, three things on the third, and so on until the end of the month. Some people in each game have followed the rules, others haven't, some are major hoarders, others just need to do a little purging ... but everyone is super encouraging as we all make progress.  (bethanyandtim)
Make your bed right before or after your morning shower. A neat bed will inspire you to deal with other messes immediately. (realsimple.com)
Establish 15 minute housecleaning plans ... a list of 2-3 chores you know can be completed in 15 minutes or less. Maybe sweeping the kitchen floor, or dusting the window sills. (housecleaning-tips.com)
Whatever motivation you need today, I hope this little conversation has provided a bit of "get up and go" for decluttering your home. Now don't sit there looking at your computer for a moment longer ... go clean that closet!
Still on the journey ...
~Judy Wnuk
PS ... Need even more ideas for organizing? Check out our "Organizing Your Home for Success" webinar.