If you've homeschooled for more than a year or two, you'll hear the tone of my voice loud and clear. This month has gained a number of unflattering labels ... mid-winter slump, homeschool nightmare, the storm before the calm, and so on. The frenetic excitement of the holidays are over, the weather may have turned cold and nasty, and it's time to motivate your children and yourself to go back to math and spelling. Don't all cheer at once.
Take heart ... we have something to help lift your spirits out of the mid-year doldrums! You are cordially invited to join an evening of inspiration and encouragement, mom-to-mom. Great speakers, giveaways, and social media parties ... our anniversary gift to you!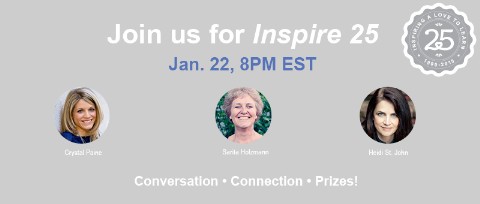 Let me entice you with some snippets from our stupendous speakers ...
Our heart is to inspire kids who grow up and do great things - not for their own glory, but for the glory of God and the sake of serving real needs in our hurting world.
~Sarita Holzmann
President, Sonlight Curriculum
Contentment is a state of the heart, unaffected by outward circumstances. Circumstances is a choice. It's all about perspective.
~Crystal Paine
The Money Saving Mom's Budget
If we were to truly love our husbands with our words and then match those words with our actions, I wonder how many generations of children might enter into marriages of their own with a right perspective.
~Heidi St. John
The Busy Homeschool Mom's Guide to Romance
Just think ... a whole 90 minutes of mom-focused activities, including hearing wisdom from these amazing ladies. And it's FREE! All you have to do is register. So line up your favorite baby-sitter, mark a huge X through the date on your calendar, and plan to close yourself in a room with your computer and your favorite cup of something. This night is all about you ... and I look forward to sharing it with you.
Still on the journey ...
~Judy Wnuk