I know that as moms we can get into ruts where we feel like we "need" to vent and question who our kids are, what it is we are doing, and how in the world we got here. We can complain about the state of our homes, how helpful our husbands are, the current issue with our children and a myriad of other complaints.
But my friends, what a slippery slope. I have found that as soon as I start looking at the negative, I blow that whole segment of my children, or my marriage, or the world around me, way out of proportion. I give it more space than I should.
While I don't think we should ignore hard things, nor pretend we feel no pain, or even suggest that our children are perfect or we know what we are doing each day, I think it is so important to focus on the good, to cast the years of our lives with a rosy glow.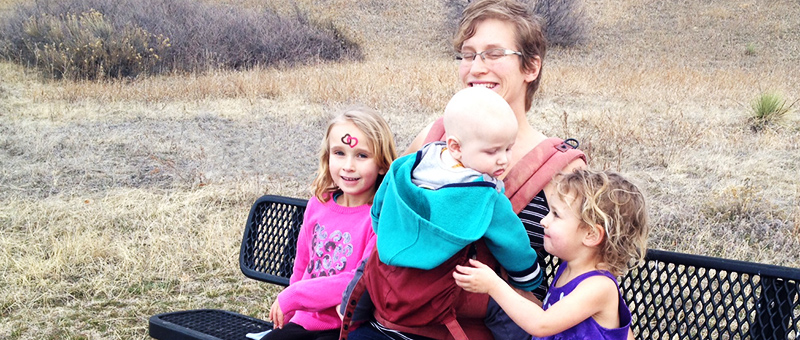 Me and my children taking a rest while on a walk
When I think back on my own childhood, I remember it very fondly. Lots of reading, lots of time on the trampoline, at the pool, or in the hammock. And more and more reading. And, surprisingly, every day was sunny until that lovely afternoon storm where I would curl up under a blanket and wait for it to come. Ah, the cool refreshing breeze...
Of course I can pull up squabbles with my siblings, feelings that my parents didn't understand me, or even times when friends were very, very mean. But why would I do that? Why would I choose to live there?
So even now -- while yes, the days can be long, my children are children, my house the worse for wear -- I want to choose to see the good, to pull those "postworthy moments" and have them be the focus. When I get with friends, to seek to speak the good about my life, to tell the sweet things my children have said, to focus on their strengths.
I want to focus on the good things I'm doing: The yummy food I've cooked and the jobs I have gotten done, to speak about hardships in the light of hope. Things can get better and if we need help in an area, help is available.
I loved the Inspire25 event. It was such an encouraging night to "be" with people who are excited about homeschooling, books, and being good moms and wives; what a blessing to my soul. But I'm glad it's more than a night, but a year (and hopefully a pattern for our lives!). This is a season to look back, but also look forward the good that is yet to come.
My friend, all is not lost, though this February might have you been feeling that way! I'd like to encourage you to seek to see the good today, even if it's a swift snuggle, or a short song...there is good in the world. Let's be people who see it.
Until next time,
Jonelle