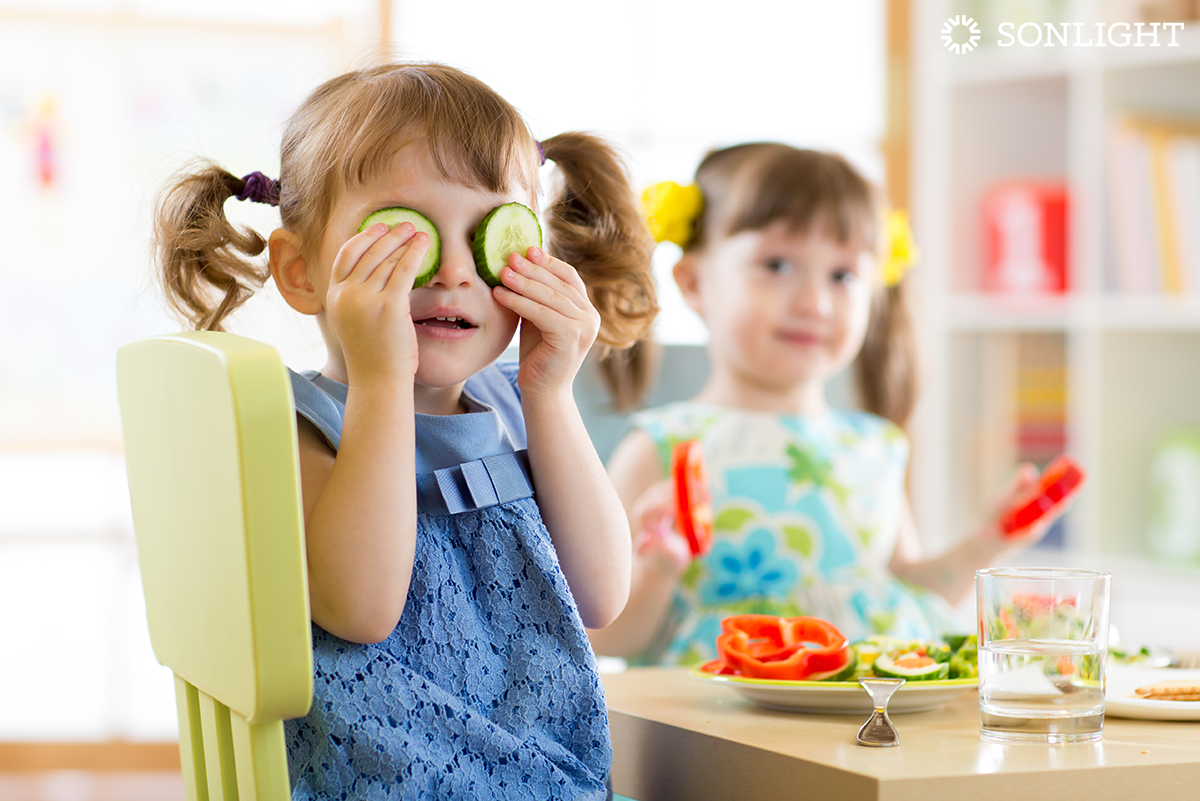 When homeschooling, it's easy to think of learning as the main event, while mealtime is more distraction than necessity. Lunch can interrupt the daily flow, making it hard to get back on track with lessons again afterward.
Meals are Almost as Important as Curriculum
When we delay, skip meals, or rely on snacks to fill up rather than a balanced meal, it feels like we are saving time and energy. But in reality, children (and adults) need those nutrients to keep their minds working well. While you might not feel the effects of delaying a meal by an hour or two, your children might.
The signs might be subtle, but they include
difficulty paying attention
trouble remembering what they are learning
struggling with fine details
mild headaches
mood swings
While there are many reasons to have a strong breakfast to start your day off right, lunch is just as important for those hard-working brains. Here are some ideas to make lunch a natural part of your homeschool day instead of an annoying interruption.
1. Make Lunch the Homeschool Lesson
So many skills go into making of meals that I can make many of my meals a part of the lessons itself. Instead of viewing lunch as an pause in the learning, use it to expand and review what your children are learning.
Here are just a few things you can teach your children about meals that take little or no extra effort.
food safety
kitchen safety (safety with knives, hot oil, etc)
fire safety (what to do if there's a kitchen fire, how to use a fire extinguisher, never put water on a grease fire, calling 911, etc.)
different cutting techniques (dice, slice, julienne, etc.)
meal planning
2. Involve the Children in Lunch Preparation and Cleanup
If you have multiple children, one of your older children might like to help by doing meal prep while you work with a different child. Children as young as 5 or 6 (sometimes younger!) can help make sandwiches, pull out ingredients, or set the table. Older children can make complete meals, stir the food so it doesn't burn, or chop the vegetables. This can be part of their daily homeschooling, filed under Home Economics. They might even like being in charge of deciding what to make each day.
3. Combine Meal Time with School Time
With a little forethought, meal times can also be times of learning.
Discussion Questions
Leave the discussion questions from your Sonlight Instructor's Guide until lunch. While you are eating, hold a family discussion about your Readers and Read-Alouds. With a relaxed lunch discussion, your children have leisure to express what they are learning beyond (or instead of) the discussion questions.
Stagger Your Meals
When my children were younger, I would stagger meals, giving my younger children (infants, toddlers, and preschoolers) a snack and letting them play while my older children ate. Then, when the older children were finished eating, I'd feed my younger children and myself while the older children worked on math, phonics, handwriting, and other independent table work.
Read-Aloud Meals
Another trick that works for me is to read Bible while my children eat breakfast and read History during lunch. Because the toddlers have their hands and mouths full, they are less disruptive. Once they finish eating, I eat by myself while the older children tidy up.
Musical Meals
If eating with your children is important, or it's hard to have mealtime separately, you can play a custom homeschool playlist during your meals to sneak in learning during breakfast or lunch. Here's what our lunch playlist includes:
4. Categorize Your Lunch Options
One of the hardest parts of meal time for me is menu planning. Since I have a hard time committing to one food item weeks in advance, advance meal planning is hard for me. Instead I categorize lunches by day. Each day of the week corresponds to a category, and I stock up on ingredients so I usually have enough to make several different meal options in each category. When meal time comes around, I'm choosing between a couple of options rather than a few dozen.
A simple way to do this is to think of the different things you'd usually make. But instead of having the same meal week after week, try these options to keep your choices fresh and interesting.  Menu categories in my regular rotation are soups, sandwiches, salads, pasta, slow cooker recipe, and baked potatoes.
Add a Twist
If we have soup once on our rotation, that means we have it once a week. But we have a different type of soup each week, so it's always something new. We might have lentil soup one week and corn chowder the next.
New Ingredients
When having sandwiches once a week, it's easy to fall into a rut. But one of the fun things about sandwiches is that they are so flexible! You can liven them up with different types of bread: wheat, poppy seed bagels, English muffins, Italian, French, rye, pumpernickel, flatbread, tortillas, sourdough, pitas, lettuce wraps, etc.
Rotate toppings, too: cream cheese, peanut butter, other nut butters, various flavors of jelly, assorted lunch meats, egg salad, tuna salad, turkey, different types of cheeses, different condiments, and more.
This type of mixing and matching and rotating new foods can continue through other categories. For example, with salad, try using various greens, then mix and match toppings: cranberries or other fruits, various types of croutons, different styles of dressing, different meats or cheeses, and different veggies.
5. Prepare Ahead for Smooth Homeschool Lunches
There are several ways you can prepare your meals ahead of time so you have less actual cooking to do during school time.
Once a Month Cooking
There are several cookbooks and websites with meal ideas, but the basic premise is that by taking one full day a month to do advance preparation, you can make enough meals to last an entire month with very little work on each individual day.
Slow Cooker Meals
By simply throwing your ingredients into a slow cooker the night before, all you need to do is wait until lunch time, and your meal is ready to go. Clean-up is also a breeze with one dish meals like these.
Lay Out Lunches
Make the full meal ahead of time, and then lay it out so it's grab and go. Make a school lunch like the cafeteria in a brick and mortar school. When lunch time comes around, there's nothing to do but eat.
When I stopped looking at lunch as an interruption to our day and starting working with lunch as an important part of our lifestyle of learning, it was easier to take the effort to add balanced meals to our busy days. Later, when I started planning ahead and getting a lot of the prep work out of the way or delegating it to my children, I was able to keep our rhythm  flowing right through mealtime.  And by keeping our options fresh and interesting with my category rotations, we stay interested in the meals so we always look forward to our homeschool lunchtime.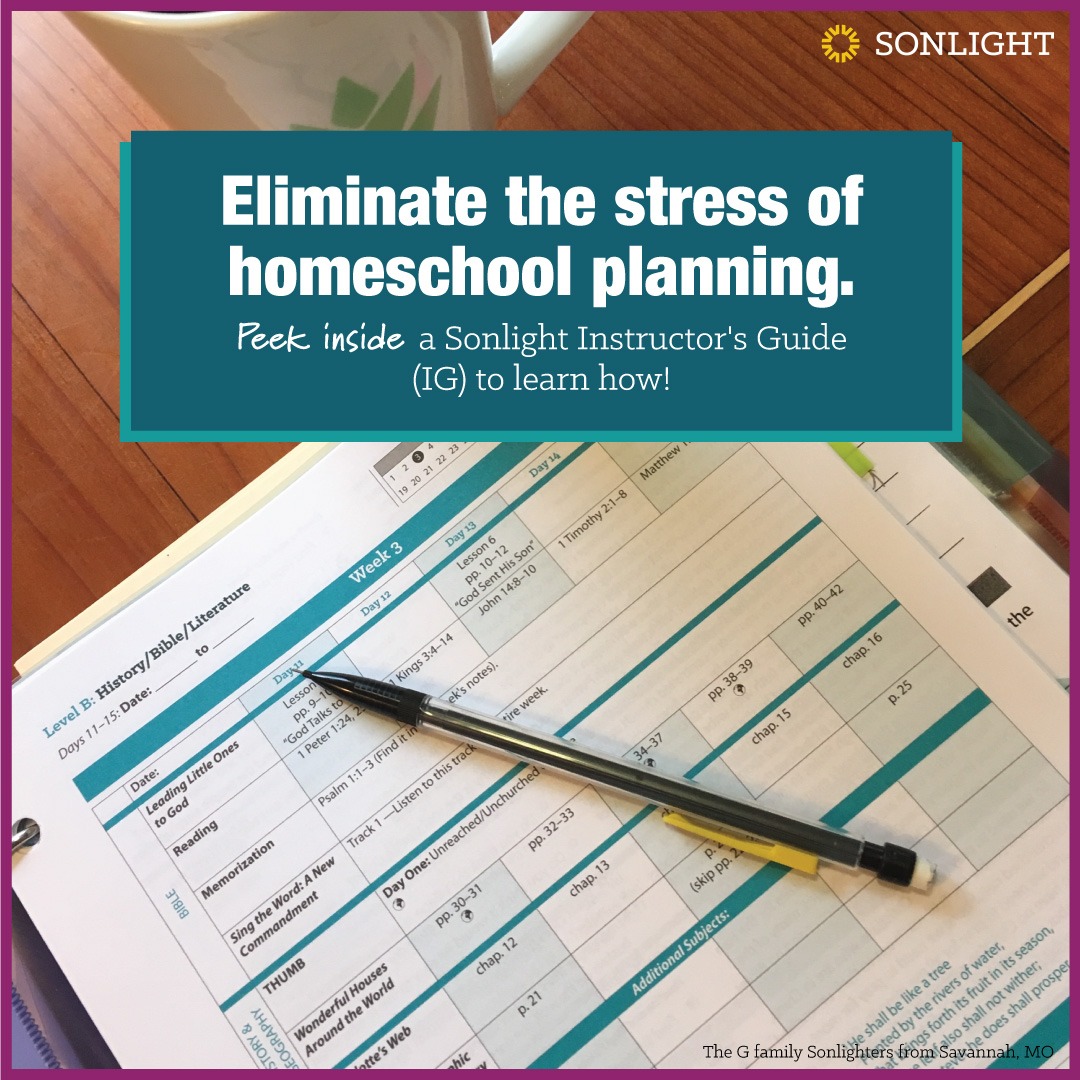 Want to know how Sonlight can put your daily routine on autopilot?  Start by taking an inside look at a Sonlight Instructor's Guide.