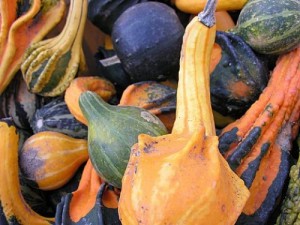 Temperatures are dropping, the leaves have turned beautiful shades of red and gold, and I filled my wooden bowl with gourds to put in the middle of my table this week. Yes, there's no denying that the season has changed. When our children were younger, school became more and more difficult this time of year. Between the obvious changes outside the dining room window (where we did much of our school work), and the various stores who began putting up Christmas displays in late September, I fought a losing battle to keep their minds focused on spelling and math. So one year I decided to "give in" and go with the flow. Over the years I developed a "holiday school" schedule that was full of projects, celebrations, and secrets. We would set aside a couple days each week for these special activities.
Beginning in early October, we would spend Saturdays "cleaning up" our property in preparation for the coming winter months. The garden was emptied of the last root vegetables to be stored, dead vegetable and flowering plants were pulled, and a few perennials were mulched. We also spent afternoons in the kitchen making applesauce, baking bread and canning apple butter. All great Science projects!
Field Trip Suggestions: Local farm market to sample produce and pick pumpkins ... Apple orchard to pick apples for baking and saucing ... Honey farm to sample local honey and watch bees in action ... Library to find books on gardening, making applesauce, and honey bees.
Favorite Books: The Bee Tree by Patricia Polacco, The Year at Maple Hill Farm by Alice Prevenson
In November we would begin preparation for the Thanksgiving holiday. Kids love to have their art work displayed, so this was a great time of year for doing leaf rubbings, making a Thanksgiving Tree, and practicing new recipes for the upcoming holidays. All great Art and Science projects! And of course, the days of Thanksgiving week were filled with housecleaning, baking and general preparation for the big day.
Field Trip Suggestions: Go back to the local farm market to get a variety of squashes to try, and more apples for pies, crisps and breads ... Rescue Missions/Homeless Shelters especially need volunteers this time of year to cook and serve ... Craft Stores are a great place to begin Christmas gift projects.
Favorite Books: The Thanksgiving Story by Alice Dalgliesh, Cranberry Thanksgiving by Wende & Harry Devlin, One-Hour Christmas Crafts by Leisure Arts.
December was filled with holiday preparations and secrets. My kids had great fun gathering gift lists from family members (who always kept younger nieces, nephews and grandchildren in mind) and working on various projects that would show up under our tree. In addition to the various church activities that Christmas brought (i.e. play practice, choir practice, caroling) we would create gift bags for friends and neighbors. We would purchase inexpensive brown paper gift bags from the local WalMart and the kids would enjoy decorating the outsides, and then filling the inside with homemade ornaments, candies and baked goods.
Field Trip Suggestions: Go back to the local farm market (if it's still open) to get a variety of squashes, sweet potatoes, and more apples for pies, crisps and breads ... Rescue Missions/Homeless Shelters especially need volunteers this type of year to cook and serve ... Deliver small gift bags to neighbors ... Check with a local nursing home to see if they would welcome a small group of children to sing carols (this was one of our favorite activities in December).
Favorite Books: Jotham's Journey by Arnold Ytreeide (a wonderful advent book published when our kids were small), The Story of Holly & Ivy by Rumer Godden, Becky's Christmas by Tasha Tudor, Winter Poems by Barbara Rogasky.
So if your kids are getting caught up in the hype and excitement of the holidays, take control of how *you* want to celebrate and incorporate some fun "holiday school" activities into your October-December. And I would love to hear some of your favorite holiday projects and book titles ... I might find a new volume to add to my holiday bookshelf for someday grandchildren!
Still on the journey ...
~Judy Wnuk
Sonlight Customer Champion