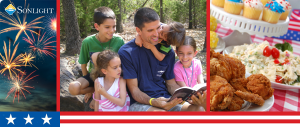 Those who cannot remember the past are condemned to repeat it. (George Santayana) As I was finishing up the potato salad for today's BBQ lunch, this quote came to mind. July 4th is a wonderful time for family picnics, fireworks, and bonfires, but we cannot afford to ignore the *reason* that we celebrate this summer date each year.
If you're on our mailing list, you likely received an Independence Day email greeting from us today. It is titled "We were made for freedom", and is a good reminder of the price paid so we can enjoy our holiday festivities with family and friends. Something that is often forgotten in the busyness of the day.
So sometime today, amidst the laughter and teasing, and sunshine and good food, I would encourage you to take a few moments with your children to remind them that there is a cost for what they are enjoying today. No need to cast a cloud of gloom over the celebration, but a few moments of appreciating the price paid for our freedom will make the day that much more special.
Still on the journey ...
~Judy Wnuk
Sonlight Customer Champion