We start a puzzle almost every time the whole family gets together. Then, as we chat late into the night while the kids sleep, we slowly piece together a picture out of tiny cardboard shapes. It's a bonding thing and a way to keep busy while we gab, catch up on life, and discuss deep matters we are walking through. When we finish one, we're on to the next.
I learned yesterday that only five people in the last year knew that we carried puzzles. That's unfortunate because our puzzles are great.
Don't believe me?
Here's a Sonlighter who recently pulled out her Global Puzzle to pass some time: Sonlight's Global Puzzle Fun. After reading that, I knew I had to tell you about the puzzles too.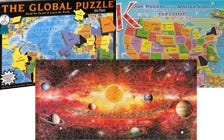 If your family likes puzzles, check out all three of the puzzles we offer. If you've never tried a puzzle as a family group activity, you should. And remember, if you're a Core Club Member, you get free shipping all year long (assuming you live in the contiguous United States).
~Luke Holzmann
Filmmaker, Writer Empty Nester