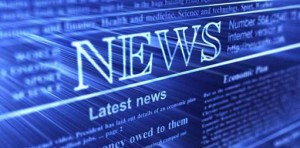 My previous blog post focused on recent encouraging news reports featuring homeschoolers. As I was contemplating my blog post for today, it occurred to me that if you're anything like me, you may tend to avoid the news entirely! So I decided to re-visit the news "theme" for today's musings as well.
Between the busyness of life and the rather depressing content found in national news, it can be easy to shut out the world around us and just focus on what directly affects our families. Besides, Facebook and other social media is constantly full of people's opinions on world events, so who needs the news ... right?
A couple of thoughts ... besides missing the encouraging reports about homeschoolers that I blogged about the last time, if you ignore the news, you will also miss issues that impact the education of your children, and your reasons and ability to homeschool. Did you know that the Texas governor recently appointed a homeschool mom as the state education board chair? Or that homeschooling numbers in Canada are said to be skyrocketing? Or that a school district in Iowa is now asking its principals to wear clip-on body cameras during their interactions with parents and students?
Let's face it, while none of the issues I've linked to above may impact you or your homeschool specifically, they all affect education in some manner. And in reality, the world is a much smaller place than it used to be. So if you're homeschooling (or raising children, or own a home, or drive a car, or pay taxes, or ......) the news of the world really does impact you.
Second thought ... current events are a perfect, low budget, curriculum-free educational tool. In a 1990 book focused on using newspapers as a teaching tool, Edward DeRoche cited the following research results:
Students who use newspapers tend to score higher on standardized achievement tests -- particularly in reading, math, and social studies -- than those who don't use them.
Newspapers help teach students to be effective readers.
Newspapers can help develop and improve student vocabulary, word recognition skills, and comprehension.
Newspapers are effective tools for teaching many math concepts, particularly fractions, decimals, currency, and averages.
While print media may be losing its popularity, I think you can reasonably make the argument that these benefits still exist. Whether you regularly incorporate newspapers or news magazines or news web sites in your student's education, studying current events is indeed profitable.
Add to these the opportunity to have in-depth conversations about what is going on in the world, and how it affects your family. Think about this ... what is the best source for your children to learn about the recent SCOTUS decision, the uproar over the confederate flag, or transgender issues involving Bruce/Caitlyn Jenner? Do you want their worldview/opinions on these topics formed by Facebook? What better place to address these, and other world-changing issues, than around your kitchen table?
I would encourage you to use this summer to get you and your students "plugged in" to what's going on in the world around you. And don't limit yourselves to the national scene ... become more aware and more involved in the local news of your community as well.
Still on the journey ...
~Judy Wnuk
PS ... Check out Homeschool Chatter ... a good source for education/homeschool-related news stories.