You may have noticed the following picture show up on Facebook over the weekend: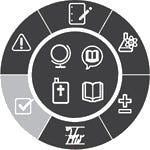 Core Wheel
What is it?
The "Core Wheel" as a quick reminder of what is included in your Core. It also hints at what other subjects you can add to your Sonlight experience. This handy guide shows up throughout your Catalog. You can immediately see that History, Read-Alouds, Bible and Readers make up your Core. The Readers part is lighter because you can select the Reader program that matches your child in the early years.
Once you've selected your Core program, move around the wheel to add the Language Arts, Handwriting, Science, Math, Electives and Resources you would like to include in your school year.
Nifty, eh?
~Luke Holzmann
Filmmaker, Writer, Empty Nester