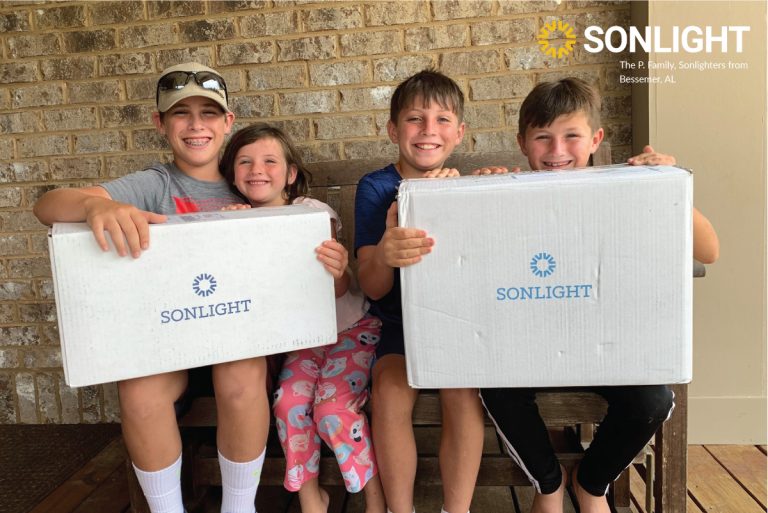 I got an email from a worried mother recently. Can you relate to her?
I want to homeschool. Did it for one year, yet I struggle with fear ... what my parents will think of me? (They think I am nuts, and think I will ruin my children's social skills and life.) My fear about how my children will navigate social difficulties if I protect them from it. Fear that my kids will end up with no friends and I will have to be their companion and playmate all day long! Not getting any free time myself! Fear that my husband and I will have very little time together. I know fear doesn't come from God, but the fear comes and makes me feel anxious in my body, and I tire of fighting it.
Fear can haunt every aspect of parenting; the decision to homeschool is no exception. But here's what I say to that mom:
I think most moms deal with these fears. You are not alone.
I'm Afraid of Disappointing the Grandparents
We value our parents' thoughts and approval. But homeschooling is counter-cultural and therefore many grandparents are unfamiliar with it and worry for their grandchildren. It can help to remember that homeschooling today doesn't look like it did when your parents were raising you. It's much more common and there are so many great resources and homeschool groups out there to help.
If you haven't already, take time to talk with your parents. Share your goals, your reasons, and your plans. You might show them your Sonlight curriculum, if you already have it, so they can see their grandchildren will be using a proven and robust curriculum.
Be transparent. Share how they can be involved if they want. Many grandparents patiently listen to children learning to read, or help with Read-Alouds either in person or over video-conferencing.
Then, before God, act as you believe He's calling you.
If our parents disapprove, we homeschool and trust that they will come to see the fruits of our labor. Many, many homeschoolers can testify that their parents came to applaud their work. (Read Jill's personal story in When family disapproves.) But even if your own parents never approve, you will see the fruit of the time you invest in your children, and will be able to move beyond the critique of parents.
I'm Afraid My Kids Will Lack Social Opportunities
Regarding social skills, most homeschoolers find plenty of opportunities to interact with others in both formal and informal settings. Of course, the 2020 coronavirus has made it much more challenging, but with creativity and a positive outlook, you can avoid any long lasting harm for your children.
From sibling time to playground friends to soccer teams and homeschool co-ops, the possibilities are endless (sans pandemic). For example, my children
swam on a team
played in an honor band
studied karate
attended activities with their church groups
participated in Awana
Nowadays, homeschoolers have even more options for outside activities. These experiences broaden our children's exposure to their peers and other adults. And a major benefit of homeschool scocialization is that kids learn to interact comfortably with children and adults of all ages, not just their immediate peers.
I'm Afraid I'll Have No Time for Myself
As an introvert, my biggest fear was the idea of having my children around me all the time. When I first started homeschooling, my children did stay nearby, but as we found our groove, they got to the point where when we finished our schooling time together, they were happy to go off to play.
I believe homeschooling trains our children to work quickly and efficiently (good life skills) by giving them the freedom to do what interests them once they finish their day's work.
I'm Afraid of What Homeschooling will Do to My Marriage
When it comes to time with your spouse, fear not. When I first started, my husband found a babysitter for us to leave the home once a week. He knew I'd need a break. That could be an option for you as well.
But homeschooling also presents an opportunity for an exciting joint venture together with your husband. You get to work together towards the shared goal of educating your children. My husband began reading to the children every evening —a precious heritage they remember with joy to this day.
And remember, homeschooling has worked for thousands of families. Many statistics that show that homeschoolers test significantly higher than their private or public schooled peers. There are many reasons for this: the tutoring model of homeschooling keeps kids from falling through the cracks, the home is a safe and calm place to learn, kids do better without being taught to the test, and so on.
Fear not, mom. Resist the lies the Enemy brings. Bring all of this before the Lord in prayer. Homeschooling is not the only good way for children to learn, but it is a tried, true, and wonderful option! Commit to one more year and evaluate at the end of it. I believe you can do it.
If you ever want more personalized help overcoming one of the fears above, or with anything else in your homeschool, contact a Sonlight Homeschool Advisor at no charge.
---
Want more encouragement?
Sign up for Sonlight's bi-weekly e-newsletter
You'll be encouraged by the words of founder Sarita Holzmann, inspired by real-life stories from other homeschoolers, pick up practical tips for the journey and more.
---