The winner of the prize drawing for April's blog party is...
Julie who blogs at Butterflies and Barefoot Lasses!!!
Congratulations, Julie! I hope you and your family enjoy the African-themed prize package.
The next installment of our year-long Blog Party will be on April 25, with another fantastic prize package... featuring a set of four biography/history books by Genevieve Foster.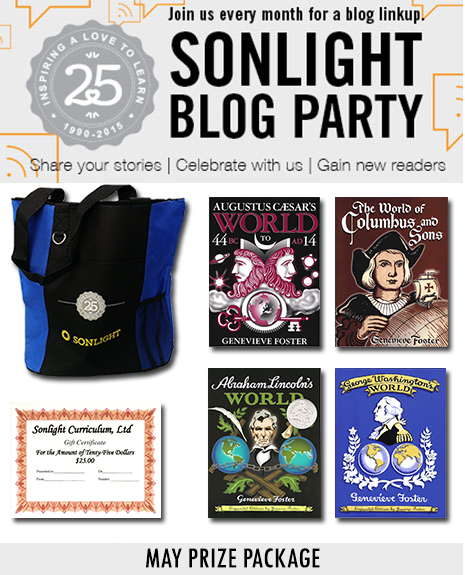 Plan to join us later this month for your chance to win the bundle of prizes pictured above, including:
Augustus Caesar's World
The World of Columbus and Sons
Abraham Lincoln's World
George Washington's World
Sonlight's limited edition 25th Anniversary tote bag
PLUS a Sonlight gift certificate for $25!
In your blog post on May 25th share your best homeschool convention tips and experiences. Even if you don't use Sonlight you are welcome to participate. Once your post goes live on the 25th, come back here to the Sonlight blog and link up with us. I'm looking forward to reading each of your stories!
Enjoying the adventure,
~Karla Cook
Lifelong Learner