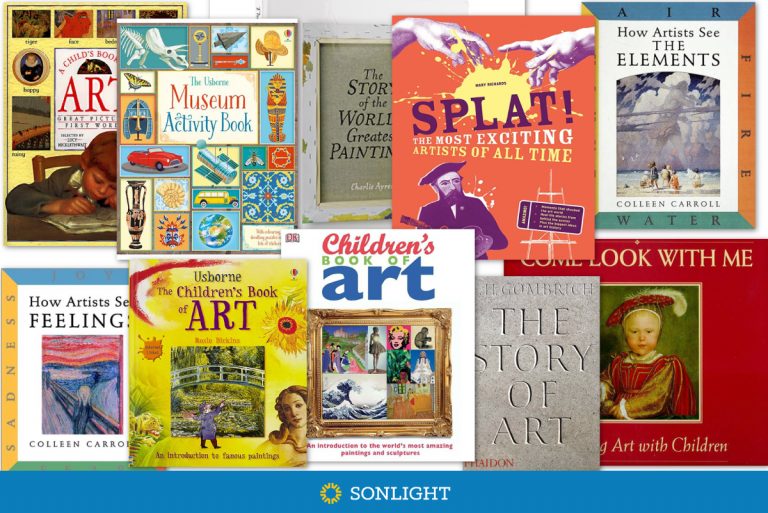 If artist studies keep getting neglected in your homeschool, any one of these art books can kick start a new habit. Rotate these resources through your morning basket, flipping to the next artist or work of art each day.
You may think such a sporadic and unplanned approach to art is a waste of time. But the opposite is true. Small but daily exposure makes a big impact over time! Your tiny daily investment will pay off in children (and a parent!) who can appreciate different styles of art, identify key artists, and label major periods of art.
If you love these titles, be sure to see the list of Christian Biographies for Young Readers, too.
by Gladys S. Blizzard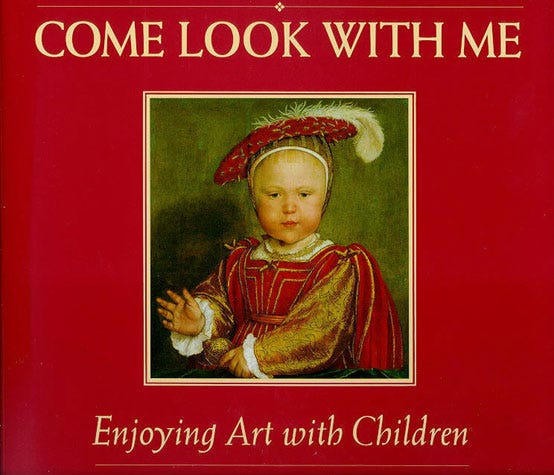 This oversize hardback includes full-color reprints of famous paintings. Each one is accompanied by brief historical and biographical commentaries about the paintings and artists.
This first book of the Come Look With Me Series makes the most of a child's natural curiosity with thought-provoking questions.
by Rosie Dickins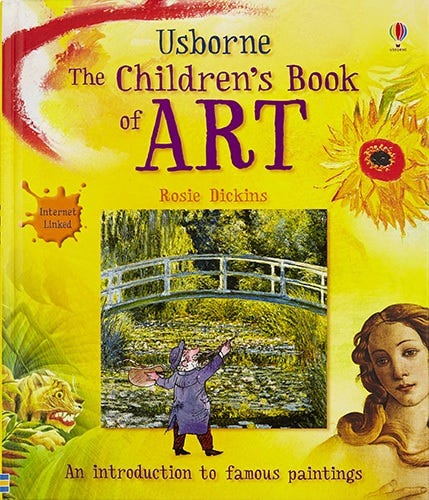 A survey of 32 masterful works of art created by some of the world's most loved artists, this book introduces elementary aged children to the beauty and wonder of art. Artist biographies detail the lives of Van Gogh, Picasso, Monet, Degas, O'Keefe, and more.
This book includes fascinating facts about how these artists created their work so your learners may start to understand what art is and why it is important.
by Rosie Dickins, Mari Griffith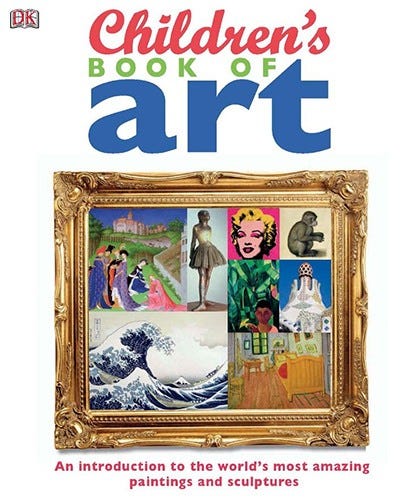 Take your children on a tour of the world's greatest art with this journey of art from all over the world. Consider the first daubs of paint in prehistoric caves. Puzzle over today's performance art. The scope makes it a foolproof art book for your homeschool morning basket.
This book covers the important art movements, from Renaissance to Rococo, as well as the great painters from these eras. The goal of this title is to allow your students to look at art as an international exchange of ideas, not as a chronological history.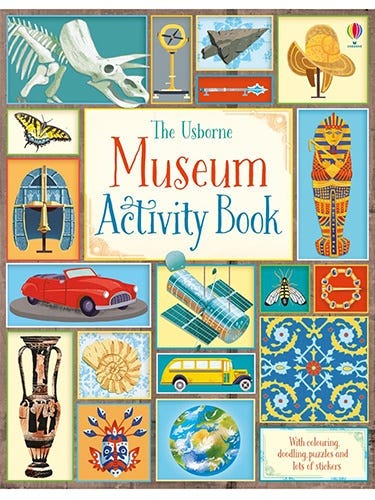 This book is the next best thing to going to a real museum! Learn about Egyptian statues, African masks, dinosaurs, and fashion. Your kids will love the activities and puzzles centered on things you find in a museum.
2-page spreads are themed around different types of museums or places in the museum.
by Mary Richards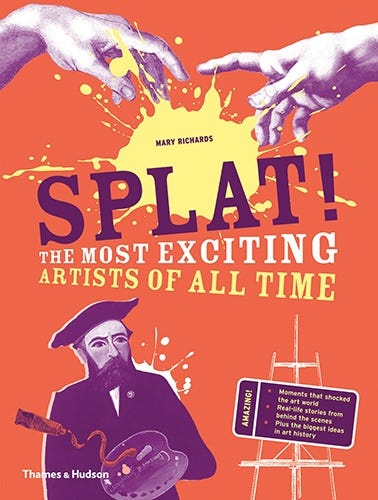 Your morning basket needs this quirky book! Splat! is the history of art at its most exciting and outrageous.
Learn the stories behind some of the greatest artworks of all time, through the lens of some of the most famous artists in history, such as Michelangelo in the Renaissance and Manet with Impressionism.
Each artist is introduced with bulleted facts including country of origin, most famous works, the greatest challenges they faced, background information, the movement they belonged to, and techniques they employed.
by Charlie Ayres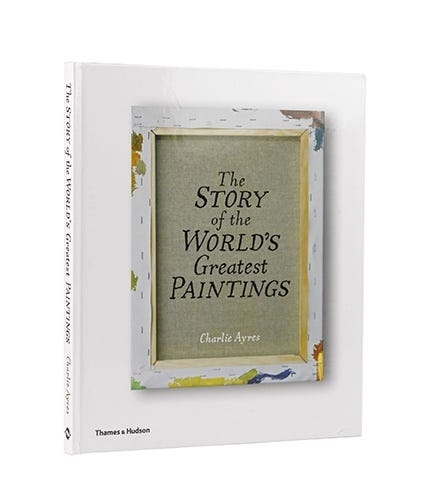 This brilliantly produced art book will capture the imaginations and senses of your young students, giving them inspiration for plenty of art studies in the future!
Twenty masterpieces are featured, and the accompanying notes look at how each was created, who it was made for, and what people have thought of it over the years.
Children will learn the lessons and stories behind the paintings; "Look at this" sections highlight specific details in the painting, "Why don't you" sideboxes provide ideas for activities, while "Did you know?" questions point out interesting facts about the artist, time, or paintings.
by Lucy Micklethwait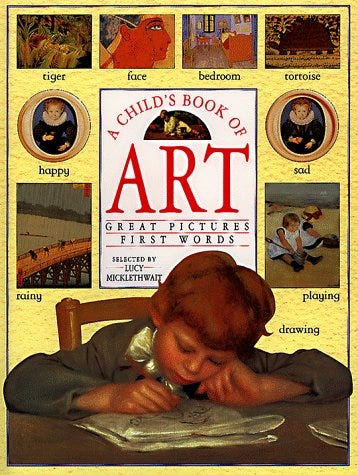 In this art book, mostly famous, but some not-so-famous, works of art arranged in thematic patterns for young children.
Covering medieval to modern, Western and non-Western pieces, this is a book to grow up with. Add it to your daily morning basket routine.
by E. H. Gombrich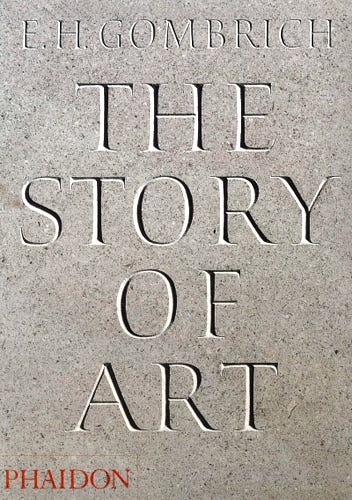 Called "The world's best-selling art book," E. H. Gombrich's history combines more than 400 full-color plates and stunningly readable text.
Written specifically for newcomers, Gombrich highlights everything from cave paintings to mid-20th Century works, and covers architecture, painting, and sculpture.
How do the different works relate to one another?
Why did Impressionism cause such an uproar?
You'll want to read just one more page. It's a perfect combination of overview and detail, written in lively (and refreshingly opinionated) prose. It's a worthy addition to your morning basket!
by Colleen Carroll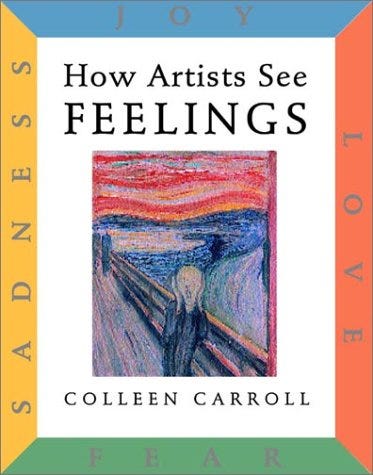 The author uses photographic reproductions of 16 works of art to demonstrate how artists uniquely represent feelings:
Author's comments include general introductions and guide students to explore—physically and mentally—the unique relationships between art and the real world.
by Colleen Carroll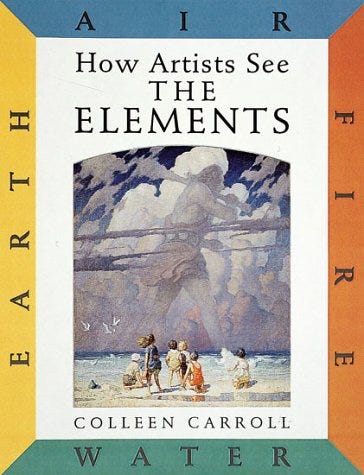 The author uses photographic reproductions of 16 works of art to demonstrate how different artists may uniquely represent the four traditional elements: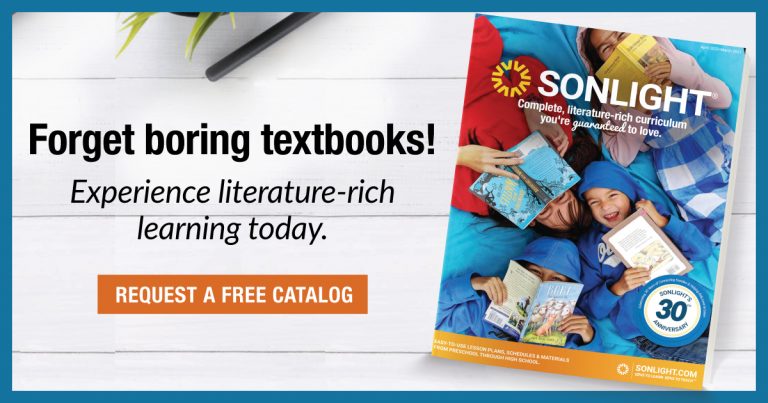 These ten art books are just a taste of the treasures that away you in a Sonlight catalog. Choose from complete curriculum, or buy individual titles for your home library.