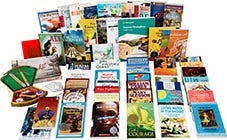 Core F has undergone a transformation this year. It is still a transitional Core that introduces you and your children to the Eastern Hemisphere. But we improved the Instructor's Guide, reworked the Eastern Hemisphere Explorer (and integrated into the IG), and re-evaluated the books, places, and assignments. We did so much work on Core F, we missed a few books when calculating the price for the catalog. So you have until August 1, 2012 to take advantage of this mistake. Come August 1, we will raise the price of the Core F packages by $30 to account for these titles.
If you order your Core F package before August 1, you get these books at no charge.
So if Core F and the Eastern Hemisphere await your studies, now would be the time to purchase your homeschool curriculum. Don't wait until next week and miss out on this opportunity to save $30.
~Luke Holzmann
Filmmaker, Writer, Empty Nester