I once wore t-shirts all the time. But now my wife has me wearing polos. And, I'll admit: I look better in a polo.
But given the right opportunity--like a a Saturday, or every evening when I get home, or the perfect outing to sport a Myst t-shirt--and I'm wearing one again.
Old habits die hard.
Are you looking for a great reason to wear a t-shirt again?
I thought so! That's why I'm giving you the perfect opportunity to wear a t-shirt: Sonlight's 2010 T-Shirt Design Contest. After we get some entries, pick a winner, get the shirts made, you purchase one, it arrives at your house... well... then, then will be the perfect time to wear a t-shirt again. You could wear this t-shirt with pride to:
your school reunion
a rock concert
the Sonlight picnic
your book club meetings
to bed
while cleaning the bathroom
the possibilities are only limited to the number of outfits you will wear in your life...
T-shirts are very versatile.
But here's the deal: We need some submissions.
Do you need to be an awesome artist?
No.
Here's proof:

Luke's Submission to the 2010 Sonlight T-Shirt Design Contest
And that sweet-awesome logo that I used? Yep--you can download it on the t-shirt design contest page. Don't have an incredible graphic design program? No problem! We point you to a couple really cool--and free--options on the contest page. We give you templates and encouragement, links and specifications, not to mention information about what we're planning on doing whenever someone buys a shirt. So, come on: Check it out!
Update: Winners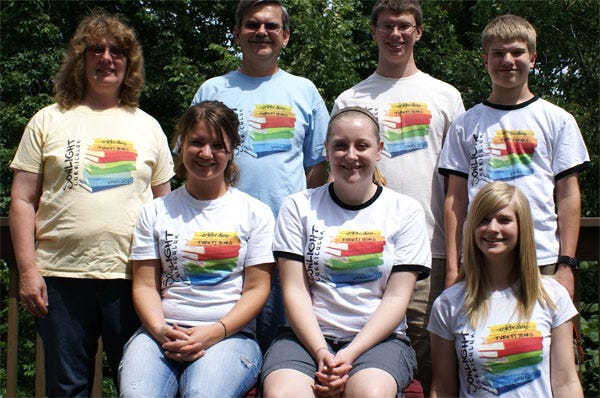 The R. Family
Barb, Joe, Joe Jr, Matt
Sherrie, Sarah, Amanda
~Luke Holzmann
Filmmaker, Writer, Surrogate Father
P.S. I almost put "t-shirt contest" in the title, but added the word design to hopefully stave off google searches that would prove to be less than fruitful for those looking for something more... er... umm... non-Sonlight related.