Have you seen these snapshots of the new catalog?
The 2010 catalog has officially gone to print. Trusting all goes according to plan, paper copies will start landing in homes by April 1.*
Maybe you can sympathize with Luann on the Forums. She says that around this time of year:
My daughter is always complaining about having to go to the mailbox the minute the mail comes. My husband thinks it is a hoot that I'm always talking about how the catalog has gotten to so and so and why haven't I received mine yet!
So just what did it take to produce the 2010 catalog? Well, if it's any indication, the project coordinator took a few days off when it was all done. She needed time to regroup!
Aside from the process of creating your curriculum and keeping it fresh each year, the mere task of assembling a catalog can be quite exciting and challenging. Here's a glimpse into what takes place in our office:
We start with last year's catalog. First, we review the critical feedback Sonlighters gave us about last year's catalog. We listen to it all and often tweak the new catalog accordingly.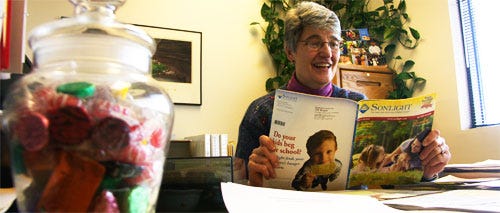 Linda enthusiastically kicks off and leads the catalog process.
A creative team helps John and me step back and brainstorm any big picture changes we'd like to see in the new catalog.
Lots of Sonlighters join in the creative process by providing photos, captions and quotes. After all, who wants a catalog without tons of great pictures and comments? We take great delight in all the wonderful submissions.
We evaluate the current articles in the catalog and freshen them up. We might add new articles, remove old ones, completely re-work some, and leave some in their tried and true form.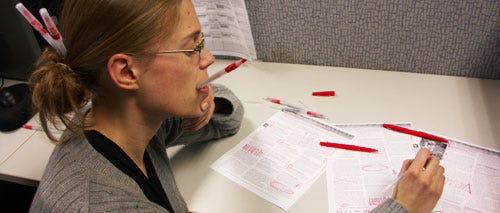 Anne Marie takes her editing very seriously.
At several stages, we print a draft and ask big-picture questions:

Does this catalog communicate what Sonlight is all about?
Are the graphic updates aesthetically pleasing?
Do they make the catalog easier to understand?
Is the written and graphical content clear?
Is everything organized logically and does it flow well?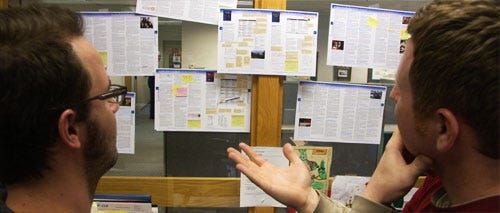 Tim and Dave ponder the deep questions of catalog flow.
We revise multiple times.
A few dedicated staff members comb through to check all prices, ensure the accuracy of page number references, test all the URLs listed and proofread.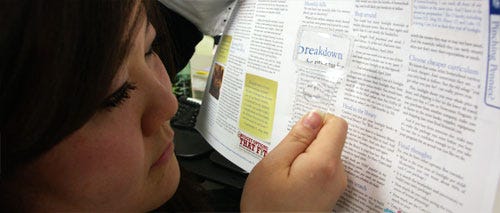 Christiane examines some text ... very closely.
Then finally, after months of work, we're at the stage you can see here. With proofs spread all over the conference room, we pore over everything again.
Then we revise one more time, double-check new proofs, and finally ... give the go-ahead to print.
And that's where the real fun starts, because the 2010 catalog will soon reach your mailbox!
As you plan your upcoming year and dream about wonderful new books, Instructor's Guides and curriculum resources, don't hesitate to call one of our experienced Sonlight Homeschool Advisors. Your advisor, a Sonlight mom with years of experience, can answer your questions and help you meet your family's unique needs. If you have questions even now, please don't hesitate to go to www.sonlight.com/SCA, even now before you've received your new catalog.
Many blessings,
Sarita
*We're working to give Core and Heirloom Sonlighters Club Members a special online sneak peek of the catalog before April 1!
---
Want more encouragement?
Sign up for Sonlight's bi-weekly e-newsletter
You'll be encouraged by the words of founder Sarita Holzmann, inspired by real-life stories from other homeschoolers, pick up practical tips for the journey and more.
---