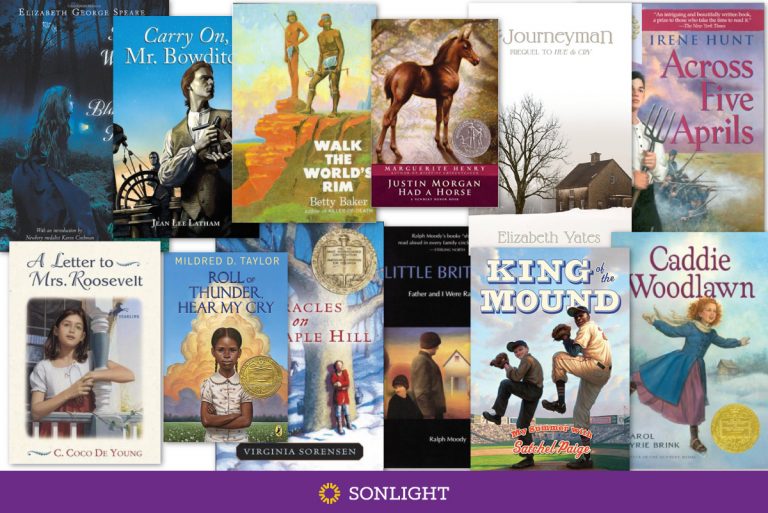 Here is yet another collection of great titles taken from Sonlight Readers and Read-Alouds that teach empathy.
When you read a book, you put yourself in the characters' shoes, seeing the world through their eyes, and experiencing their feelings. This vicarious element of reading fiction and biographies is exactly how they promote empathy. When you can see someone else's perspective, you can better understand their choices, their way of thinking, and their reactions.
Each historical fiction novel listed below is set in a period of American history. The realistic and historically accurate portrayals give your children a grasp of history in the most enjoyable way possible — through a narrative. You get the best of all worlds: reading skills, history content, and empathy. This is the Sonlight way of learning!
by Betty Baker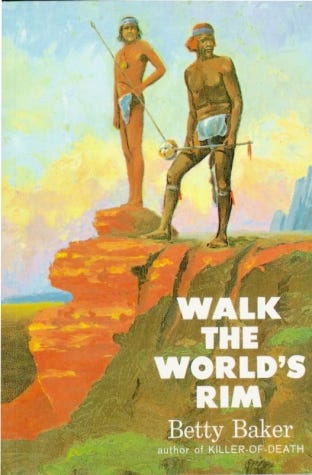 A 14-year old Indian joins Cabeza de Vaca's 16th-century expedition through the Southwest. This historical account paints a vivid portrait of Mexican life and the harsh conditions of a primitive Indian tribe. It may make you cry!
by Elizabeth George Speare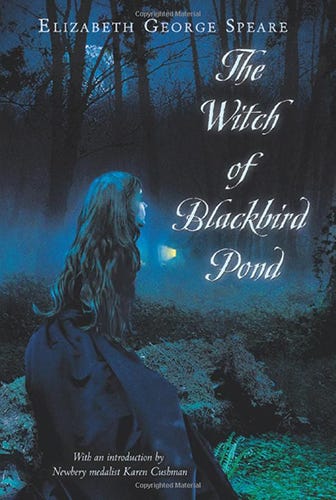 A girl raised in luxury in the Caribbean struggles to adjust to Puritan New England. She befriends a lonely Quaker widow whom some call "the witch of Blackbird Pond." There is no witch or witchcraft in this honest and inspiring story of Puritan life, but plenty of opportunity to develop empathy while learning about Puritan history.
by Jean Lee Latham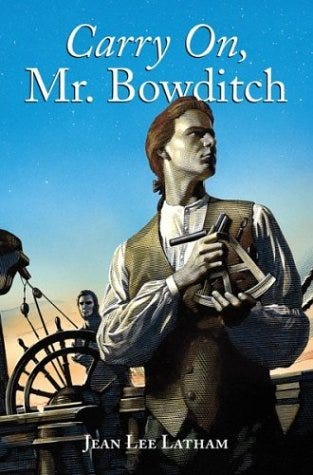 This fascinating true story follows the life of a poor apprentice who, shortly after the American Revolution, transforms navigation from an art to a precise science. Bowditch's book is still a standard reference among mariners.
by Elizabeth Yates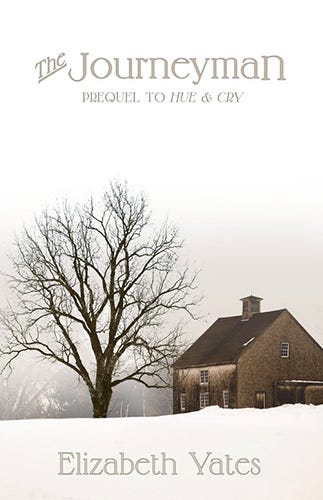 In this touching story, a boy, who is despised by his father because of his artistic bent, leaves home to find his place in the world.
by Marguerite Henry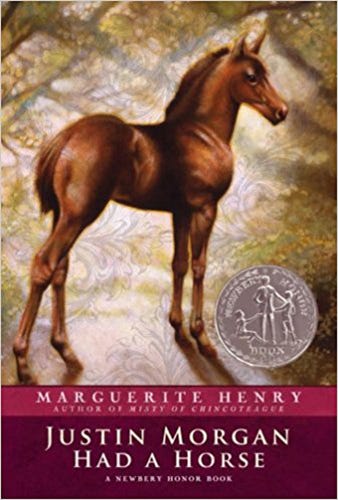 This true story tells of of a young boy who trained the first all-American (but now world-famous) Morgan horse.
by Irene Hunt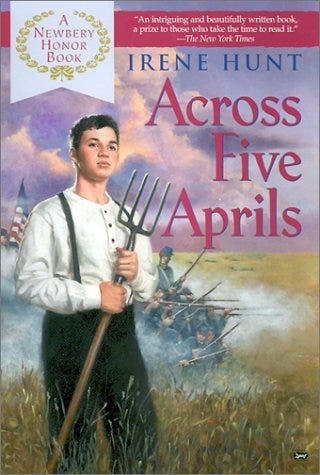 This novel tells the powerful story of a young man for whom the Civil War spans five Aprils.
by Carol Ryrie Brink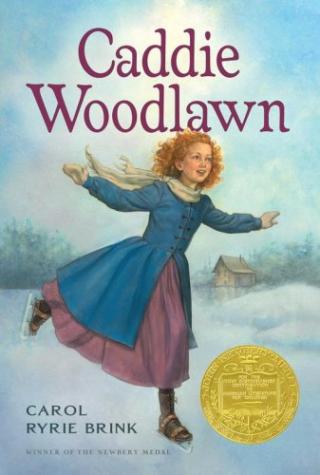 Caddie may become one of your favorite heroines! Eleven-year-old Caddie grows up with her six brothers and sisters in the Wild West frontiers of Wisconsin in the late 1800s. Indians, raging rivers, massacre scares, loving family life are all here. Caddie helps keep peace between the Indians and settlers.
by Ralph Moody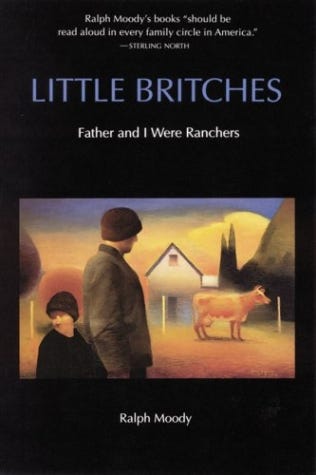 Ralph is barely 8 years old when his family moves to Colorado for the sake of Dad's health, and the family tries to make a go of it on the ranch. It's a classic true story of ranching in Colorado in the early 1900's.
You'll stay on the edge of your seat as you read about cowboy country among loving neighbors and murderous competitors.
by Mildred D. Taylor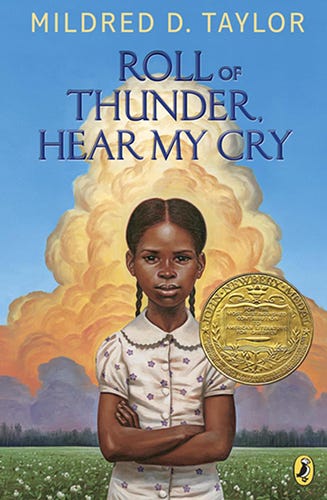 This must-read award-winning book is set in the post-Civil War South. The Logans are one of the few black families to own land: a cause for racial tensions and strife. it's a story of overcoming unjust opposition.
by Wes Tooke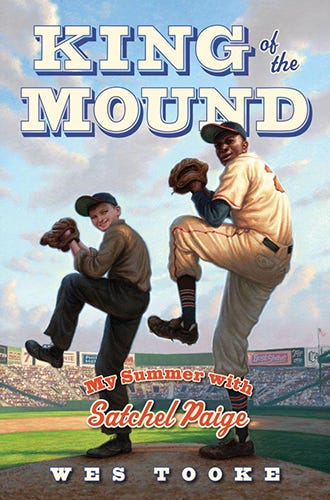 When Nick is released from the hospital after suffering from polio, he's sure his father will never look at him in the same way again. Once the best pitcher in youth league, Nick now walks with a limp and is dependent on a heavy leg brace. He isn't sure he'll ever return to the mound. When Nick starts working for Mr. Churchill, owner of a semiprofessional team, he meets Satchel Paige, arguably the best pitcher in the world. Not allowed into the major leagues because of his skin color, Satchel teaches Nick that some things can be overcome with hard work and dedication, and that just because you're down, you're most certainly not out.
by C. Coco De Young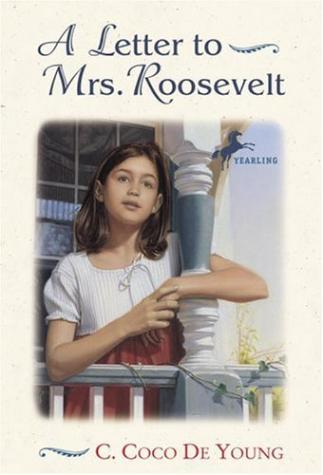 When the bank forecloses on her family's home during the Great Depression, 11-year-old Margo Bandini writes to Eleanor Roosevelt for help.
Fascinating plot twists and historical detail hold your attention. Heartwarming story of community cohesion and determination to do good. Powerful.
by Virginia Sorensen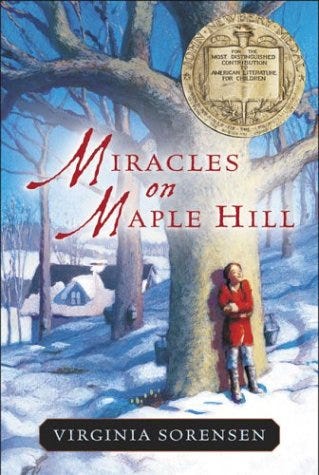 In this heartwarming Newbery Medal winner, Dad has returned from World War II a changed man: withdrawn, touchy, unable to work.
The family moves back to the family farm where dad gets the healing he needs. You'll love the description of maple sugaring!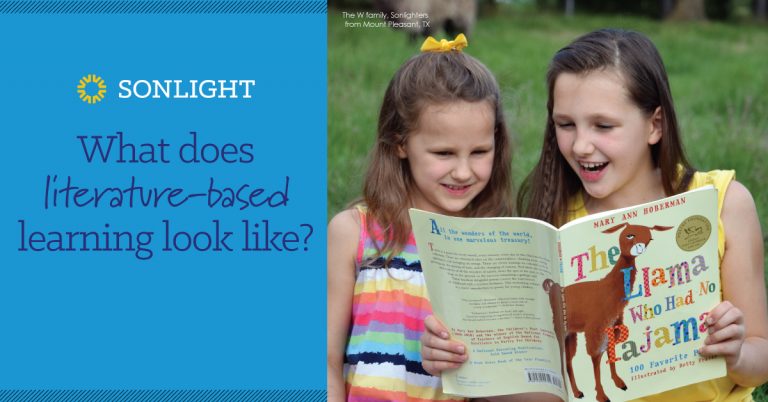 For 30 years (since 1990), Sonlight is the industry-leading literature-rich homeschool curriculum.