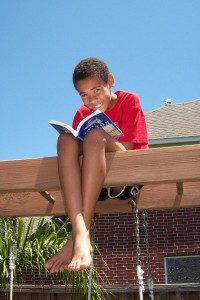 Read that with any emphasis you like ... Why do you homeschool? Why do you homeschool? Why do you homeschool?! It all boils down to the same thought process ... what's the motivation behind your decision to homeschool?
There's a fascinating conversation going on in the Homeschool Support Forum over on the Sonlight Forums page (you'll need forum access to get to this thread). The topic? Common Core. But more specifically ... would the implementation of Common Core be sufficient enough to keep you homeschooling for the long haul?
As I've had opportunity to talk with parents researching education choices for their children, many have stated that they want nothing to do with Common Core. While I have no real interest in getting into a political discussion with them, I do encourage them to consider if they have *other* goals in mind, or is it just avoidance of Common Core Standards that is driving their decision making?
Perhaps you're just considering homeschooling, or perhaps you're like the mom I talked with last week, who has been homeschooling for 16 years and wondering if she can do it one more year. I would suggest that you invest a couple of hours some evening or Saturday afternoon, and jot down the goals that are driving your education choices. As you consider what influences play into the choices you make (i.e. Common Core, academics, worldview, class size, etc...), you might want to take a look at the Homeschool 101 section on our web site. It's full of great articles, webinars and podcasts that may provide some fodder for your thinking.
No one education choice is going to be the best for every family, but you can be sure that what you choose is the best for *your* family.
Still on the journey,
~Judy Wnuk