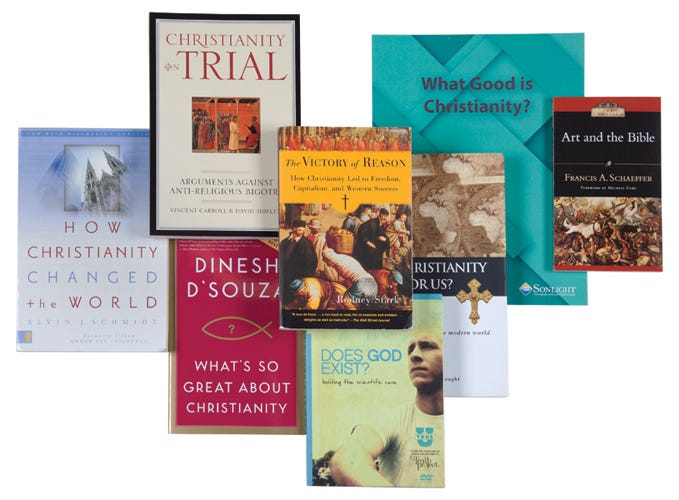 According to a study by Barna Research, 61 percent of twentysomethings who were once active as teens in churches "are now spiritually disengaged."
Why is it that so many young Christians eventually "disengage" from the faith? There are likely a number of contributing factors. One of them may be a lack of facts when it comes to understanding the many positive contributions Christianity has made to the world. Also, with so many contemporary challenges to the Christian faith, from hostile skeptics to competing religious beliefs, many Christians aren't sure how to respond.
With these points in mind, Sonlight recently completed development of What Good is Christianity? This is an exciting and stimulating 18-week, upper-level high school curriculum designed to equip teenagers as they prepare to graduate, pursue college studies, and begin their adult lives. Along with Sonlight's president, Sarita Holzmann, I worked hard to bring together the finest resources to make What Good is Christianity? the best that it could be.
Although the primary emphasis is on the facts of Christian history, noting Christianity's many positive influences, What Good is Christianity? also covers a lot of related ground. For instance, we address criticisms of the so-called new atheists, as well as the relationship between Christianity and the fine arts, literature, science, charity, democracy, social justice, and more.
We've brought together seven wonderful resources (six books and a DVD set), plus our detailed Instructor's Guide that includes numerous notes, suggested assignments, discussion questions, and bonus articles on important topics.
As a father of four homeschooled children, I want to do whatever I can to keep my kids from becoming one of the 61 percent who will ultimately "disengage" from their faith. Are your high school children ready to face the many challenges to their faith? Help prepare them with What Good is Christianity?
Why do you think so many Christian youth eventually "disengage" from the faith?
Robert Velarde
Product Development
Sonlight Curriculum