I hope you enjoyed the first part of my list of Top 25 Reasons Sonlight is 25 Years Old. I've had just as much fun digging deep and asking folks for ideas for the rest of my list.  List-making is a passion of mine! Once you've read through this last list of my reasons, please feel free to add to it any you think I've forgotten.
13. Our customers love to celebrate Box Day. It's almost as good as, or some would say even better, than Christmas!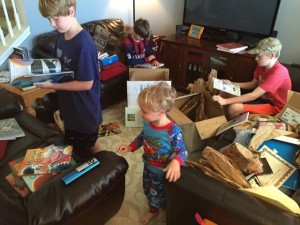 14. We give scholarships to our Sonlight students. I think this is one of the best arguments for homeschooling in general, and more specifically, for why Sonlight "works"!
15. We pick the best books. When we first considered homeschooling some 20 years ago, this reason was at the top of my list for considering Sonlight as an option. Sarita's 7-point All-Star test for choosing books quickly became my own.
16. We have the best convention rep's in the world! I admit to being a bit biased on this one, but if you've ever had the opportunity to meet one of our representatives at a convention near you, I think you'll agree. They're a great group of hard-working, passionate, veteran Sonlight moms. They love nothing better than spending their summer weekends sharing that passion with other families.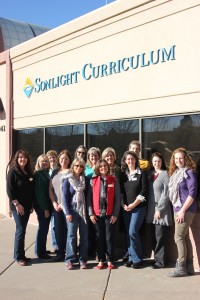 17. We have a top notch customer service team. Just like our convention rep's, this group of folks is passionate about providing our customers with the very best. They give new meaning to "going above and beyond".
This is a SHOUT OUT for Sonlight's AWESOME customer service!
There were 2 things missing from my order, and one EXTRA workbook.
Doesn't sound like a favorable experience, right?  (Keep in mind it was a HUGE order of approx 60 items!)
Well, I called today.  Got a super-friendly, live person right away.
NOT ONLY are they over-nighting my missing items to me,
they said I should keep the extra workbook, enjoy it; it would be their blessing.
It is one I would have probably ordered later anyway.
I'm a very happy customer!  (~mama katie)
18. We help families develop a lifestyle of learning.
19. We enable parents to give their children a broader world view.
20. We give students the confidence to engage with others.
21. We provide free access to experienced homeschool counsel and support. Our Sonlight Homeschool Advisors are ready and excited to assist you with choosing and using Sonlight Curriculum materials.
22. We help you to develop close family bonds.
23. We assist you with training your students to defend their faith.
24. We help you to develop a love for reading aloud to your children (and someday perhaps to your grandchildren!)
25. We offer what we believe to be the very best, unmatched money-back guarantee in the industry. We provide you the freedom to try our program with the knowledge that you can get your money back if it doesn't work for your family.
I hope you've enjoyed this reminder of all the reasons why Sonlight is celebrating our 25th anniversary this year. Perhaps you will be part of the next 25 years worth of reasons! As Sarita reminded us at our company celebration in June ... look at what God has done! May He receive the glory.
Still on the journey ...
~Judy Wnuk