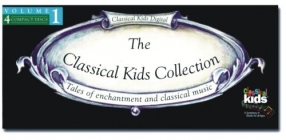 It has been said that Music has charms to soothe the savage breast (William Congreve). The phrase came to mind yesterday evening as I was returning home from our church praise team practice. My week has been full of struggles and dilemmas, and yet as I drove home last night, I found my mind full of the songs we had been practicing and noticed that my spirits had lifted considerably.
Not to take away from the simple benefits of praising God, I think there is truth to the saying I quoted above. Music brings with it the innate benefit of calming a troubled heart and bringing joy to the listener. King Saul certainly found it to be so as he often enjoyed David's musical talents.
All that to say ... summer is a wonderful time to weave a little music into the lives of your students. If you are not, by nature or training, a musician, don't give up on finding ways to expose your children to good music. Sonlight's Summer Explorations has some great options for music appreciation ... perfect for a lazy day at the park or a long summer vacation drive.
My children especially enjoyed the Classical Kids Collection. It brought to life some long-dead classical composers and generated a real interest in their work. The Story of the Orchestra is a fun way to introduce younger children to various instruments and well-known orchestral music.
So no more "I'm bored mom!" Pop in a CD and let your kids fill their summer afternoons with a new-found joy in great music. Who knows ... you may unearth a budding interest in music that would benefit from instrumental instruction this fall.
Still on the journey ...
~Judy Wnuk
Sonlight Customer Champion