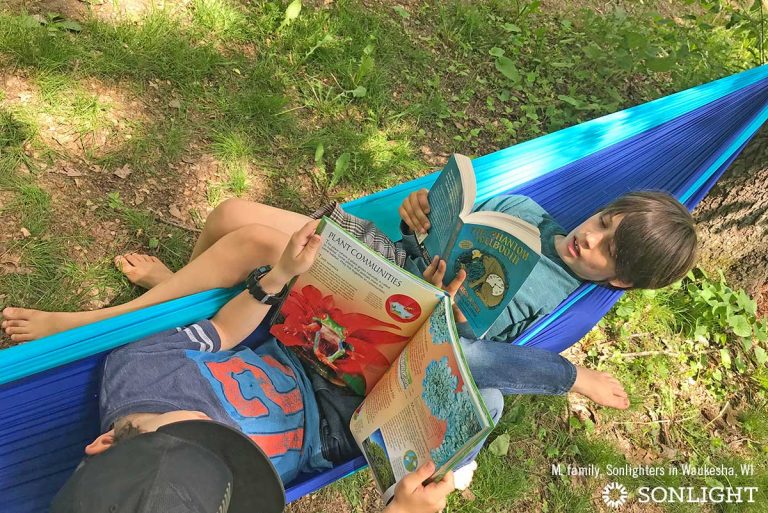 In our neck of the woods, it has been a long school year, and we're all looking forward to a summer break. Come June, we'll trade in our lesson plans for the trampoline, the pool, and popsicles. But because I'm a Type A Mom, I can't let the whole summer go without some kind of goal setting.
But every summer, I try to do something that sets us up for a successful school year. After all, summer affords me extra time to help my children build good habits, learn useful skills, pursue healthy relationships, and tackle the necessary chores that get overlooked in the hustle and bustle of the school year. So every June, I choose a few things that will be life-giving to our homeschooling schedule come September.
Set Up Your Family for Success This Summer
What might make your upcoming year happier, stronger, or smoother? What habits, chores, skills, or relationships could you build during the summer so that your upcoming school year thrives?

Next year, I'll be homeschooling grades 9, 6, 3, kindergarten and pre-k, while nurturing a 1 year old. (Wow, that looks intimidating! You can pray for me.)
I want our summer days to be peaceful, but I need to tackle a few basic things this summer that will help us to thrive in September. After brainstorming and prayer, I've chosen to focus on these three goals. I hope they inspire you in your summer goal creation.
Summer Goal 1. Potty Training for the Three-year-old
If he's potty-trained by September, I'll be one happy momma. Hopefully, I won't be potty-training while teaching 3rd grade math, 6th grade Language Arts, high school biology, and kindergarten sight words! (Check out our family's fun potty-training motivation that is free, simple, and child-led.)
Summer Goal 2. Reading for the Soon-to-be-kindergartener
She's ready and summer is such a happy time to sit side by side for a few minutes each day with one of the Sonlight K Readers. We'll both be more relaxed. We can snuggle on the couch, sit on the porch swing, or lay on a quilt in the shade. The early days of sounding out words requires lots of patience. Hopefully, I'll have more of that in the summer!
Summer Goal 3. Recreational Reading for the Rising Third Grader
If I can help my son to become a more confident reader, his upcoming school year will be so much more enjoyable in every subject area. He'll appreciate the independence and—I believe—will fall in love with books.
Our local library hosts an amazing summer reading program that motivates all of our kids to read as much as possible. I'll use the Sonlight Summer Readers and stock his shelves with plenty of interesting reads—fiction and nonfiction. Then I'll enable him to keep track of his accomplishments and to redeem his own tickets at the library.
Keep the Goals Simple This Summer
Every summer, I am tempted to tackle too many improvements. I've learned the hard way that more than a few summer projects overwhelm and discourage my kids. If we all band together around a couple of manageable goals, we are much happier and much stronger come September.

Go ahead and brainstorm the gazillion things you would like to improve by September 1. Pray about which items are the most essential. Ask your husband and child to weigh in on the decision.
Then choose one to three things from your list. Write each goal in clear wording and communicate this clearly to your family. Identify the outcome that you are hoping to achieve, the behavior you'll pursue to get there, and the benefit that it will have on your home life. Then, take it all in stride and see how it fits into your summer.
Just think—you and your family are being good stewards, preparing for a hope-filled future!