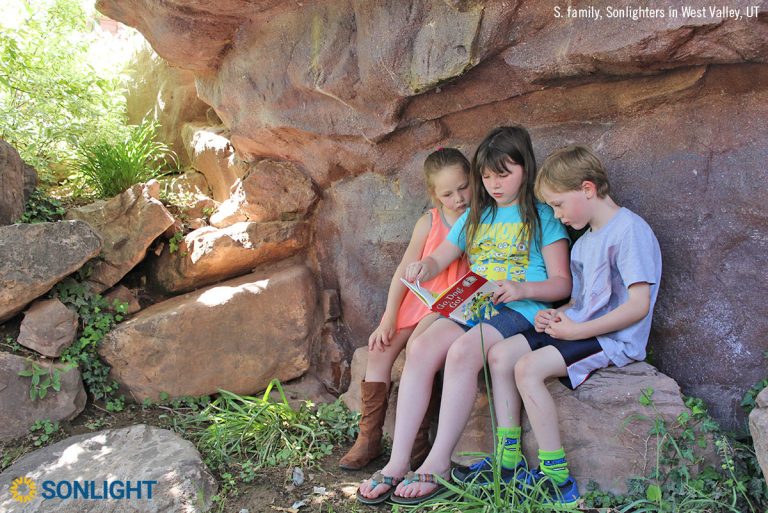 "My kids love to read, so it was only natural to pick a literature-based curriculum like Sonlight. My favorite thing about homeschooling is packing our backpack of books and schooling outside as much as I can when the weather permits. After some hiking through the gardens, we took a break in the shade to read in this little alcove."

The S. family, Sonlighters in West Valley, UT: Grace, 8; Aaron, 6; Sarah, 5
---
As we enter a new year, combined with a new decade, people traditionally set goals. And while many goals get quickly discarded, I believe there is value in attempting to live a purposeful life.
Each year, I seek to model my new year's resolutions after the passage in Luke that describes Jesus' life:
"And Jesus grew in wisdom and stature, and in favor with God and man."

Luke 2:52
Grow in Wisdom
I seek to grow in wisdom by reading. I get up early and read a chapter in both the Old and New Testament, and then a chapter from a spiritual growth book. My favorite title that I read this past year was Healing by Francis MacNutt. I had never read anything like it before— both challenging and convicting.
Grow in Stature
To grow in stature, I attempt to walk 10,000 steps a day. I find it easier to accomplish if I listen to an audiobook or a podcast as I walk. Books to the rescue!
Grow in Favor with God
To grow in favor with God, I downloaded the Daily Prayer app. It reminds me to stop and offer a short prayer four times a day. In the morning, I use the Lord's Prayer as a model for my own prayers.
For example, after I pray, "Our Father who art in heaven," I add additional words to praise Him, often pulled from my Bible reading for the day. Then, when I pray, "Give us our daily bread," I follow with my list of requests.
Grow in Favor with Men
To grow in favor with men, I find is the most challenging. As an introvert, I thoroughly enjoy staying at home and reading. While I focus on spending time with my family, and I do serve on my church's prayer team, my goal this year is to find additional friends to invest in.
Your Growth for the Year
As you read my list of ruminations, do any of the ideas stimulate thoughts of how you can grow this year?
For wisdom, it could be that learning and studying with your children is enough. Maybe add an additional Bible reading after a main meal, or commit to pray for various concerns as you drive, or ask God to help you find time to learn.
For stature, it could be that chasing your children is enough. But, maybe you could add a daily walk, or take a class with your children. For example, my daughter and her family study taekwondo together, and she really loves the exercise piece of it.
I pray these thoughts add no bondage, but may be used for creative thinking only.
May 2020 be a year of growth, good relationships, additional strength, and joy plus gladness for both you and your family. May we all follow in Jesus' excellent example.
---
Want more encouragement?
Sign up for Sonlight's bi-weekly e-newsletter
You'll be encouraged by the words of founder Sarita Holzmann, inspired by real-life stories from other homeschoolers, pick up practical tips for the journey and more.
---