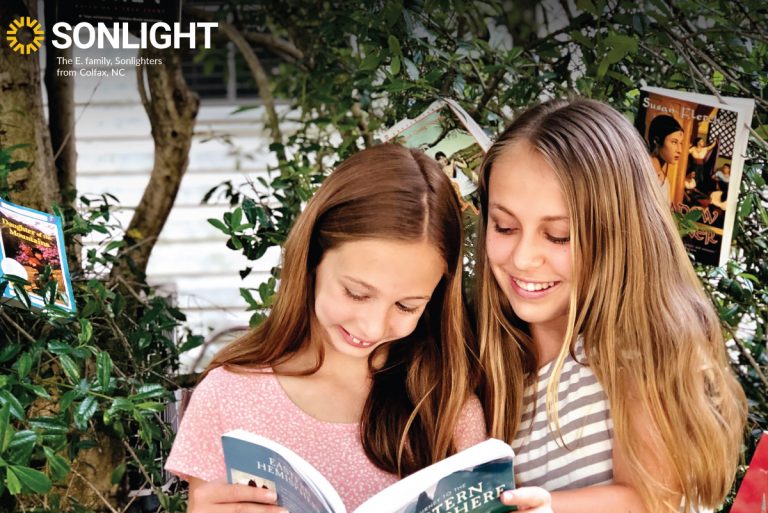 Easter is a time to reflect on the sorrow of Christ's death and the joy that comes with His Resurrection. As a homeschooler, you have the blessing of flexibility in your school schedule, and you may choose to set aside some time in your homeschool days to mark this holy season.
One meaningful way to do this is by adding a few books to your home library. Take a small amount of time every day to read from these powerful stories about Easter, and be reminded of the sacrifice and joy that mark this season of Christ's greatest gift. Or, if you'd prefer a more structured option, you can find a schedule to go with these books with the Lenten Unit Study.
The following links are Amazon Affiliate links. Sonlight is eligible to earn a commission of sales.
Our Favorite Lent & Easter Titles
This deeply felt retelling of the Easter story will inspire families to celebrate love, forgiveness, and hope all year round. - Love One Another
This captivating story takes you through the season of Lent, culminating on Easter Sunday. In a quest to save his Father, Amon sees the jubilant crowds on Palm Sunday, is present during the daring betrayal of Judas Iscariot, and witnesses the ultimate sacrifice made on Good Friday. - Amon's Adventure
Your child receives, opens, and reads their own personal mail from God. Beautifully illustrated Bible stories are accompanied by a special Bible verse and encouraging letter. - Easter Love Letters from God
Uses a creative take on the Bible story of Christ's triumphant entry by introducing the young donkey who has yet to realize his important mission. - The Donkey That No One Could Ride
This book explains how and why people all over the world celebrate Easter. It tells the biblical story of the Resurrection and explores how people honor this day with traditions. - The Story of Easter
This story presents the life of Christ as a journey, beginning in Bethlehem with His birth, then moving on through His resurrection and ascension. Journey, Easter Journey!
Robins have built a nest on the window ledge at Grandmother's house! Tressa witnesses the daily drama of the robins' nest and learns how God cares for all creatures. - The Story of the Easter Robin
An unforgettable picture book that uses majestic rock art, Scripture, and simple yet powerful text as the miracle of Easter unfolds across the pages. - He is Risen: Rocks Tell the Story of Easter
Features an adorable polar bear talking with her father and learning about God's design for the Easter season and what it really means. - God Gave Us Easter
Rhyming text follows two children as they celebrate Easter with their family by decorating eggs, going to church, and returning home to an egg hunt and Easter dinner. - Easter
Simple text and photographs describe the springtime holiday of Easter, when Christians commemorate the death and resurrection of Jesus Christ. - Easter
This gentle introduction to the biblical account of Jesus's final days on earth is perfect for preschoolers to learn the true meaning of the holiday. - The Story of Easter
This exquisitely illustrated retelling of the Easter story brings its familiar events to life. Rediscover the wonder of the first Easter morning. - On That Easter Morning
Follow along with Christopher, a ten-year old boy who wants the real story of Easter. His family reads him the story of Easter straight from the Gospel of Luke. - The Very First Easter
Springtime is special, and Easter is the most magical day of all! Ride a fawn past ducklings and lambs in your dreams, and wake to Easter Sunday. - A Tale for Easter
Features the Easter story, retold in simple language. Colorfully illustrated and useful for beginning readers. - The Usborne Easter Story
An allegorical tale that captures the essence of the biblical story of redemption. A race of tiny beings known as lightlings are a picture of humanity as they pass through all the stages of the biblical drama. - The Lightlings
The Biblical accounts of Jesus's miracles, crucifixion, and resurrection, brought to life. - Miracle Man: The Story of Jesus
Emma and her little brother hunt for Easter eggs, go to church, and join family for a big meal. - Emma's Easter
Candace decides to give her classroom garden a little help . . . but soon discovers patience is the best plan after all. - Grow, Candace, Grow
Davey the donkey carried King Jesus into Jerusalem. A few days later, Davey saw the King carrying a heavy beam of wood. He couldn't understand it—until another donkey helped him see that the King was being a Servant on behalf of His people. - The Donkey Who Carried a King
A story that illustrates how Jesus had to endure the curse of sin in order to redeem His people from their spiritual death. - The Prince's Poison Cup
The Bible gives us many names for God and tells us what they all mean. And when we learn a new name for God, we learn something new about him, too! - God's Names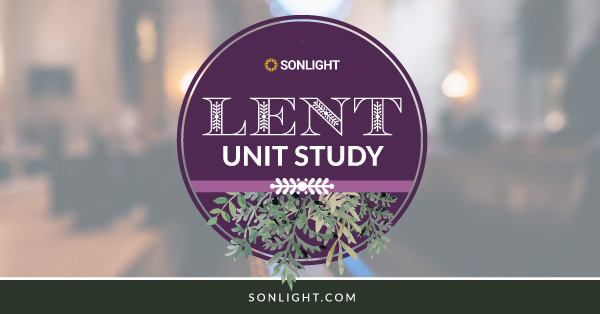 Sonlight Lent Unit studies include 48 days of lesson plans and materials to guide you from Shrove Tuesday through the day before Easter.