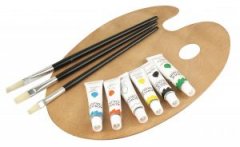 I recently read a fascinating article in World Magazine's June 2nd publication (ok, so I'm a little behind on my reading). Titled the same as my blog entry, it talks about how professional artists gain valuable training by minicking the masters at the National Gallery of Art. Called "copyists", these artists regularly visit the gallery to study the great masters, and to learn their style and technique ... through *IMITATION*. One artist is quoted as saying, the key to becoming a great artist is learning great technique. What better way to learn than by imitating those who have mastered the technique.
Just as artists have been learning their craft in this fashion for many, many years ... so do young students learn to write well through the practice of "dictation". Dictation is simply the practice of imitating fine writing by copying passages from award-winning literature.
As simplistic as dictation might seem, it truly does improve a student's writing skills. Dictation also provides opportunity for a student to practice and improve their handwriting skills, as well as practicing proper grammar and good sentence structure. So much packed into the simple task of copywork and/or dictation!
Instead of producing writing "clones", or students who merely mimic the style of other authors, dictation gives students the foundation to launch from in creating their own style.  It makes them so familiar with the fundamental building blocks of writing, that they are then free to focus wherever their creativity takes them.
As quoted in the World article I referenced above, By copying you will eventually acquire a style individual to yourself, and it cannot help being good because your hand and mind, being always accustomed to gather flowers, would ill know how to pick thorns.
Still on the journey . . .
~Judy Wnuk
Sonlight Customer Champion