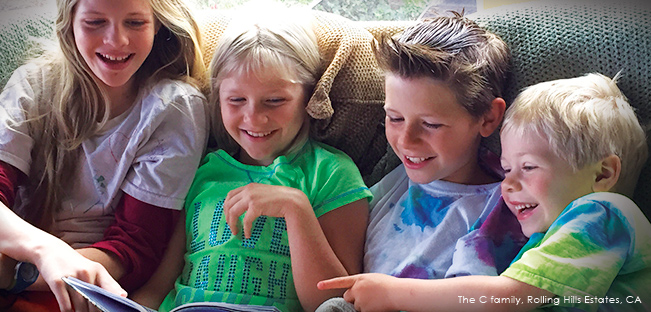 There are days when I look back with longing at the days when we were homeschooling, and wish for those days again. Especially when the current part of my journey is difficult. Surely it was "easier" in those days! The grass is always greener ... right?
What struck me especially the other day, as I observed my now grown children wrestling with their own trials and decisions, is that I am blessed to watch the fruits of our homeschooling play out in their lives.
I remember how often, in those long days of parenting and homeschooling, that I would wonder if I was making any lasting impact at all. Were they getting it? Were there "holes" in what I was teaching them? Was I failing them?
The answer was, of course there were holes! And yes, I definitely did fail them ... many times. But let me tell you about the view from this spot on the path.
All those concerns about the ones who struggled with Math? They are all holding jobs, balancing their checkbooks, and not getting cheated at the checkout counter. If their jobs have required some aspect of working with numbers that they didn't master at our kitchen table, they've figured it out and learned as they go.
All the worries about the one who was a late reader? He's now an intelligent, well-spoken young adult who is planning to get married soon. Does he love to read today? No, it's not a passion of his. But he is a good reader and has no difficulty learning what he needs to learn by finding an appropriate article or publication to read.
And the one who wrestled her way through Chemistry? She's a married, happy mama to our grandson, and performs Chemistry every day in her kitchen as she practices her love for cooking for her family.
More importantly than even the academics we covered in our homeschool, were the character qualities we tried to instill in their young lives. Just like everyone else, we battled apathy, lack of motivation, and poor attitudes along the way. And those were just my issues! But watching my kids today, as they demonstrate tenacity, loyalty, and courage in the face of the various challenges that life has to offer, I am again convinced that heart training was even more important than drilling addition facts.
Lest I paint too pretty a picture, let me be honest. They would be the first to admit they are not "perfect" (nor is their mother). But the foundation we were privileged to lay has given them a desire to keep learning, and the knowledge that we are some of their greatest cheerleaders.
So as you consider and plan for yet another school year, let me encourage you to see this year with "future vision". As you wrestle with the daily struggles of parenting and educating your children, don't lose sight of the bigger, long-term picture. And remember ... your children's learning won't end at graduation ...
Still on the journey ...
~Judy Wnuk
Homeschool mom and student of life