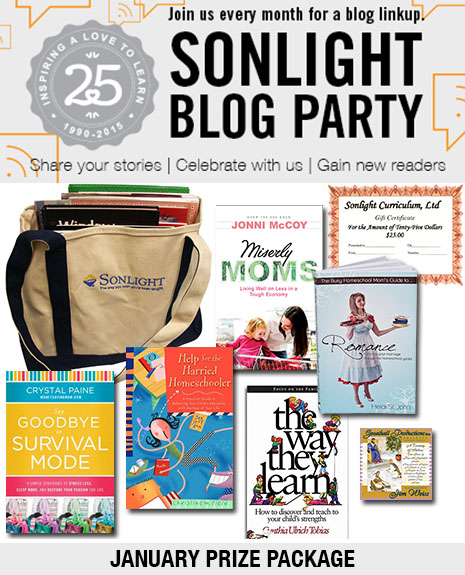 Sonlight is celebrating 25 years this year and we will be partying all year long! As part of the celebration, we'll be hosting a Blog Party on the 25th of each month, and we would love to have you join in the fun!
On January 25th we want to meet your family! In your blog post that day, introduce us to your family. Are you just getting started homeschooling? Or do you have graduates? Or somewhere in between? (Even if you don't use Sonlight... or even if you don't homeschool... you are welcome to participate.) Once your post goes live on the 25th, come back here to the Sonlight blog and link up with us.
Everyone who participates in January will be entered in a drawing for the fabulous prize package pictured above. Valued at $145, this inspiring package includes:
The Busy Homeschool Mom's Guide to Romance by Heidi St. John
Help for the Harried Homeschooler by Christine M. Field
Miserly Moms by Jonni McCoy
Say Goodbye to Survival Mode by Crystal Paine
The Way They Learn by Cynthia Tobias
A Treasury of Wisdom audio CD by Jim Weiss
Sonlight's heavy-duty canvas book bag
PLUS a Sonlight gift certificate for $25!
And in case you missed the announcement, Heidi St. John and Crystal Paine will be joining Sonlight's president Sarita Holzmann for our Inspire 25 online event on January 22. It's sure to be an encouraging evening. I hope you'll join us!