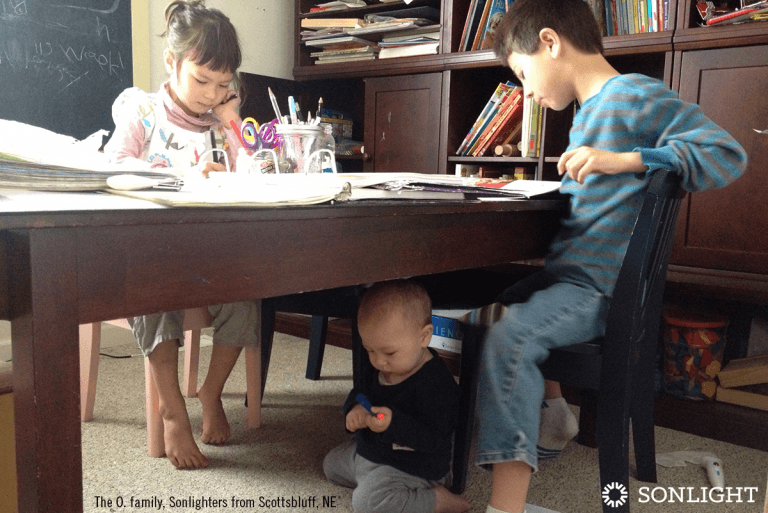 When you hear the term academic excellence do you get a stuffy image of grading scales, tests, timers and No. 2 pencils—maybe even ivy-covered buildings? I'd like to make a case for the couch academic and how relational, delight-driven homeschooling and academic excellence are not mutually exclusive.
I tend to talk about the relational aspect of Sonlight a lot:
cuddling on the couch while reading
the bonds you form with your children
the fabulous discussion of ideas
All of those are central to the delightful learning I want parents to enjoy. But just because we don't emphasize tests and grading as the spine of Sonlight's approach doesn't mean we're half-hearted in the area of scholarship and the life of the mind.
Relational Homeschooling Can Still be Academically Strong
Sonlight cares about academics. After many years in our programs, Sonlight graduates tend to be well-educated and insightful adults. (Meet our scholarship winners for some shining examples.These students are articulate, innovative world-changers.)
We've seen strong academic results from thousands of students. A sampling of our Sonlight scholarship applicants showed them to earn not only higher than average SAT scores, but scores even higher than the average homeschooled students.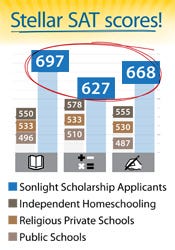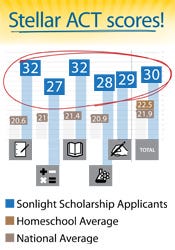 These are students who are becoming leaders in science, art, language, and international aid. They make an impact while still teens, become leaders on their college campuses, homes and businesses, and are spread throughout the world doing great things.
Academic Excellence Honors God
We emphasize academics because we believe that academic excellence honors God.* Jesus taught that the greatest commandment is to love with your whole being. He describes a love that involves the heart, soul and mind:
Jesus replied: "Love the Lord your God with all your heart and with all your soul and with all your mind." This is the first and greatest commandment. And the second is like it: "Love your neighbor as yourself." –Matthew 22:37-39
Our minds aren't the only important things, or the most important. But they are important. God wants us to stretch our minds and use them to the fullest. I knew a fellow homeschool mom who used to buy four little workbooks, hand them to her children, and consider her work done. I thought, "Wow, that would be easy!" But it wouldn't be good.
Equipping Children to Do What God Inspires
I believe the ultimate goal of homeschooling is to equip children to do whatever God calls them to. We want to raise up children to do whatever comes their way. And more often than not, that goal requires a solid academic education.
Whether you are actively teaching in the younger years, or serving as your high schooler's learning coach, we don't skimp on academics. Sonlight provides the tools for you to teach the full spectrum of what kids need to know, all the while honoring God with academics. We cover all the subjects. Those 60-pound Sonlight boxes arrive at your doorstep full of materials to help your children become well-educated people who love to learn.
Sonlight Honors God with Strong Academics
When you choose Sonlight, you know you're giving your children the academic foundation to succeed in life. Not every student will ace the SAT, but every student can progress and learn to the very best of their ability.
I want to give you the finest materials and the richest opportunities available for the highest level of learning. Then you walk your student as far as they can go in a way that matches their abilities and gifts—the epitome of honoring God with academics.
Over their years with Sonlight, students will learn to read, write, communicate effectively, think critically, consider various perspectives, and figure out whatever they want to keep learning.
Does character matter? Does loving God matter? Yes, yes, and yes!! These are my highest desires for your children, and you'll find Sonlight helps you more than you could have imagined in those areas. At the end of the day, we want to help you raise up children who love the Lord.
In doing so, Sonlight doesn't waver in its commitment to solid academics as well. We believe that well educated children who love the Lord can grow up to truly change the world. May it be so.
P.S. Read more about the balance between a focus on academics and character, and four reasons why we should challenge our children academically.
*More accurately, perhaps I should say that academic excellence gained through devotion to Christ honors God. The mere acquisition of knowledge in a prideful way or for the sake of personal glory doesn't do much to honor our Creator. But when we seek Christ as the motivation for our academic pursuits, when we submit to His call on our lives each day, we will be ready to follow Him wherever He leads.
---
Want more encouragement?
Sign up for Sonlight's bi-weekly e-newsletter
You'll be encouraged by the words of founder Sarita Holzmann, inspired by real-life stories from other homeschoolers, pick up practical tips for the journey and more.
---