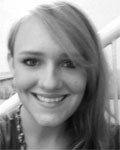 Leila Shelburne, 2009 Scholarship Winner
Leila Shelburne grew up in Malawi and Uganda where her family served as missionaries. She used Sonlight for eight years and was a Sonlight Scholarship winner in 2009.
She is a sophomore at Harding University where she is designing her own degree in International Development with a minor in French.
She is a Trustee Scholar and co-chair of the L.C. Sears Collegiate Seminar series through Harding University Honors College. She helps bring internationally-known speakers from diverse backgrounds to speak at the university. She plans to return to Africa to do mission work in the future
----
Last night, running 5 miles through a small town in Arkansas, I found myself discussing Eastern Church history with a music teacher from Illinois.
My running partner, Jenna, mentioned she was teaching her students about Eastern music. This sent us off into a conversation about Eastern culture and how little exposure American kids often have to it.
As I started to talk about the spread of Christianity to the East before the 6th century, I suddenly found myself thinking back to a warm morning in Uganda, where I grew up. I was sitting under a guava tree discussing church history with my dad, amazed by the ways in which God's truth has moved through the world.
That morning may have been the last time I'd really thought consciously about the topics presented in the book on Eastern Christianity that was part of my Sonlight Core that year, but they had stuck somewhere in the back of my mind.
Things like that happen to me a lot. It's amazing how often the many books I've read pop back into the front of my mind. In papers I'm writing, in talks with my friends, in classes I take, I'm inundated with (mostly) relevant bits of information from my past readings.
When I moved back to America and started college after having been homeschooled in Uganda for so long, I was concerned at first that I wouldn't know enough about interacting with Americans.
I've been pleased to discover I can start a conversation with almost anyone. I've always been fascinated by the two-dimensional characters in books. Now, I'm surrounded by three-dimensional people who are so much more lifelike and real and beautiful than any characters in books.
As I've read books that stretch the limits of my knowledge and transport me to exotic times and places, interacting with people from different backgrounds and walks of life seems like second nature to me.
My homeschool education gave me the knowledge and a framework for meeting people on any common ground we have--whether that be under a guava tree or running through the quiet streets of Searcy, Arkansas.