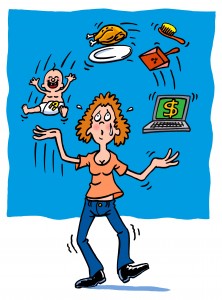 Yesterday was one of those days when you wonder if there will be enough of you to go around. When you feel like silly putty (did I just age myself?) and wonder how many more ways you can be molded and stretched. It started off with another dump of snow (I really am so over winter), a "raise you out of bed" early morning phone call about an elderly family member who had been admitted to the hospital overnight, a college child who had been sicker than sick for the past 24 hours, and concerns about another elderly family member who was wrestling with physical issues. Suddenly my well-planned day had been rearranged within a matter of minutes. My "to do" list of work projects and grocery shopping turned into an unexpected trip to a hospital, and an unexpected drive to get the ailing college student, and an unexpected brainstorming session for dealing with an elderly parent's struggles ... all punctuated with slogging through ankle deep snow and March mud.
As I was reflecting on yesterday's events during my quiet time this morning, my devotional reading brought me to the story of Gideon, in Judges 6. The angel of the Lord had come to tell Gideon about a job He had for him to do ... and Gideon, in essence, says "God, you must have the wrong address" (Please, Lord, how can I save Israel?)  He couldn't imagine how a wheat farmer from the weakest tribe in Israel could possibly save a nation. It reminded me of days when I couldn't imagine how I was going to get through all our scheduled lesson plans for the day, fix dinner and get the laundry done, on top of having been up all night with a colicky baby.
The author of my study book made the following statements which put things into perspective for me this morning ...
Gideon both misunderstands who he is and who God is. If you fail to remember who God is in his power, glory, and grace, and you forget who you are as a child in his family, you will always mismeasure your potential to do what God has called you to do. You will measure your capability based on your natural gifts and the size of whatever it is that God has chosen you to face. Thankfully, since God is with you, you have been blessed with wisdom and power beyond your own that give you potential you would not have on your own. (New Morning Mercies, Paul D. Tripp)
I just spent the weekend at the Great Homeschool Convention in Greenville, SC, sharing these very same thoughts with new homeschoolers. I sat and listened as Sarita shared the same encouragement in her workshop on Staying the Course.
God has chosen you to raise the specific children He has given you. He will equip you for the task! (Sarita Holzmann)
Why would those same principles not apply to my current life circumstances? The answer is, of course, that they are universal concepts. Whether God calls me to homeschool, or to deal with a day full of unexpected interruptions ... He will always equip me for the task. And when I'm tempted, like Gideon, to wonder if God has come knocking at the wrong door, I need to remember that the strength and wisdom to do what He is asking me to do, is not based on my own capability.
So be encouraged today, as I was, that God chose things the world considers foolish in order to shame those who think they are wise. And he chose things that are powerless to shame those who are powerful. (1 Corinthians 1:27)
Still on the journey ...
~Judy Wnuk