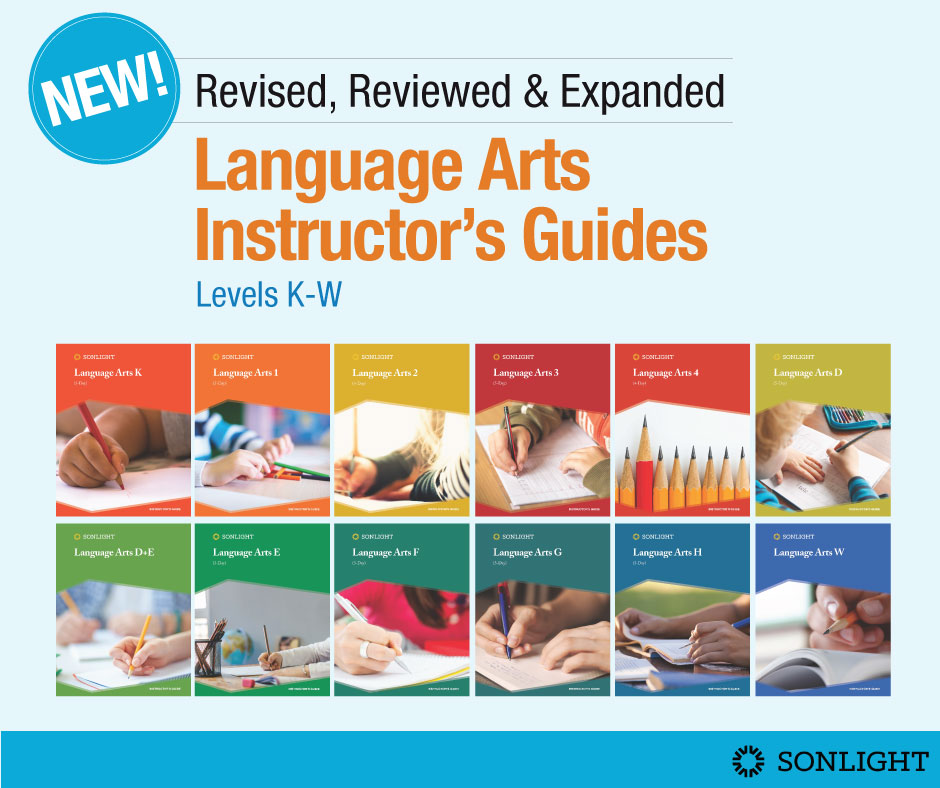 We at Sonlight are thrilled to announce our completely revised and updated Language Arts Instructor's Guides for Levels K through W (all levels below high school).
If you've been part of the Sonlight family for very long, you have heard the glowing reviews of our beloved History / Bible / Literature programs, and the less than glowing reviews our Language Arts. Although our Language Arts programs produce excellent writers, and many families use them with great success, we want more customers to experience that same success.
So our product development team went through every aspect of Sonlight's Language Arts programs and produced a set of new, awesome tools (complete with glowing reviews by our beta testers!). In this year's guides, you'll find completely rewritten lesson plans including:
What's New in Sonlight Language Arts
Simple overview summaries for each week. What are you covering? Know at a glance.
Education for you, so you understand what you're doing, what your goals are, and why the Sonlight method works. For example, why we don't want your children to learn "by rote."
Teaching scripts in the early grades to read to your children. Easily introduce new ideas, concepts, and assignments. If you're just starting to homeschool, this will help you.
Evaluative rubrics. A rubric is a tool for teachers so they know how to objectively evaluate students' performance. It's a list of characteristics you want to look for to figure out how your children are doing. For example, did your children think through a beginning, middle and end to the stories they wrote? Did they do so Excellently? As Expected? Or are they In Progress? If you aren't confident with grading, these rubrics will help you know what to look for so you can assess with assurance.
What's Updated in Sonlight Language Arts
After a big picture overview, the assignments progress in a logical order, starting with the simple and moving to the more complex. This applies both within each year and through the years as a whole.
Revised assignments, making sure all are a reasonable length.
Many new and revised activity sheets.
We're looking forward to the 2017 programs, and we'll continue to share all the exciting updates coming March 30. Until our next update, be sure to check out our website and stay connected via our blog or forums.
Questions? Let me know below, and I'll do my best to clarify!