I looked around the meeting room and smiled. The faces around me reflected Sonlight's global focus.
I saw three colleagues from Bosnia, one from Sudan, and one Mongolian Chinese woman among the Sonlight employees. We also had visitors from Liberia and Zimbabwe that day. (Sonlight partners with these wonderful people from the mission group VisionTrust to donate many of our damaged books to their schools in developing countries.)
Our office saw even more diversity this summer, when we hired seasonal workers to help in the warehouse for our busy season. Our prayer groups gave us the privilege to pray with believers from many different countries each morning.
The management at Sonlight has gone out of its way to hire refugees when possible. We've worked with a Christian refugee placement service to help people start new lives after fleeing horrid situations in their home countries. Our three employees from Bosnia started out working in the warehouse, taught themselves English, and now all hold leadership positions in the company. Praise the Lord!
I love this diversity because it reminds us of something I hold so dear: God has a heart for the people of all nations. Though we tend to think everyone else lives just like we do, a global focus reminds of us of the reality: people live in totally different cultures all around the world. The American way of life is not the norm.
But even though people dress, eat, and worship so differently from each other, in the end we are all still people. We all have emotions, families, hopes and dreams. And we all need Jesus just as much as the next person.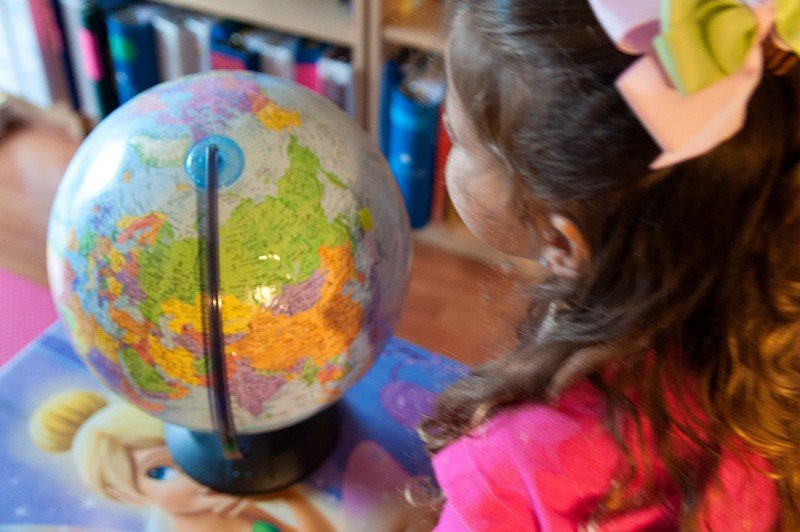 Sonlight student Kayleigh S finds the geographic locations of the stories in Core P4/5
I want Sonlight children to grow up knowing and appreciating the diversity of the world, even if their own hometowns are rather homogenous. I love that my colleagues at Sonlight remind me of that diversity every day – in their accents, cultural backgrounds, and unique perspectives.
For the many Sonlight employees who are believers, our global workforce is just a little picture of heaven. What a blessing indeed.
I pray that you are similarly blessed as you "travel" the globe with Sonlight's Cores. May we raise up children who share God's heart for the peoples of the world!
Enjoy the journey,
Sarita
---
Want more encouragement?
Sign up for Sonlight's bi-weekly e-newsletter
You'll be encouraged by the words of founder Sarita Holzmann, inspired by real-life stories from other homeschoolers, pick up practical tips for the journey and more.
---