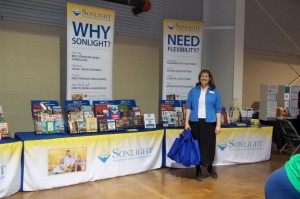 This past weekend was my first homeschool convention of the season. It was a busy two days. By the end of the conference I was tired. My feet hurt and my voice was giving out. But as I began to pack away my display, an older lady--another veteran homeschool mom--stepped over from the next booth to speak to me. She complimented me on the display and said what a good job I had done for Sonlight. Apparently she had been watching all weekend. She asked how long I had been a Sonlight Curriculum Consultant. I had to think back... let's see, I started in 2000... so I guess that means this is my 13th year. Wow! Time really does go by so fast. I thanked her for her kind words, and we both returned to the job at hand. As I packed I thought about all the reasons I enjoy representing Sonlight at conventions.
I love talking to new homeschoolers and helping them see how Sonlight might work for their family.
I love it when someone who was new to Sonlight last year comes back and tells me what a great year they had.
I love visiting with families who have been using Sonlight for years.
I especially love it when a Sonlight veteran stops by and brings a friend. Usually the veteran does my job for me, demonstrating all the reasons she loves Sonlight to her friend.
I get excited when someone tells me they used to use Sonlight, but for whatever reason they tried something else last year, and now their kids are begging to go back to Sonlight.
I enjoy speaking with parents of special needs kids, and helping them find ways they can incorporate Sonlight into their child's education.
I love it when kids come through and point out some of their favorite books to me.
I like displaying my microscope and showing kids how to use it.
I love giving away cool prizes. I usually have a drawing for a bag of books, as well as other giveaways.
It's fun to hand a pen or a bookmark to the little kids who are generally just so bored to be tagging along. It makes their eyes light up to receive a small gift they can take home.
In spite of my aching feet, I came away from the conference last weekend encouraged. No, I didn't attend any workshops. I barely ventured outside my own booth. But all the people who visited my booth for encouragement ended up encouraging me. Thank you.
When we get together, I want to encourage you in your faith, but I also want to be encouraged by yours. --Romans 1:12 NLT
Enjoying the adventure,
~Karla Cook
Lifelong Learner