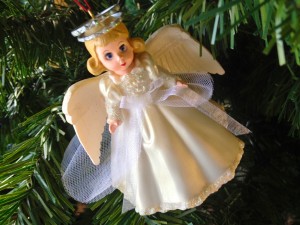 It's that time of year again ... when department stores, grocery stores, television commercials, email, postal mail ... are all saturated with Christmas images and messages. What child stands a chance of focusing on anything but Christmas? Certainly not any of mine!
So instead of battling the onslaught, yet not willing to allow the holiday to totally hijack our school schedule, I learned to look for ways to integrate Christmas into our homeschooling during November and December. Following are some suggestions that worked well for our family over the years. Hopefully they will jumpstart some of your own ideas!
"Unit" Studies ... Don't be afraid to step away from your regular school schedule to do something totally different.  Do a unit on candy making, bread baking, or cookie creating. Incorporate math concepts (fractions, increasing or decreasing recipe amounts), science concepts (what causes syrup to "sugar"? what happens when you "temper" chocolate?), and art and writing (design a "cookbook" of favorite recipes for kids to share with family members).
"Gifts" for Jesus ... One of the best ways we found to teach servanthood came during the Christmas season each year. A gift for Jesus is simply the act of giving to someone who has a need. Some years we would create "kid-decorated" gift bags of baked goods and share them with our neighbors. Other years our church offered us the opportunity to fill boxes to be sent to members of the military. Heading to the store with a "soldier list" and a pre-determined amount of money is a great way to teach children how to get the most for their hard-earned dollars. Encourage your co-op group to put together a brief program of Christmas carols and take it to a local nursing home. So many opportunities to "give" during this season.
Literature ... Often, when little minds just couldn't focus on addition or subtraction, they would love to be read to. I used to scour our local library each November to find titles about Christmas. Whether books of poetry or fiction, we enjoyed many fun afternoons curled up on the couch reading together. It was a special time, made even better by turning on the tree lights and enjoying a Christmas cookie together.
So don't despair during this season of hustle and bustle. Look for practical ways to integrate Christmas into your school schedule, instead of abandoning it altogether.
Still on the journey ...
~Judy Wnuk
Sonlight Customer Champion