The focus on missionaries is one of the things I love about Sonlight. In the Core programs, we get to meet normal men and women from history whom God used to do extraordinary things. We have the opportunity to partner together in giving projects to raise money to bring the Gospel to people who have never heard of Christ.* And Sonlight continues to be able to help missionaries educate their children.
Growing up learning in such an environment made me passionate about sharing Christ with my friends.
I certainly didn't always do it right. Still don't. But by God's grace, He continues to allow me to share the love of Christ with others. And that is so exciting! Because I have "seen"--through biographies--how missionaries reach out in love to their friends, I am thrilled that my house was packed full of people last night. We ate, talked, laughed, and watched fireworks. We shared life. And that is such a huge part of communicating the good news of Jesus. And after everyone left--just before midnight--I got to stand in the dark living room and pray for my friends.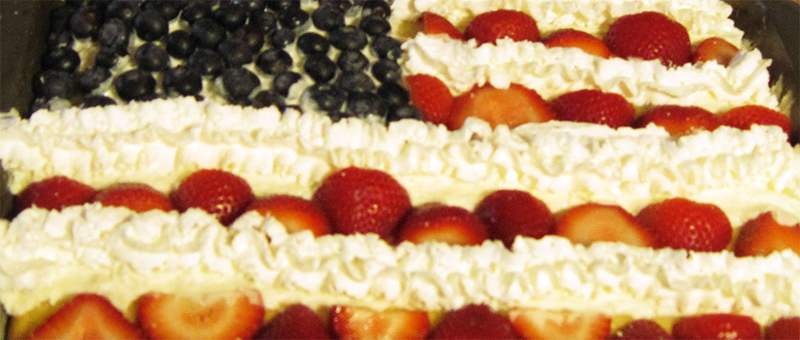 Flag Cake courtesy of one of our guests
Have your children been inspired by the missionary stories you've read together? Do you pray for unreached peoples and the friends and family members who aren't connected with Christ? Have you had the joyous opportunity to give money to see the Gospel brought to others? Do your kids share the love of Jesus in other ways? If so, that is awesome! We've had to replace one of the books in Sonlight's curriculum because the people groups in that book have all had the opportunity to get to know Jesus.
Your family is making a difference in the world.
Keep up the good work. And if you have an encouraging story of how your children are involved in missions, please share!
~Luke Holzmann
Filmmaker, Writer, Empty Nester
*This year's giving opportunity should be coming in the next couple months. Stay tuned!