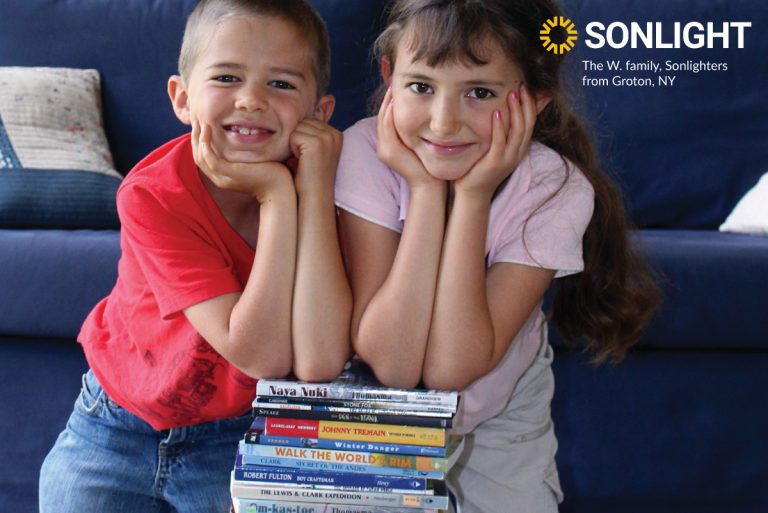 The Christmas season is the perfect time to curl up on the couch with some cocoa and a great book. When the weather outside is frightful, you can make your living room seem bigger by exploring new places and meeting new people through the pages of a holiday story.
At Sonlight, we're choosy with our books, and our Christmas choices are no exception. We've curated a list of books ranging from lighthearted to heartwarming to thought-provoking. Fill the weeks leading up to Christmas with this mix of old classics, new favorites, and stories that point back to the real meaning of Christmas.
The following links are Amazon Affiliate links. Sonlight is eligible to earn a commission of sales.
Sonlight's Favorite Christmas + Advent Titles
In this Advent season story, Jotham searches Israel for his family. Despite the threat of thieves, robbers and kidnappers, the boy continues on until at last he encounters the newborn Christ child. - Jotham's Journey
Jonathan Toomey is the best woodcarver in the valley, but he is always alone and never smiles. One day, a widow and her young son approach him with a gentle request that leads to a joyful miracle. - The Christmas Miracle of Jonathan Toomey
Rob wants to get his father something special for Christmas this year—something that shows how much he really loves him. But it's Christmas Eve, and he doesn't have much money to spend. What could he possibly get? - Christmas Day in the Morning
High in the mountains lies the town of Noel. Every year Alexander and his mother walk the long distance to watch the lighting of the Christmas tree. On their way, Alexander helps an old man he finds lying in the snow. His act of charity and compassion is rewarded. - The Light of Christmas
When President Roosevelt announces that there will be no White House Christmas tree because cutting down trees is against his conservation efforts, his youngest sons are deeply disappointed. They can't imagine Christmas without a tree. Through the chief forester, they learn that cutting down smaller trees will help the taller ones grow! - A Christmas Tree in the White House
A young boy, lying awake one Christmas Eve, is welcomed aboard a magical train to the North Pole. The Polar Express makes its way to the city atop the world, where the boy will make his Christmas wish. - The Polar Express
Ruthie's church has a tradition of putting up a Christmas tree every year, and the privilege of selecting a tree falls upon her family this year. A touching and joyful Appalachian story about courage and the power of family. - The Year of the Perfect Christmas Tree
Beautiful illustrations bring life to familiar words. Based on actual events, the story tells of a kind-hearted king who sets out to help a poor man on a cold winter's night and experiences a miracle along the way. - Good King Wenceslas
Richie and Trisha want to buy Christmas gifts for their family, but they don't have enough money. Enter Kay, the new housekeeper. She teaches them something about gifts that come from the heart. - Gifts of the Heart
Among the grand balsam firs and pines at the Christmas tree lot is a little tree that is missing several branches. Still, no tree is more filled with the spirit of Christmas. - The Last Christmas Tree
It's Christmas time in the forest, but this year there isn't much for the animals to celebrate. It's been a cold, snowy winter and food is scarce. A little deer and her friends stumble onto a stash of nuts and berries, and decide to share with everyone in the forest. - Sharing Christmas
The little drummer boy is too poor to bring a present fit for a newborn king. Instead, he plays a song on his drum for the Christ Child. - The Little Drummer Boy
One dark November night, a stranger rides into a small prairie town. Who is he? Why has he come? When he reveals his identity and shares the legend of the candy cane, Lucy discovers the answer to her town's dream. - The Legend of the Candy Cane
It's a cold and rainy evening when Gran gives her granddaughter something special: tickets to the ballet. The bright costumes, intricate dances, magical music, and a new friend all combine to bring color to a dreary evening. - Waltz of the Snowflakes
When Wilma decides her garden needs a new beginning, she gathers string, scissors, shovels, and her five-year-old neighbor. Year after year, they nurture their trees, keeping careful count of how many grow to become fine, full Christmas trees. - Christmas Farm
That cold winter's night, beneath the star's light, a Little One came for the world... A sweet Christmas story about the coming of Christ from the perspective of the animals in the stable. - Room for a Little One
Ten-year-old Juma and his aunt Aida plan to surprise his Kenyan village with an appearance by Father Christmas...and find that they themselves are surprised. - A Kenya Christmas
When a leak ruins the sacristy wall in his father's church, Jonathan thinks Christmas Eve service will be ruined. Luckily he and his father find a beautiful tapestry, perfect for covering the damaged wall and giving the church a festive look! - Christmas Tapestry
Clement C. Moore's classic poem, illustrated it with lush pictures of the era in which it was written. Pays faithful tribute to the smallest detail of the beloved myth, and the artist infuses it with magical new life. - The Night Before Christmas
The story of Joshua, a lamb with a crippled leg who feels left out because he can't run and play like the other lambs. But God has a special plan for Joshua's life, as He does for all who feel alone. - The Crippled Lamb
A beloved song brought to life with breathtaking style. Each day brings a new gift elegantly rendered. - The 12 Days of Christmas