Please meet and join us in congratulating these remarkable Sonlight-educated students poised to make a difference in the world. As the winners of our annual Sonlight scholarship competition, they have each been awarded each with $20,000, $10,000 or $4,000 for college.
Many of these students have used Sonlight since they were young. They're headed into careers in engineering, medicine, sciences, filmmaking and more. Most are headed to their college of choice, and many have superb SAT or ACT scores.
But they are also kind, big-hearted young adults. Through ministry and volunteerism, they live life with Jesus in their hearts and long to share God's kingdom with the world.
$20,000 Scholarship Winners: Abram Coleman of Augusta, GA and Katelyn Spradley of La Mirada, CA

$5,000 per year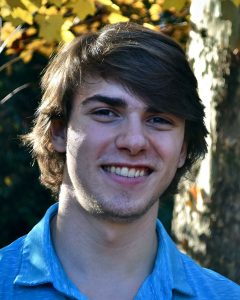 Abram Coleman of Augusta, GA is the fifth of six children. The family began using Sonlight midway through the schooling of the oldest child (the oldest two are now physicians, the third is a Ph.D. Candidate, and the fourth in college). Abram is the third Coleman to use Sonlight materials all 12 years of school. A National Merit Finalist, he scored an 800 in Math and a 720 in Verbal on the SAT, earned a 790 on the SAT II in Chemistry, and received Summa Cum Laude and a Gold Medal twice for the National Latin Exam. He designed a vehicle powered by two unaltered mousetraps that pushed a cup forward 3 meters, before reversing direction, and placed third in the State Science Olympiad. A dual-enrolled student, his college calculus professor at Augusta University said, "I have been teaching for more than twenty years and Abram is among the brightest students I have taught." And even with all that, he has time for chorus and drama!
One mentor comments, "Abram represents himself, his family and his Lord with integrity, kindness and boldness. He typifies the young person that we pray will come from our homes, our churches and our schools." His mother describes him as "a knight in shining armor" for his younger sister. "I smile as I watch him walk into church with an arm around a 13-year-old sister who adores him."
Abram intends to study engineering in the fall.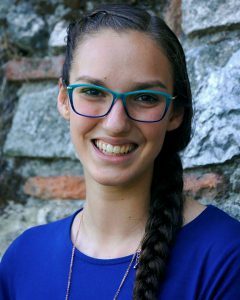 Katelyn Spradley, lately of Skopje, Macedonia used Sonlight all the way through and had an SAT score of 1570 and is a National Merit Finalist. She is fluent in Macedonian, and in high school she played on a basketball team with rival ethnic groups (Macedonian and Albanian), a rare opportunity. Early on there was (as feared) a significant lack of unity on the team. Katelyn, the only American on the team, related graciously to all the players. Selected as captain of the team, she led by example and developed relationships and fostered good will among all members, promoting unselfish teamwork on the court. Katelyn's leadership and playing skills contributed to an unexpected trip to the championship game. She spent several years volunteering at a children's oncology ward. When her family spent her freshman year living with Katelyn's grandmother, disabled from a stroke and some dementia, Katelyn frequently helped with the care, and even took over one weekend when her parents were away, making sure her grandmother was fed, clothed, and bathed. Katelyn had planned to be a nurse, but has since set her sights on medical missions, where she hopes to minister to those who are forgotten, and so share the truth of the greatness of God and build his kingdom. She begins her higher education at Biola University in La Mirada, CA.
---
$10,000 Scholarship Winners: Aaron Holt of Siler City, NC and Josh Carroll of Englewood, OH

$2,500 per year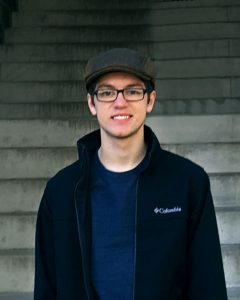 Aaron Holt of Siler City, NC used Sonlight through middle and high school, until he started college as a dual-enrolled student. He had a perfect 36 on the English portion of his ACT, and a total score of 34, and was a Commended Student in the National Merit Scholarship Program. An enthusiastic science student, he developed and taught a Summer Science Camp for elementary students in his home. With a creation-based theme, always pointing to our Creator God as the source of all things seen and unseen, he made the children excited about learning. Mothers continue to tell him stories about how his former campers say, "Aaron taught me that in summer camp!" In 2017, he attended the 2-week residential Duke TIP Field Study, where his instructors described his astrobiology presentation as "well-researched, innovative, and well-presented." And in 2018, he attended a similar program at Harvard, where his chalkboard-based final presentation, "Explaining Endothermic/Exothermic Reactions with PIAB," was voted best topic and presenter by his classmates. Aaron has been involved in various ministries, included a mission trip to Cuba to help construct a church building, and another mission trip with Hope for Appalachia. With his grandfather, he has logged over 300 hours with Meals on Wheels, bringing meals weekly to local seniors. He intends to study physics. As he says, "We often have trouble associating hard sciences with anything other than outspoken atheism. If I were to achieve a high degree in physics, I may end up being one of the only Christians in my workplace, and one of the only witnesses for Christ my co-workers ever see. Hopefully, through the testimony of my Christian lifestyle, I can help bring someone to Christ simply by doing something I enjoy doing anyway."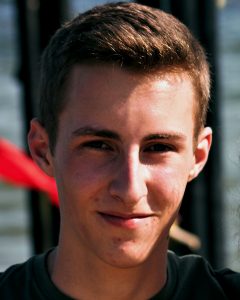 Josh Carroll of Englewood, OH, a Sonlighter since 2006, spent most of his childhood in Uganda. An incredibly creative young man, he can hear a song once and play it on the piano. He has played the djembe (an African drum) since he was very young, drumming as part of worship teams in both Uganda and the United States. He is a gifted artist and designer, which he has used in creating his own realistic sets for his Lego movies. He is gifted at telling stories and communicating truth through visuals, with a keen eye for creating moods with lighting and setup, shooting from the right angles, and editing the flow of shots in order to have maximum impact on the hearts of those who watch his movies. He has a YouTube channel with many Lego Bible short films. He recently finished a 30 minute Lego film, "The Passion," where he learned to manage movie budgets, hire and direct voice actors, work with professional music composers, and write, shoot, edit, and create visual effects for an entire movie. Apart from his creativity, his father writes, "Many times, when we were temporarily in the States, mothers of his friends organized birthday parties completely around when Joshua was available, not only because their sons wanted him to be there but because the parents loved the influence he had on their sons and they wanted him to be there." Josh intends to study filmmaking, as a tool to fulfill his larger ambition: to be a disciple maker. "Even though professionally I will be a 'filmmaker,' my identity is a disciple of Christ. I want to be a man who walks alongside people, who loves them, and who helps them see who Jesus is."
---
$4,000 Scholarship Winners
$1,000 per year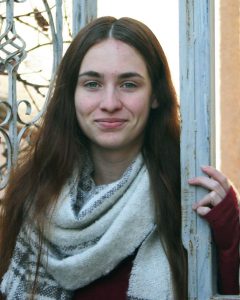 Grace Aukerman of Osceola, IN, a Sonlighter all the way through, grew up in Albania, a post-communist and predominantly Muslim country. Albania's weak economy, corrupt legal and school systems, and lack of employment have caused many Albanians to feel trapped and to lose faith in their country's future. In the midst of these bleak circumstances, Grace has had the honor of seeing many of her neighbors and closest friends change, learn and grow—not because of changing circumstances, but because of the presence of Jesus in their lives. As one team member said, after serving alongside Grace for three years, "Even though Grace wasn't on payroll, I considered her just as much a missionary as anyone else on our team. Grace is one of the most influential missionaries I've seen. She took the time to learn the language fluently and embraced Albanian culture as her own. Often Albanians would comment on her language abilities and how she speaks exactly like an Albanian. Grace can genuinely connect with girls her age and have authentic relationships with them. Many teenage girls looked to Grace for wisdom."
Grace has led six children's ballet and art camps. She's volunteered as a camp counselor for three years with Child Evangelism Fellowship in Albania, and volunteered at a therapeutic horse ranch for a few months. She often encourages others by blessing them with a piece of art. 
Grace intends to study Evangelism, Compassion, and Social Justice. Her dream is to use this degree to serve children, teens, and adults, preferably somewhere outside of the U.S.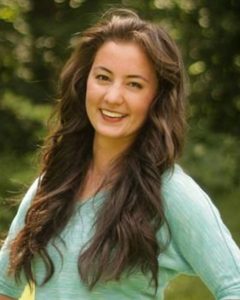 Hannah Chang of Kirksville, MO, homeschooled with Sonlight from the beginning, did not find school easy, as she deals with both Attention Deficit Disorder and dyslexia. This didn't just make school challenging. As her mother said, though she started violin at age 7, "She played by ear for many years because she just couldn't get the hang of reading the music." Today, though, through persistence, she is concertmaster of her high school orchestra and plays hymns for homebound believers.
Her family has a large rabbitry, usually with about 100-150 rabbits. Hannah and her siblings needed to figure out how to cooperate to get all the chores done as quickly as possible. Hannah is a member of the American Rabbit Breeders Association, and has won various titles, such as Missouri State Rabbit Producers Association Princess and Duchess, and is am a multi-time state showmanship champion.
A few years ago, she accompanied a Christian couple and their family in their move to Lebanon to reach out to Muslims and Syrian refugees. Hannah stayed with them for the first few weeks there, helping with the numerous children while they became acclimated to their new surroundings. She flew back to the States on her own.
She plans to become a Registered Nurse, and then return to Lebanon. As she said, "As a country, Lebanon has the highest refugee to citizen ratio of any nation in the world. Over one million refugees from Syria alone have already sought asylum in Lebanon, and many of them do not have adequate shelter, food, or medical attention."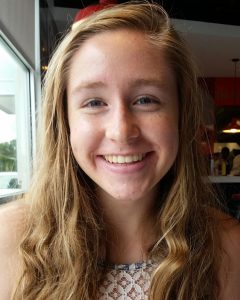 Esther Helm of Winston Salem, NC scored a 1520 on her SAT, and a 35 on her ACT (with both English and Reading with a perfect 36). She spent her childhood in Africa, where her parents served until she was 12 years old. Since returning to the States, she helped welcome an Ethiopian refugee family, watching their three younger children when the parents needed to be away from the house, and trying to engage the very shy teenager when at church during youth activities. In her youth group, a few teenagers have special needs. Her youth group leader said that "Esther is a leader for the group when it comes to treating these students with care and kindness. She makes a point to always greet these youth, as well as including them in our discussion and activities. When I divide the youth into small groups, I make sure to always place Esther with the 'toughest' group because I know she will make everyone feel welcomed, and that she can efficiently lead the group in a productive, Christ-focused discussion." She recently returned to West Africa, where she led a week of Bible school activities in French for children of the West African expatriate church she attended while growing up, and she spent time encouraging other expatriate teenagers living in that desert country. She gladly wore the dress of the Muslim majority there so that others would feel comfortable around her and more willing to interact with her. A three-sport athlete (volleyball, basketball, and softball), she plans to get a liberal arts degree in International Affairs.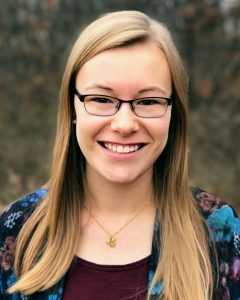 Rosemary (Rose) Raquet of Beavercreek, OH, a Sonlighter since third grade, plays piano, viola, and harp. A leader in the youth orchestra, she has been principal viola for the last three years, as well as playing in a string quartet, and being hand-picked to participate in Project Protégé, in which she gets to play with the adult professional Springfield Orchestra for several concerts over two years. She was given the "Conductor's Award" one year to recognize her positive attitude and leadership traits, and she has started to teach piano.
Rose has a way of seeing needs and finding creative ways to meet them. For example, a family in her church ended up adopting four young boys over a short period of time, and they were understandably feeling overwhelmed. Rose begged to provide physical support for that family on a weekly basis. To this day, the mother of that family talks about how much of a blessing Rose has been to them, and Rose was recently invited to go on vacation with them, because "everything goes more smoothly when Rose is around."
At 15, she went to the Middle East for six months. A family had moved there, and in order to allow both parents to continue language study, they needed help with their four children. Rose didn't just babysit: she played an integral part in the homeschooling of the children, and also helped with meals, laundry, cleaning, and even continuing her own school work. Furthermore, she also received regular cultural lessons as she went along with the wife to visit the neighbors. All of this would be a difficult task for any mother, not to mention a 15-year-old high school student, thousands of miles away from her family, her friends, and anything normal.
She looks forward to using her abilities to help in areas such as music, children, outreach, organizing events and decoration.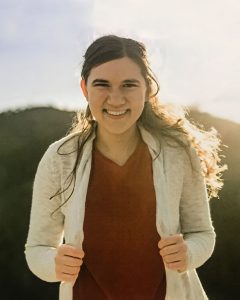 Sarah Reiter of Tucson, AZ scored a 1500 on her SAT. A Sonlighter throughout her middle and high school years, she is currently studying both World History and Literature, and British Literature—a very full course load of reading.
She has served as her youth group's worship leader for the last five years, assisted with various children's ministries, and taught a music class at a Summer Arts Festival.
She was highly praised for her ability to keep children engaged. She has gone to Mexico twice with her youth group, working to build houses for people in need. In 2018, she went to the Dominican Republic, where she learned about the efforts of International Justice Mission, helped fix an orphanage's roof, and built a building for the water filtration system. She plans to go to Embry-Riddle Aeronautical University to study Cyber Intelligence and Security.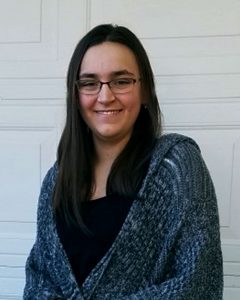 Kiley Carmack of Gulfport, MS, a Sonlighter through her middle and high school years, is a second degree black belt. She participates in weekly fundraisers for the owner of her Martial Arts studio. The owner is fighting cancer without insurance, and the weekly bake sale helps to raise funds for her treatment. Kiley also serves at a local soup kitchen, and visits two local nursing homes. One woman writes, "I am the conservator for a senior citizen deaf-mute, and Kiley has been of tremendous assistance interpreting for me, as I do not know ASL. Kiley's concern has resulted in her visiting my ward on a regular basis; often times bearing gifts and entertaining with rhythmic sign language, to words of beautiful songs."
Kiley began learning sign language when she was about nine. Some years later, she read that only 2% of deaf individuals become Christians. "All I could think about was why are the other 98% missing an opportunity for salvation? There are numerous mission groups designed to spread the gospel, sadly however, many are unable to find trained interpreters to teach the deaf and hard-of-hearing." She has started her college studies through dual enrollment, and looks forward to continuing them, with the career ambition to teach the Bible to the deaf-mute students.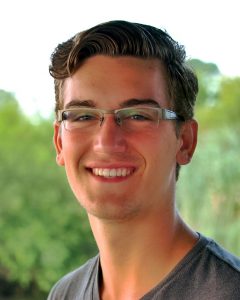 Mika Muresan of Montgomery Village, MD earned a 35 on his ACT (with a perfect 36 in Science) and a 1500 on his SAT. He has had multiple first place finishes in his state's Science Olympiad, where his team has been 2-time State Champions.
An enthusiastic golfer, he earned a spot at the Joe Louis Barrow, Jr. National Life Skill and Leadership Academy and was voted "2018 Most Outstanding Participant." with The First Tee.
He has logged over 450 volunteer hours at the National Museum of Natural History, the highest performing volunteer at the museum, and completed an internship there. He's on the swim team, participates weekly in a food ministry, serves on the Audio Video team at church, and is currently working on raising and training his second service dog. He hopes to become a researching spinal neurosurgeon, focusing especially on MS, Parkinson's, and Alzheimer's.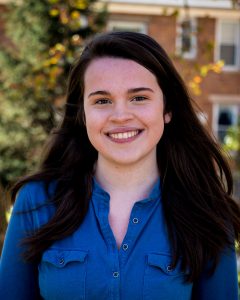 Madison Theil of Cincinnati, OH, a Sonlighter since elementary school, has accomplished a tremendous amount. A National Speech Finalist with the National Christian Forensics and Communications Association. A leading performer in three Shakespeare plays, including Boyet in Love's Labour's Lost, Portia in The Merchant of Venice, and Coriolanus in Coriolanus. In her 12 years in Girl Scouts, she earned both Bronze and Silver Awards. She spent five weeks in Israel with an internship at an organization whose mission is supporting Christian organizations in Israel. After her childhood piano teacher sought Madison to be a teacher in her studio, Madison took intensive week long courses to become a certified Musikgarten curriculum teacher in Pre-Piano and Beginning Piano, and started teaching. In her own advanced piano studies, she has earned numerous accolades, including the Gino James DiMario Scholarship in 2016, second place in the Great Composers Best Bach International Competition 2018, and Semifinalist in the Cincinnati Overture Awards 2018.
Madison was blessed to be born into a family with an intentional focus on spiritual training and understanding the heart of God and how that impacts our daily life, and she participates wholly in her family's mission to build into young families.
As the head counselor at summer camps at the University of Cincinnati Conservatory of Music, she worked with at-risk teens as part of a scholarship program. As students tried various art forms for the first time, they were suddenly creators, and they came to life! She says, "It was amazing giving freedom to those students through the camp. It didn't matter if they were talented or new to the art, they were allowed and encouraged to create. It welled up in me a dream of giving students like these the opportunities to reflect God's character through their creativity." Madison hopes to attend Miami University, with a degree in Music and a minor in Business. Her biggest dream is to form a piano studio that is an interdisciplinary hub of self-expression for impoverished and at-risk communities.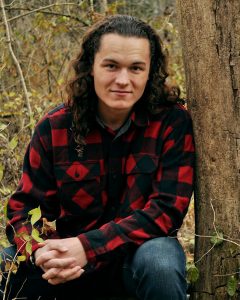 Jacob Uhler of Dayton, OH has used Sonlight since 2006. When his mom pointed out that, with the college classes he was enrolled in for the upcoming year he already had twice as many social sciences as he needed for graduation, he asked if he could still do Sonlight's new World History and Worldview Studies program along with his college US History, Psychology, and Anthropology courses.
He participated in the Duke Talent Identification Program for fourth and fifth graders and then took his first SAT through the Johns Hopkins Center for Talented Youth in seventh grade. In 2015, 2016, and 2017, he ran the Air Force Half Marathon, placing second in the 14-and-under boys age bracket during the 2015 race.
In 2017, he played Gaston in Beauty and the Beast. His voice teacher praised him for continuing lessons in order to improve his singing for the role. "It was most impressive that Jacob wanted to pour outside time and work into the role beyond the hectic musical theatre rehearsal schedule that he already was facing and had the humility to say, 'maybe I could be better.'"
His mother writes, "Since we are a military family who moves often (three years of which were spent overseas) and never has family nearby, Jacob has had to step up during each of his dad's nine deployments to help with tasks from yard work and mouse trap disposal to changing diapers and making dinner at a much younger age than many of his peers."
Jacob plans to study either global business, accounting, history, or a combination of the three, then hopes to go to law school.
---
Could Your Young Learner Win a Sonlight Scholarship?
From preschool through high school graduation, Sonlight prepares your students. We have the big picture in mind, and we help you raise students prepared to launch into any career God calls them to. We share your desire to help your children succeed, and we'll walk alongside to help you create the long-term educational experience you envision.

Did you know we've awarded more than $1.5 million to Sonlight graduates to date?

Each year, our charitable foundation offers a number of college scholarships, ranging from $4,000 to $20,000, spread over four years. Each year, the Sonlight Foundation offers the following scholarships:
$5,000/year
$2,500/year
$1,000/year
We offer scholarships on two tracks: one emphasizes academics, and the other creativity, missions-mindedness, and service. Got a perfect score on the SAT? Got average test scores, but served overseas during summer vacation for the last three years? In either case, you may qualify.

The Sonlight Foundation recognizes that academic giftedness is only one type of giftedness. If your student is gifted in academics, service, music, art, or has a heart for missions, we encourage you to submit an application.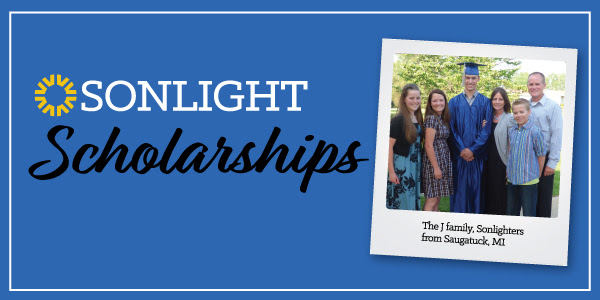 Eligibility for college scholarships is one of the many SonlightCares benefits. Set your sights on a Sonlight scholarship!